Expert reviewer, Dr Steve Preddy, Dental Clinical Director, Bupa Dental Services, Bupa UK
Next review due March 2019
Root canal treatment is when a dentist removes infected tissue from inside your tooth. They will clean and fill the inside of your tooth to prevent further damage or infection. Root canal treatment can save your tooth from having to be taken out.
You will meet the dentist carrying out your procedure to discuss your care. It might be a bit different from what we've described here because your treatment will be designed to meet your individual needs.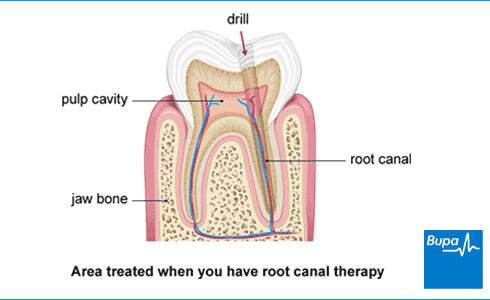 Why might I need root canal treatment?
In the middle of each of your teeth is a mixture of blood vessels and nerves called pulp. Pulp sits inside a space called the pulp chamber. Connected to the pulp chamber and the pulp are one or more root canals. If your tooth is damaged, bacteria from your saliva can get inside it. This causes causes irritation, pain and swelling.
This can happen in a number of ways including:
severe tooth decay
repeated treatment on the tooth
a cracked tooth, caused by an injury
a broken crown
cracked or loose fillings
an injury, such as a blow to your mouth
The pulp can become infected and this can spread to the root canal. If the infection spreads further it can cause an abscess, which is a collection of pus. This can be painful and tender and can cause swelling around your tooth and jaw.
Sometimes your tooth may look darker in colour than your other teeth, which means that the nerve inside your tooth is dead or dying. Without treatment, the infection may spread further into your jawbone and you may need to have your tooth taken out.
The aim of root canal treatment is to prevent your tooth from being taken out by removing the damaged pulp and treating the infection.
Preparing for root canal treatment
Root canal treatment is done by a dentist. But if your tooth is difficult to treat, your dentist may refer you to an endodontist. This is a dentist who specialises in root canal treatment.
Root canal treatment is done in one or more sessions, depending on how severe the problem is and the type of tooth you're having treatment on.
Your dentist will examine you and ask about your symptoms, including any pain you're having. They may also ask you about your medical history and any previous treatment you've had on your teeth. Your dentist will take an X-ray of your tooth. This can help to show which tooth is causing your pain and needs treatment, and how far any infection has spread. This helps your dentist to make sure that the tooth is not too badly damaged for root canal treatment, and that your tooth can be fixed.
Root canal treatment is usually done under local anaesthesia. This completely blocks pain from your tooth and, jaw area and you will stay awake during the procedure. If you're worried about having a local anaesthetic, talk to your dentist.
Your dentist will discuss what will happen with you before any treatment takes place. If you're unsure about anything, ask. No question is too small. It's important that you feel fully informed so you feel happy to give your consent for the procedure to go ahead. You'll be asked to do this by signing a consent form.
Some people find going to the dentist makes them feel nervous and fearful and this can stop people getting the treatment they need. Read our information about dental anxiety, and how you can get support and help to manage it.
What are the alternatives to root canal treatment?
Sometimes, damaged teeth can't be repaired with root canal treatment. This is usually if your tooth is badly damaged or if you have severe gum disease which prevents your tooth from healing or being well supported after treatment. If this happens, your dentist may suggest you have the tooth removed (extracted).
What happens during root canal treatment?
Your dentist will give you a local anaesthetic a few minutes before starting your treatment. This gives the anaesthetic time to work and makes sure you have no pain during the procedure.
Your dentist will separate your tooth from the rest of your mouth using a thin sheet of rubber called a dam. This helps to keep the area around the tooth clean and stops the spread of any infection.
Using a drill, your dentist will make a hole in the top of your tooth and remove the pulp. They will clean out the empty hole using small instruments and also a liquid to disinfect the inside of the tooth. The instruments help to make the canals a more regular shape to enable the tooth to be filled and cleaned more precisely. Your appointment may last between one and one and a half hours. You may need more than one appointment.
Once the tooth is clean, your dentist will fill and seal it. If there's a risk your tooth may become damaged again, your dentist may suggest having a crown fitted. This is an artificial cap that fits over your tooth. You're more likely to need a crown fitted if the tooth is one of your back teeth because these are used for chewing. Sometimes root canal treatment has to be done over more than one visit. If this is the case, your dentist will put a temporary filling in your tooth to keep it sealed until your next appointment.
Having root canal treatment can be uncomfortable because it can mean sitting still with your mouth open for longer than you're used to. Your dentist will make you as comfortable as possible before the procedure starts.
What to expect afterwards
You will be able to go home when you feel ready. After a local anaesthetic, it may take several hours before the feeling comes back into your jaw and face. Take special care not to bump or knock the area.
You may need pain relief to help with any discomfort as the anaesthetic wears off. If you need pain relief, you can take over-the-counter painkillers such as paracetamol or ibuprofen. Always read the patient information leaflet that comes with your medicine and if you have any questions, ask your pharmacist for advice.
Recovering from root canal treatment
When you next need to see your dentist will depend on the reasons for your treatment and how the procedure went. Your dentist may ask you to have further X-rays and check-ups to make sure that the tooth is secure and you're healing well.
Some people need to have further root canal treatment if the tooth cracks or more decay develops.
After your treatment, it's important to take care of your repaired tooth. These tips will help to keep your mouth, teeth and gums healthy.
Brush your teeth twice a day using a fluoride toothpaste.
Rinse your mouth with a mouthwash, if your dentist recommends it.
Use dental floss to clean between your teeth every day.
Don't smoke.
Eat only small amounts of foods that contain a lot of sugar.
Side-effects of root canal treatment
Side-effects are the unwanted but mostly temporary effects you may get after having the procedure.
You may have some slight tenderness around the tooth that has been treated, but usually this lasts for only a short time. If you have severe pain or any pain or discomfort that gets worse, see your dentist. The area around your tooth may also be swollen and bruised. This should get better within two weeks of your treatment.
Complications of root canal treatment
Complications are when problems occur during or after the treatment. All medical and dental procedures come with some risk. But how these risks apply to you will be different from how they apply to others. Be sure to ask for more information if you have any concerns.
Most root canal treatment is successful, but sometimes further problems can occur. Possible complications include:
damage to the root canal or the tissue surrounding the tooth
infection
damage to the nerves around the tooth
Sometimes, root canal treatment doesn't work and you may be advised to have more treatment. This is called re-treatment. Sometimes, symptoms can return years after you've had root canal treatment and your dentist may suggest re-treatment then.
Frequently asked questions
After root canal treatment, the restored tooth may last as long as your other teeth. Your dentist won't be able to guarantee your root canal treatment will last forever. Some research shows that about nine out of 10 root canal treated teeth are still intact after 10 years. There are lots of things that can affect how long a restored tooth lasts, including the type of tooth you've had treatment on. The best thing you can do is to care for teeth well. It's important to look after your teeth and gums and to see your dentist regularly.

Yes, you may have to pay for root canal treatment, unless you're eligible for free NHS treatment. Your dentist will give you a written estimate of the costs involved, before you start your root canal treatment.

More information

If you're treated by an NHS dentist, you will be able to get your treatment free of charge, or at a reduced cost. Whether or not your treatment is free will depend on your circumstances. For example, if you're under 18, pregnant or receiving certain benefits, you're entitled to free treatment.

If you have your dental treatment privately, you will need to pay all of your treatment costs. The costs of private root canal treatment vary from dentist to dentist. How much your treatment costs will also depend on how severe the problem is and the type of tooth being treated.
About our health information
At Bupa we produce a wealth of free health information for you and your family. We believe that trustworthy information is essential in helping you make better decisions about your health and care. That's why our content is produced to the highest quality standards. Look out for the quality marks on our pages below. You can find out more about these organisations and their standards on The Information Standard and HON Code websites.
European Society of Endodontology. Quality guidelines for endodontic treatment: consensus report of the European Society of Endodontology. Int Endodontic J 2006; 39: 921–30. www.britishendodonticsociety.org.uk
Root canals. American Association of Endodontists. www.aae.org, accessed 3 February 2016
How your dentist looks after your teeth. British Endodontic Society. www.britishendodonticsociety.org.uk, published 2012
Dental abscess. BMJ Best Practice. www.bestpractice.bmj.com, published November 2015
Dental abscess. NICE Clinical Knowledge Summaries. cks.nice.org.uk, published July 2015
Guidelines for surgical endodontics. 2nd ed. Royal College of Surgeons. www.rcseng.ac.uk, 2012
Tooth extraction. Medscape. www.emedicine.medscape.com, published April 2015
Further information. British Endodontic Society. www.britishendodonticsociety.org.uk, accessed 4 February 2016
Delivering better oral health: an evidence-based toolkit for prevention. 3rd ed. Public Health England. www.gov.uk, 2014
Methods of diagnosis and treatment in endodontics: a systematic review. Swedish Council on Health Technology Assessment, 2010. www.sbu.se
Crowns. British Dental Association. www.bdasmile.org, accessed 5 February 2016
The use of dental crowns for endodontically treated teeth: a review of the clinical effectiveness, cost-effectiveness and guidelines. Canadian Agency for Drugs and Technologies in Health, 2015. www.cadth.ca
Outcome of primary root canal treatment: systematic review of the literature. Part 1: effects of study characteristics on probability of success. University of York. Centre for Reviews and Dissemination, 2009. www.crd.york.ac.uk
Ng Y-L, Mann V, Gulabivala K. Tooth survival following non-surgical root canal treatment: a systematic review of the literature. Int Endodontic J 2010; 43:171–89. doi:10.1111/j.1365-2591.2009.01671.x
Elemam RF, Pretty I. Comparison of the success rate of endodontic treatment and implant treatment. ISRN Dentistry 2011. doi:10.5402/2011/640509

Reviewed by Natalie Heaton, Specialist Editor – User Experience, Bupa Health Content Team, March 2016.
Expert reviewer, Dr Steve Preddy, Dental Clinical Director, Bupa Dental Services, Bupa UK
Next review due March 2019
Has our health information helped you?
We'd love to know what you think about what you've just been reading and looking at – we'll use it to improve our information. If you'd like to give us some feedback, our short survey on the right will take just a few minutes to complete. And if there's a question you want to ask that hasn't been answered here, please submit it to us. Although we can't respond to specific questions directly, we'll aim to include the answer to it when we next review this topic.
Legal disclaimer
This information was published by Bupa's Health Content Team and is based on reputable sources of medical evidence. It has been reviewed by appropriate medical or clinical professionals. Photos are only for illustrative purposes and do not reflect every presentation of a condition.
The information contained on this page and in any third party websites referred to on this page is not intended nor implied to be a substitute for professional medical advice nor is it intended to be for medical diagnosis or treatment. Third party websites are not owned or controlled by Bupa and any individual may be able to access and post messages on them. Bupa is not responsible for the content or availability of these third party websites. We do not accept advertising on this page.
For more details on how we produce our content and its sources, visit the 'About our health information' section.