Benign breast lumps
Breast lumps are swellings or areas of thicker tissue in your breasts. You might feel or see a lump in your breasts when you're checking them. Or, a lump might be found if you have a mammogram as part of routine breast screening.
It's understandable that if you find a lump in your breast, you might automatically think of cancer. And while it's important to see your GP if you notice something unusual, breast lumps are very common and are usually benign (not cancerous). In fact, about nine out of 10 lumps that women can feel themselves in their breasts turn out not to be cancer.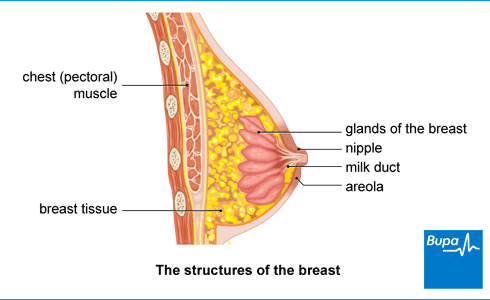 About breasts and breast lumps
Breasts come in all shapes and sizes and everyone's breasts are different. They're mostly made up of fatty tissue and glandular tissue. The glandular tissue produces milk when you're breastfeeding. A 'tail' of breast tissue and muscle goes up into your armpit. In your armpits there are lymph nodes – these are glands found throughout your body which are part of your immune system.
In women, breasts are affected by hormones. They change size and shape throughout your monthly cycle and when you're pregnant. This means breasts can feel tender, heavy, and lumpy. This usually happens just before your period and goes back to normal once it starts. It's normal for many women to feel lumpy areas in their breasts which come and go as their hormones change. But, if a lump appears and doesn't go, see your GP for advice.
Men can get breast lumps too. See our FAQ on breast lumps in men for more information.
Types of benign breast lumps
There are many different types of benign breast lump. These include the following.
Fibroadenomas. These are solid growths of tissue. They're the most common type of benign breast lump and you're most likely to get one between the ages of 16 and 24. They don't usually hurt and can sometimes move slightly underneath your fingers as you check your breast.
Cysts. These are sacs of fluid that build up in your breast tissue. You can have one or more cysts and they vary in size. You're most likely to get them between the ages of 35 and 50 and they can come and go.
Phyllodes tumour. This is a type of breast lump that can be either benign or malignant (cancerous). You're most likely to get this if you're aged between 40 and 50. Because of the risk that they may be cancerous, your doctor will usually recommend that these lumps are removed.
Atypical hyperplasia. This is an over-production of cells in the ducts or the lobes of your breasts. Although it's a benign breast lump, it's also pre-malignant, which means it can change into breast cancer in time.
Fat necrosis. These are firm lumps that can form on your breast. They usually develop when scar tissue forms after an injury to your breast.
Sclerosing adenosis. This is usually a small, painful and firm lump. This type of lump is sometimes found on a mammogram during breast screening.
Breast infection (mastitis or an abscess). This can sometimes develop if you're breastfeeding and may be painful and cause breast lumps and swelling.
Duct ectasia can develop around the time of the menopause. This is when the ducts under your nipples get blocked. This can cause your nipple to turn inwards and a lump to develop under it. Some women have a blood-stained discharge from their nipple too.
Symptoms of benign breast lumps
Benign breast lumps can appear anywhere in your breast. They may or may not be painful, and can be large or small. Sometimes a lump can develop alongside other symptoms too. See your GP if you develop any of the following symptoms.
A lump or thickening in your breast or armpit.
A change in the size, shape or feel of your breasts.
Dimpling, puckering or redness of the skin on your breast.
A change in the shape or position of your nipple – for instance, if it starts turning inwards towards your breast (becomes inverted).
A rash around your nipple area.
Discharge from one or both nipples.
Pain that doesn't go away in one part of your breast or armpit.
Although most breast lumps are found to be benign (non-cancerous), these symptoms can sometimes be a sign of breast cancer. So it's important to get any unusual symptoms you notice checked by a doctor.
Diagnosis of benign breast lumps
Your GP will ask you about your symptoms and examine you. They may also ask you about your family history and whether a close relative has had breast cancer.
Your GP may ask you to come back for another appointment at a different time in your menstrual cycle, if they think the changes may be related to the hormone cycle. This is because lumps can come and go at certain times in your cycle.
If you have a breast lump, you will usually need to have further tests to check whether your lump is caused by cancer or something else. Your GP will refer you to a doctor at a hospital or specialist breast clinic to have these tests. What tests you need will depend on what symptoms you have and your age. You may be asked to have a:
mammogram – this is an X-ray of your breast
ultrasound – this produces an image of the inside of your breast
breast aspiration or biopsy – this is a sample of cells taken from the breast lump, which is then sent to a laboratory to be tested
Treatment of benign breast lumps
The treatment for benign breast lumps depends on what the lumps are. Many lumps won't need treatment unless you're having symptoms or the lump is particularly big. Fat necrosis lumps tend to disappear on their own without treatment.
You may not need any treatment if you have a fibroadenoma, unless it's very large. If the lump is bigger than 4cm across, your doctor may suggest you have it removed.
Sclerosing adenosis doesn't usually need any treatment, unless you have symptoms such as pain. You may need to take painkillers or other medicines to treat your symptoms.
If you have a cyst, it can be drained (aspirated) with a needle. You probably won't need further treatment.
If you have a Phyllodes tumour, you're likely to have an operation to remove it. This is because they can develop into cancer.
If you have an abscess or other infection, your doctor will probably prescribe antibiotics for you. You may need to have your abscess drained using a needle or a small incision (cut).
Atypical hyperplasia is a benign lump that can become malignant. Once the lump is detected, your doctor may recommend having an operation to remove the breast lump.
Duct ectasia doesn't usually need treatment, unless there's a lot of discharge from your nipple, or your nipple is turned inwards. If this happens, you may need an operation to remove the blocked duct.
Talk to your doctor for advice about which treatment is most suitable for you.
Causes of benign breast lumps
Benign (non-cancerous) lumps in your breast can develop for several different reasons.
Changes in hormones. Your hormone levels can affect your breasts and may cause cysts, fibroadenoma and the lumps that come and go before and during your period.
Injury to your breast, which can lead to fat necrosis.
Problems during breastfeeding, which may lead to infection (mastitis) or an abscess.
If you're pregnant
If you're pregnant, your breasts will change while your baby is developing to get ready for breastfeeding. Your breasts may get bigger and feel sore and tender. Sometimes, benign breast lumps can develop or get bigger during pregnancy:
cysts
fibroadenomas
milk-filled cysts called galactocoeles
Breast cancer is rare during pregnancy. But, if a breast lump is cancer, it can grow very quickly. So, if you do notice a breast lump when you're pregnant, it's important to get it checked by a doctor as soon as you can.
FAQ: Can men get a benign breast lump?
Yes, men can develop benign (non-cancerous) lumps in their breast tissue.
Sometimes, men develop lumps in their breasts as part of a condition called gynaecomastia. This is when a boy or man's breast tissue starts to grow. Gynaecomastia develops when the balance of hormones changes and your body starts to produce too much oestrogen and not enough testosterone. This may happen during puberty, if you've put on weight, or due to certain medicines. It's a common condition which affects most men at some point in their lives, often during adolescence.
If you have gynaecomastia, a breast lump can form underneath your nipple and the breast sometimes gets bigger. Lumps can develop in one or both breasts and can sometimes be tender and sore.
If you notice a change in the look or feel of your breast, make an appointment with your GP. Almost all breast lumps in men are benign; however, it's possible for men to get breast cancer
FAQ: Will my breasts change when I reach the menopause?
Your breasts do change as you get older. When you reach the menopause, the amount of glandular tissue in your breasts reduces because of hormone changes. The amount of fatty tissue goes up. This can make your breasts feel different, and some women find they're softer and less firm.
As you come up to the menopause, you may find your breasts feel tender and lumpy, but this often changes once you're past the menopause.
Some women develop a condition called duct ectasia around the time of the menopause. This is when a duct underneath your nipple becomes swollen and blocked. It can be painful and you might feel a lump behind your nipple. Your nipple can turn inwards (invert) or look like it's been pulled back. Some women have a bloody discharge from their nipple too.
Duct ectasia is non-cancerous and can be treated with an operation to remove the blocked ducts. However, the symptoms of duct ectasia are similar to breast cancer , so it's important to see your GP if you have any of these symptoms.
FAQ: What are calcium lumps – are they cancerous?
Calcium lumps (breast calcifications) are small spots of calcium salts. They're very common and develop as you get older. You probably won't be able to feel them – they're usually found when women have a mammogram.
Calcium lumps are usually benign and harmless. However, they can sometimes be an early sign of breast cancer, particularly if there are a few in the same area of your breast. If you have calcium lumps, your doctor may ask you to have more tests.
Details
Worried about breast lumps?

Get a picture of your current health and potential future health risks with one of our health assessments. Find out more today.

Sources

Breast disease. Oxford handbook of general practice (online). Oxford Medicine Online. oxfordmedicine.com, published April 2014
Walker S, Hyde C, Hamilton W. Risk of breast cancer in symptomatic women in primary care: a case–control study using electronic records. The British Journal of General Practice 2014; 64(629):e788–e93. doi:10.3399/bjgp14X682873 www.ncbi.nlm.nih.gov
Barton MB, Elmore JG, Fletcher SW. Breast symptoms among women enrolled in a health maintenance organization: frequency, evaluation, and outcome. Ann Intern Med 1999; 130(8):651–57. www.researchgate.net
Breast anatomy. Medscape. reference.medscape.com, updated June 2016
Overview of the lymphatic system. The MSD manuals. www.msdmanuals.com, last review October 2015
Benign breast disease. PatientPlus. patient.info, last checked September 2016
Gynaecomastia. PatientPlus. patient.info, last checked October 2014
Breast masses. The MSD Manuals. www.msdmanuals.com, last review May 2016
Hartmann LC, Degnim AC, Santen RJ, et al. Atypical Hyperplasia of the Breast – Risk Assessment and Management Options. N Engl J Med 2015; 372:78–89 doi: 10.1056/NEJMsr1407164
Assessment of breast mass. BMJ Best Practice. bestpractice.bmj.com, last updated November 2016
Langer, A, Mohallem, M, Berment, H, et al. Breast lumps in pregnant women. Diagn Intervent Imaging. 2015; 96(10):1077–1087. www.sciencedirect.com
Gynaecomastia. BMJ Best Practice. bestpractice.bmj.com, last updated October 2016
Checking your breasts. Breast Cancer Care. www.breastcancercare.org.uk, last reviewed December 2016
Understanding Breast Changes: A Health Guide for Women. National Cancer Institute. www.cancer.gov, updated April 2015
Mammary duct ectasia and periductal mastitis. PatientPlus. patient.info, last checked March 2016
Breast calcification. Macmillan Cancer Support. www.macmillan.org.uk, reviewed April 2015

We'd love to know what you think about what you've just been reading and looking at – we'll use it to improve our information. If you'd like to give us some feedback, our short form below will take just a few minutes to complete. And if there's a question you want to ask that hasn't been answered here, please submit it to us. Although we can't respond to specific questions directly, we'll aim to include the answer to it when we next review this topic.

Reviewed by Graham Pembrey, Lead Health Editor, Bupa Health Content Team, November 2017 Expert Reviewer, Dr Adrian Raby, General Practitioner Next review due November 2020
About our health information
At Bupa we produce a wealth of free health information for you and your family. We believe that trustworthy information is essential in helping you make better decisions about your health and care. Here are just a few of the ways in which our core editorial principles have been recognised.
Information Standard

We are certified by the Information Standard. This quality mark identifies reliable, trustworthy producers and sources of health information.

HONcode

This site complies with the HONcode standard for trustworthy health information:
verify here.
What our readers say about us
But don't just take our word for it; here's some feedback from our readers.
"Simple and easy to use website - not alarming, just helpful."
"It's informative but not too detailed. I like that it's factual and realistic about the conditions and the procedures involved. It's also easy to navigate to areas that you specifically want without having to read all the information."
"Good information, easy to find, trustworthy."
Meet the team
Nick Ridgman
Head of Health Content
Dylan Merkett – Lead Editor
Graham Pembrey - Lead Editor
Laura Blanks – Specialist Editor, Quality
Michelle Harrison – Specialist Editor, Insights
Natalie Heaton – Specialist Editor, User Experience
Fay Jeffery – Web Editor
Marcella McEvoy – Specialist Editor, Content Portfolio
Alice Rossiter – Specialist Editor (on Maternity Leave)
Our core principles
All our health content is produced in line with our core editorial principles – readable, reliable, relevant – which are represented by our diagram.
The '3Rs' encompass everything we believe good health information should be. From tweets to in-depth reports, videos to quizzes, every piece of content we produce has these as its foundation.
Readable
In a nutshell, our information is jargon-free, concise and accessible. We know our audience and we meet their health information needs, helping them to take the next step in their health and wellbeing journey.
Reliable
We use the best quality and most up-to-date evidence to produce our information. Our process is transparent and validated by experts – both our users and medical specialists.
Relevant
We know that our users want the right information at the right time, in the way that suits them. So we review our content at least every three years to keep it fresh. And we're embracing new technology and social media so they can get it whenever and wherever they choose.
Our accreditation
Here are just a few of the ways in which the quality of our information has been recognised.
The Information Standard certification scheme

You will see the Information Standard quality mark on our content. This is a certification programme, supported by NHS England, that was developed to ensure that public-facing health and care information is created to a set of best practice principles.

It uses only recognised evidence sources and presents the information in a clear and balanced way. The Information Standard quality mark is a quick and easy way for you to identify reliable and trustworthy producers and sources of information.

Certified by the Information Standard as a quality provider of health and social care information. Bupa shall hold responsibility for the accuracy of the information they publish and neither the Scheme Operator nor the Scheme Owner shall have any responsibility whatsoever for costs, losses or direct or indirect damages or costs arising from inaccuracy of information or omissions in information published on the website on behalf of Bupa.

British Medical Association (BMA) patient information awards

We have received a number of BMA awards for different assets over the years. Most recently, in 2013, we received a 'commended' award for our online shared decision making hub.
Contact us
If you have any feedback on our health information, we would love to hear from you. Please contact us via email: healthinfo@bupa.com. Or you can write to us:
Health Content Team
Battle Bridge House
300 Grays Inn Road
London
WC1X 8DU
Find out more
Close
Legal disclaimer
This information was published by Bupa's Health Content Team and is based on reputable sources of medical evidence. It has been reviewed by appropriate medical or clinical professionals. Photos are only for illustrative purposes and do not reflect every presentation of a condition.
The information contained on this page and in any third party websites referred to on this page is not intended nor implied to be a substitute for professional medical advice nor is it intended to be for medical diagnosis or treatment. Third party websites are not owned or controlled by Bupa and any individual may be able to access and post messages on them. Bupa is not responsible for the content or availability of these third party websites. We do not accept advertising on this page.
For more details on how we produce our content and its sources, visit the 'About our health information' section.
ˆ We may record or monitor our calls.