Burch colposuspension
Burch colposuspension is an operation to treat stress incontinence in women. Stress incontinence is when you pass urine when you don't mean to, when you're doing something that puts extra stress on your abdomen and bladder. This can be things like laughing, coughing, sneezing, exercising or jumping.
Your doctor might suggest having a Burch colposuspension when you've tried other treatments and they haven't worked.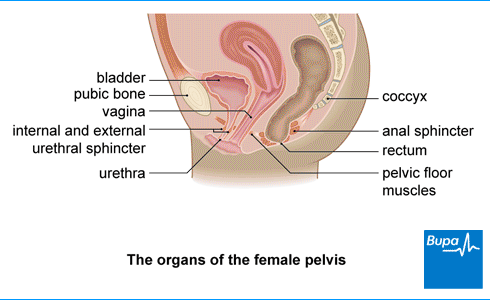 About Burch colposuspension
Stress incontinence can be caused by changes to muscles and ligaments that hold up your bladder and stop you leaking urine. This is usually your pelvic floor muscles or the ring of muscle (sphincter) that holds your bladder closed.
Burch colposuspension lifts your bladder and changes its position, which helps to prevent urine from leaking.
You will meet the surgeon carrying out your procedure to talk about your care. It might be different to what we've described here because it will be designed to meet your individual needs.
Deciding on Burch colposuspension
This information can help you understand the pros and cons of having Burch colposuspension. Think about how important each issue is to you, and then talk to your surgeon. You can work together to decide what's right for you. Your decision will be based on your surgeon's expert opinion and your personal values and preferences.
Pros
Burch colposuspension works well as a long-term treatment for stress incontinence in most women. After five years around seven in every 10 women will continue to be dry.
If the operation works well, it can improve your quality of life. You won't need to use pads or other aids.
Cons
Burch colposuspension doesn't always work, and you may still have stress incontinence after your operation.
It can take six weeks, or sometimes longer, to fully recover from the operation.
There is a risk that you'll have some complications during or after the operation. These can include infection, bleeding and further bladder problems.
Preparing for Burch colposuspension
Your surgeon will explain how to prepare for your operation. For example, if you smoke, you will be asked to stop. This is because smoking increases your risk of getting a chest and wound infection, which can slow your recovery.
You might need to stay in hospital for three or four nights. Before you go into hospital, your urine may be tested to check for infection. If you're taking oral contraceptive pills, hormone replacement therapy (HRT) or any blood thinning medicines, you may be asked to stop taking these before your operation. You'll probably have a general anaesthetic. This means you'll be asleep during the procedure. Burch colposuspension can also be done using a spinal anaesthetic. This means you'll be awake but feel numb from the waist down.
An anaesthetic can make you sick so it's important that you don't eat anything for six hours before your operation. You may be able to drink up to two hours before your surgery, but your anaesthetist or surgeon will tell you what you need to do. If you have any questions, just ask.
At the hospital, your nurse will check your heart rate and blood pressure, and they may also test your urine. You may be asked to wear compression stockings to help prevent blood clots forming in the veins in your legs. You may also need to have an injection of an anticlotting medicine such as tinzaparin or dalteparin as well as, or instead of, wearing compression stockings.
Your nurse or surgeon will discuss with you what will happen before the operation, including any pain you might have. They should also explain the results of any tests that suggest burch colposuspension is the best treatment option for you. If you're unsure about anything, ask. No question is too small. Being fully informed will help you feel more at ease and will allow you to give your consent for the procedure to go ahead. You may be asked to do this by signing a consent form.
What are the alternatives to Burch colposuspension?
Before suggesting a Burch colposuspension, your doctor is likely to suggest trying other options first. These could include the following.
Lifestyle changes, such as losing weight if you're overweight, or changing the amount of fluid you drink.
Pelvic floor exercises or training.
Biofeedback. This is where a doctor uses an electronic device to tell you how well you're doing pelvic floor exercises, by giving you feedback as you do them.
Electrical stimulation. If you can't tighten your pelvic floor muscles, you can use a device that uses a small electric current to help strengthen them
A medicine called duloxetine. You might be offered this if you can't have surgery or don't want to have an operation.
There are also other procedures for stress incontinence.
Tape procedure. This is where you have a ribbon-like plastic mesh put under your urethra. This keeps your bladder closed when you push down (when you cough, for example).
Injections of a substance, such as silicone into the wall of your urethra (the tube that takes urine from your bladder). The injections bulk up the area around your urethra, and that helps it to stay closed and prevent leaks.
Having an artificial sphincter put in. This is only an option if other treatments haven't worked.
Your doctor or surgeon will discuss which treatment options may be suitable for you. They can also tell you more about the pros and cons of these different options.
What happens during Burch colposuspension?
You can have Burch colposuspension as open surgery or keyhole (laparoscopic) surgery. Most women will have open surgery, as laparoscopic surgery isn't available in all hospitals.
If you have open surgery, your surgeon will make a cut in your lower abdomen (tummy) to allow them to reach your bladder. The cut is usually quite low down and is sometimes called a bikini line cut because of where it is.
Your surgeon will lift the neck of your bladder by stitching the top of your vagina to the back of your pubic bone. Your surgeon may then put a small camera inside your bladder to check that the stitches are in the right place, and there are no injuries to your bladder.
What to expect afterwards
You'll need to rest until the effects of the anaesthetic have passed. There are medicines available to ease any pain or discomfort you may have.
When you wake up from the anaesthetic you may have a drip in your arm to give you fluids. This usually stays in place until you're able to drink, and are drinking enough.
If you've had open surgery, you may have a tube inside your bladder called a catheter. This drains urine from your bladder into a bag. It's usually taken out after a day or two. Your nurse will regularly measure your urine and once the catheter has been taken out, you'll be asked to measure how much you pass. You may also have an ultrasound scan to check that your bladder is emptying properly.
If you have problems passing urine when your catheter has been removed, you may have another one put in. Or, the nurses may show you how to do intermittent catheterisation. This is when you put in and then take out a disposable catheter each time you empty your bladder. If you need to do this, it will usually only be for a few days.
You may have tubes running from your wound into a bag or bottle. These drain any blood or fluid. They're usually taken out when there is very little draining from your wound.
You may also need to keep wearing compression stockings to keep your blood flowing. Getting out of bed and moving around is a good idea. You may not feel like it, but it will help prevent other problems later, such as blood clots in your legs or lungs.
You're likely to have some bleeding from your vagina. You can use sanitary pads until the bleeding stops.
Straining to open your bowels after the operation can put pressure on your healing wound. So, it's important that you don't get constipated. Let the nursing staff know if you think you may be constipated so they can arrange treatment for you. They may give you a medicine called a laxative to take, which will help to soften your stool (faeces). You can also help yourself by drinking plenty of fluids and eating foods that contain lots of fibre, such as prunes, fruit and vegetables. For more information, see our frequently asked questions.
Before you go home, your nurse will tell you how to look after your wound. You may also be given a date for a follow-up appointment.
You'll need to arrange for someone to drive you home. You may need some help at home for a few weeks until you fully recover.
Recovering from Burch colposuspension
You'll probably start to get back to your usual activities after about four weeks, though everyone is different, and it can take some women longer than this.
It's best not to have sex, do strenuous exercise or lift anything heavy, for six to eight weeks after your operation. Ask your surgeon about when you can get back to your usual activities and return to work.
You shouldn't drive until any pain in your wound or from your operation has completely gone. Ask your surgeon for advice about when it should be safe for you to drive. If you're in any doubt about driving, contact your motor insurer and the Driver and Vehicle Licensing Agency (DVLA) for more information.
Your wound may be painful for about six weeks after the operation. If you need pain relief, you can take over-the-counter painkillers such as paracetamol or ibuprofen. Always read the patient information that comes with your medicine and if you have any questions, ask your pharmacist for advice.
Contact the hospital or your GP if you develop any of the following symptoms when you're at home:
problems passing urine, such as not being able to go to the toilet, a burning sensation when you pass urine or needing to get to the toilet quickly (urgency)
signs of a wound infection, such as redness, pain and fluid or pus leaking from your wound
bleeding from your wound
increasing pain or pain that can't be controlled with painkillers
Side-effects of Burch colposuspension
All medical procedures come with some risk. But how these risks apply to you will be different to how they apply to others. Be sure to ask for more information if you have any concerns.
Side-effects are the unwanted but mostly temporary effects you may get after having the procedure. Side-effects of Burch colposuspension include:
pain and discomfort
some vaginal bleeding
problems passing urine
Complications of Burch colposuspension
Complications are when problems occur during or after the operation. Burch colposuspension works well as a treatment for stress incontinence in most women. In the year after the operation, around nine out of 10 women will have no incontinence at all. After five years around seven in every 10 women will continue to be dry.
Most women recover well after their operation, with few problems. However, it isn't successful for every woman and there are some possible complications. These are some of the main ones:
the operation may not work – you may still have stress incontinence afterwards
infection
bleeding
problems passing urine – if this happens you may need a catheter, which may be indwelling (left inside your body for some time) or intermittent (temporary and removable yourself)
an overactive bladder – you may need to pass urine more often and urgently
damage to your urethra or bladder – you may need another operation to fix this
pelvic organ prolapse – this is where part of your womb moves downwards into your vagina
painful sex
If you develop any of these symptoms, see your GP or contact your surgeon as soon as you can.
FAQ: Can pelvic floor exercises help with stress incontinence?
Pelvic floor exercises help to tone up and strengthen your pelvic floor muscles. These are the muscles in the lower part of your abdomen (tummy) that support your bladder, uterus and bowel. By doing regular pelvic floor exercises you may be able to treat and manage stress incontinence.
Your pelvic floor muscles form a sling passing from the bottom of your spine at the back, to your pubic bone at the front. They keep the organs inside your lower abdomen in the right place and stop them moving. They also help to keep the opening in your bladder closed, and control how well and when it empties.
Regular exercises for your pelvic floor muscles can help stop accidental leaks when you cough, laugh or make sudden movements. However, it's important to make sure you're exercising the right muscles in the right way. This is how to do pelvic floor exercises.
Get into a comfortable position, either lying on your back or sitting upright in a chair.
Imagine trying to stop yourself passing wind and urine - you should feel a squeeze and lift inside.
Squeeze and lift for 10 seconds as strongly as you can. Repeat 10 times. Follow with 10 fast squeezes.
Do the exercises three times a day. Breathe normally as you do the exercises.
Getting the exercises right, and making them work, takes practice. You should find that they start to work well in about three to five months. Once the exercises are working well, keep doing them once a day.
If you have difficulty with pelvic floor exercises or are uncertain about how to do them, ask to see a specialist continence nurse or physiotherapist.
FAQ: How can I avoid constipation after Burch colposuspension?
After Burch colposuspension, it's important not to get constipated. This is because straining to go to the toilet can put pressure on your healing wound. You can help to prevent constipation by:
Eating high fibre foods. Fibre bulks up stools (faeces) and makes them move through your gut more quickly. It also makes the stools softer and easier to pass. Foods that are high in fibre include fruit, beans and pulses, wholemeal pasta and bread, cereals such as high fibre breakfast cereals and vegetables.
Have plenty to drink. You should be drinking eight to 10 glasses of fluid a day.
Be active. Once you're recovering from your operation, gradually building up your activity could help relieve constipation, as well as being good for your health in general. It's recommended that adults do at least 150 minutes of moderate physical activity a week when they're well.
If these measures don't help, ask your GP for advice.
FAQ: What are my treatment options if Burch colposuspension doesn't work?
Burch colposuspension works very well for most women, but it doesn't work for everyone. Some women find that after their operation, they still have stress incontinence. If this happens, your surgeon will talk to you about your options. These might include an operation to put in an artificial sphincter to hold your bladder closed, or an injection of silicone into the tube that takes urine from your bladder (urethra) to prevent leaks. Your surgeon may arrange pressure tests, called urodynamics, to find out exactly what needs further attention.
If you don't want to have any more surgical procedures, your doctor will be able to give you some advice about managing your symptoms. You'll be able to change your mind and go back to see your surgeon if you decide later that you want to try further surgery.
For more information on these options, ask your doctor or surgeon for advice.
Details
Bupa On Demand

You can receive private treatment, scans and consultations on a pay-as-you go basis with Bupa On Demand. Find out more today.

Sources

Map of Medicine. Female Urinary Incontinence. International View. London: Map of Medicine; 2016 (Issue 3)
Burch colposuspension. Medscape. emedicine.medscape.com, published 21 January 2015
Urinary incontinence. National Institute for Health and Care Excellence (NICE), 2015. www.nice.org.uk
Urinary incontinence in women. BMJ Best Practice. bestpractice.bmj.com, last updated November 2016
Stress incontinence. NICE Clinical Knowledge Summaries. cks.nice.org.uk, last revised June 2015
Colposuspension for stress urinary incontinence. The British Association of Urological Surgeons. www.baus.org.uk, published June 2017
Venous thromboembolism: reducing the risk for patients in hospital. National Institute for Health and Care Excellence (NICE) 2015. www.nice.org.uk
Pre-operative Assessment - Examination and Tests. PatientPlus. patient.info, last checked February 2016
Vaginal sling procedures. Medscape. emedicine.medscape.com, updated November 2015
Lapitan MCM, Cody JD, Mashayekhi A. Open retropubic colposuspension for urinary incontinence in women. Cochrane Database of Systematic Reviews 2017, Issue 7. Art. No.: CD002912. DOI: 10.1002/14651858.CD002912.pub7
Geller EJ. Prevention and management of postoperative urinary retention after urogynecologic surgery. Int J Womens Health 2014; 6:829–38. DOI: 10.2147/IJWH.S55383
Colposuspension for stress incontinence. International Urogynecological Association. 2013. ww.iuga.org
Nursing patients with reproductive and gynaecological problems. Oxford Handbook of Adult Nursing. Oxford Medicine Online. oxfordmedicine.com, published August 2010
Intravenous fluid therapy in adults in hospital. National Institute for Health and Care Excellence (NICE), 2017. www.nice.org.uk
Intermittent catheterisation: informed choices. Evidently Cochrane. www.evidentlycochrane.net, published June 2017
Complications of urological surgery. OSH Post-operative complications (online). Oxford Medicine Online. oxfordmedicine.com, published October 2011
Constipation, BMJ Best Practice. bestpractice.bmj.com, last updated August 2017
Gastrointestinal medicine. Oxford handbook of general practice Oxford Medicine Online. oxfordmedicine.com, accessed April 2014
Physical activity guidelines for adults (19–64 years). Department of Health. 2011. www.gov.uk
The pelvic floor muscles. A guide for women. Pelvic Obstetric and Gynaecological Physiotherapy. 2015. pogp.csp.org.uk
Urinary Incontinence Relevant Anatomy. Medscape, emedicine.medscape.com last updated December 2015
Dietary fibre. British Nutrition Foundation. www.nutrition.org.uk, accessed 30 October 2017
Herderschee R, Hay-Smith EJC, Herbison GP, et al. Feedback or biofeedback to augment pelvic floor muscle training for urinary incontinence in women. Cochrane Database of Systematic Reviews 2011, Issue 7. Art. No.: CD009252. DOI: 10.1002/14651858.CD009252
Intramural urethral bulking procedures for stress urinary incontinence in women. National Institute for Health and Care Excellence (NICE), 2005. www.nice.org.uk

We'd love to know what you think about what you've just been reading and looking at – we'll use it to improve our information. If you'd like to give us some feedback, our short form below will take just a few minutes to complete. And if there's a question you want to ask that hasn't been answered here, please submit it to us. Although we can't respond to specific questions directly, we'll aim to include the answer to it when we next review this topic.

Reviewed by Graham Pembrey, Lead Health Editor, Bupa Health Content Team, December 2017 Reviewed by Professor Raj Persad, Consultant Urological Surgeon Next review due December 2020
About our health information
At Bupa we produce a wealth of free health information for you and your family. We believe that trustworthy information is essential in helping you make better decisions about your health and care. Here are just a few of the ways in which our core editorial principles have been recognised.
Information Standard

We are certified by the Information Standard. This quality mark identifies reliable, trustworthy producers and sources of health information.

HONcode

This site complies with the HONcode standard for trustworthy health information:
verify here.
What our readers say about us
But don't just take our word for it; here's some feedback from our readers.
"Simple and easy to use website - not alarming, just helpful."
"It's informative but not too detailed. I like that it's factual and realistic about the conditions and the procedures involved. It's also easy to navigate to areas that you specifically want without having to read all the information."
"Good information, easy to find, trustworthy."
Meet the team
Nick Ridgman
Head of Health Content
Dylan Merkett – Lead Editor
Graham Pembrey - Lead Editor
Laura Blanks – Specialist Editor, Quality
Michelle Harrison – Specialist Editor, Insights
Natalie Heaton – Specialist Editor, User Experience
Fay Jeffery – Web Editor
Marcella McEvoy – Specialist Editor, Content Portfolio
Alice Rossiter – Specialist Editor (on Maternity Leave)
Our core principles
All our health content is produced in line with our core editorial principles – readable, reliable, relevant – which are represented by our diagram.
The '3Rs' encompass everything we believe good health information should be. From tweets to in-depth reports, videos to quizzes, every piece of content we produce has these as its foundation.
Readable
In a nutshell, our information is jargon-free, concise and accessible. We know our audience and we meet their health information needs, helping them to take the next step in their health and wellbeing journey.
Reliable
We use the best quality and most up-to-date evidence to produce our information. Our process is transparent and validated by experts – both our users and medical specialists.
Relevant
We know that our users want the right information at the right time, in the way that suits them. So we review our content at least every three years to keep it fresh. And we're embracing new technology and social media so they can get it whenever and wherever they choose.
Our accreditation
Here are just a few of the ways in which the quality of our information has been recognised.
The Information Standard certification scheme

You will see the Information Standard quality mark on our content. This is a certification programme, supported by NHS England, that was developed to ensure that public-facing health and care information is created to a set of best practice principles.

It uses only recognised evidence sources and presents the information in a clear and balanced way. The Information Standard quality mark is a quick and easy way for you to identify reliable and trustworthy producers and sources of information.

Certified by the Information Standard as a quality provider of health and social care information. Bupa shall hold responsibility for the accuracy of the information they publish and neither the Scheme Operator nor the Scheme Owner shall have any responsibility whatsoever for costs, losses or direct or indirect damages or costs arising from inaccuracy of information or omissions in information published on the website on behalf of Bupa.

British Medical Association (BMA) patient information awards

We have received a number of BMA awards for different assets over the years. Most recently, in 2013, we received a 'commended' award for our online shared decision making hub.
Contact us
If you have any feedback on our health information, we would love to hear from you. Please contact us via email: healthinfo@bupa.com. Or you can write to us:
Health Content Team
Battle Bridge House
300 Grays Inn Road
London
WC1X 8DU
Find out more
Close
Legal disclaimer
This information was published by Bupa's Health Content Team and is based on reputable sources of medical evidence. It has been reviewed by appropriate medical or clinical professionals. Photos are only for illustrative purposes and do not reflect every presentation of a condition.
The information contained on this page and in any third party websites referred to on this page is not intended nor implied to be a substitute for professional medical advice nor is it intended to be for medical diagnosis or treatment. Third party websites are not owned or controlled by Bupa and any individual may be able to access and post messages on them. Bupa is not responsible for the content or availability of these third party websites. We do not accept advertising on this page.
For more details on how we produce our content and its sources, visit the 'About our health information' section.
ˆ We may record or monitor our calls.