Carpal tunnel release surgery
Carpal tunnel release surgery involves dividing a ligament in your wrist to relieve pressure on a nerve that controls movement and feeling in your hand. It's an operation you may have to relieve symptoms of carpal tunnel syndrome (CTS) – these include numbness, tingling and pain in your hand.
Early or mild symptoms of CTS aren't usually treated with surgery. But, if your symptoms are getting worse or haven't improved after having more than six months of non-surgical treatment, you may be considered for surgery.
About carpal tunnel release surgery
Your carpal ligament is connected to bones and muscles in your wrist to form what's known as your carpal tunnel. Several tendons and a nerve called the median nerve run through this tunnel and control your hand. If pressure builds up in this tunnel, your median nerve can't work properly. You may feel tingling, numbness or pain in your hand. Cutting the carpal ligament releases this pressure and relieves your symptoms.
You will meet the surgeon carrying out your procedure to discuss your care. It may differ from what's described here as it will be designed to meet your individual needs.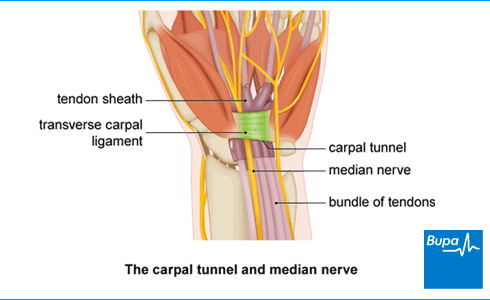 Preparing for carpal tunnel release surgery
Carpal tunnel release surgery is done as a day-case procedure. This means you'll have the procedure and go home the same day. There'll be no need to pack an overnight bag or make any arrangements for being away. You should, however, make sure that you tell your driving insurer that you're having surgery as it could affect your insurance policy.
Your surgeon will discuss the procedure with you. This is your opportunity to understand the procedure and what's involved. You can help yourself by preparing some questions beforehand; perhaps write them down as and when you think of them. Being well informed is important, as you'll need to give your consent for the procedure to go ahead. You'll do this by signing a consent form when you arrive.
Before going in for your procedure, make sure that you've taken off all your jewellery and left any personal belongings at home. Arrive on time so you can fill out your consent form and manage any last-minute details. Perhaps bring a book or magazine with you to pass any unfilled time between arriving and having your procedure.
You won't be able to drive immediately after your procedure, so make sure you arrange to get a lift home.
What are the alternatives to carpal tunnel release surgery?
If your symptoms are mild, or you've had them for only a short while, your doctor won't recommend that you have surgical treatment. Similarly, if you're young or if you get carpal tunnel syndrome (CTS) during the later stages of pregnancy, surgical treatment isn't likely to be necessary. This is because your symptoms may go away after around six months or once you've given birth. Instead, to help ease your symptoms, try making some of the following changes:
avoid doing anything that aggravates your symptoms – driving or craft work such as painting or crocheting is best avoided
keep fit and maintain a healthy weight – being overweight and unfit are both linked to CTS
if you smoke, try to stop – smoking is linked to CTS as well as other conditions like lung disease and cancer
If you're finding that your symptoms are interfering with your everyday life, your doctor may recommend the following non-surgical treatments.
Wrist splints. These support your wrist and keep it in a neutral position. Wearing these at night can often help with night-time symptoms.
Steroid injections. A steroid injection into the wrist can be a good treatment if your symptoms are mild to moderate and haven't got better with using wrist splints.
If these treatments are not effective or if you have severe symptoms, you may be advised to have carpal tunnel release surgery.
What happens during carpal tunnel release surgery?
In the operating room your nurse will ensure that you're in a comfortable position and a tourniquet will be placed around the top of your arm. You'll then be given local anaesthetic injections so that you don't feel any discomfort during the procedure. The tourniquet is then inflated. The tourniquet inflates a bit like a blood pressure cuff, but it'll inflate until it completely stops blood flowing into your hand. Once inflated, your surgeon can start the procedure.
The procedure takes about 20 minutes to complete. During the procedure your surgeon makes a cut (this could be around 3 to 4cm long) near the base of your palm. He or she then divides your carpal ligament to relieve pressure on your median nerve. Once this is done your surgeon will then close the cut in your skin with stitches.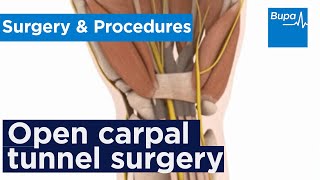 What to expect afterwards
After a local anaesthetic, it may take several hours before the feeling comes back into your wrist and hand. So take special care not to bump or knock your hand and be extra careful around anything hot like kettles or radiators. You can also expect to feel tingling in your hand as the anaesthetic wears off and feeling returns.
You may need pain relief medicines to help with any discomfort. Make sure you take these while your hand is still numb so that they're working by the time your anaesthetic wears off.
After surgery, your hand and arm may be put in a sling. Keeping your arm elevated will help to reduce any swelling you may have. Wriggle your fingers. This will keep your blood flowing properly and reduce any stiffness that you may have in your hand.
Before you go home your nurse will give you some advice about caring for your healing wound. It's worth noting that you shouldn't get your wound or the area around it wet after surgery. Perhaps have a large rubber glove or plastic bag ready at home that you can use to cover it when you're bathing.
You will usually be able to leave when you feel ready. Before you leave, you may be given a date for a follow-up appointment.
Recovering from carpal tunnel release surgery
For a couple of days after the procedure, the cut on your hand may feel a bit uncomfortable. During this time, try to get your fingers moving and start to use your hand for light tasks such as holding your glass, or a book. After around three days, try building up to activities like brushing your teeth or your hair. Keep this up for around two weeks while your hand heals.
You might find that your grip is weaker than it was before your surgery. So bear in mind that gripping too hard may cause you some pain and avoid doing this where you can. Your grip should, however, return to normal between six and twelve weeks after your procedure. When you're recovering from carpal tunnel release surgery, remember that if something hurts, use this as a guide for what you can and can't do at each stage of your recovery.
Your stitches will be removed around 10 to 14 days after your procedure. If your surgeon has used dissolving stitches, you won't need to have them removed as they'll usually disappear on their own after around 2-3 weeks. Bathing should become more convenient, as it'll now be okay to get your wound wet in the bath or shower. When your stitches are removed, you may notice that your scar has become:
Try massaging your scar and the area around it with some moisturiser. You should begin to notice an improvement after around three months.
If you need pain relief during your recovery, you can take over-the-counter painkillers such as paracetamol or ibuprofen. Always read the patient information leaflet that comes with your medicine and if you have any questions, ask your pharmacist for advice.
Driving
There is no right or wrong time to return to driving. When making the decision to start driving again, ensure that it's safe to do so. Check that you can:
grip and control the steering wheel properly
perform an emergency stop
You should also check that you're okay to drive with your driving insurer. Some insurers will not cover you for so many weeks after surgery.
When you feel comfortable to start driving again, start with a short journey. Perhaps try driving to the local shops with a friend or family member.
Returning to work
After your surgery you will need to take time off from work to recover. When you can return to work will depend on what it is you do. If you don't do manual tasks in your job – perhaps you are a manager or supervisor – you may be able to return immediately. If your job involves heavier manual tasks, you won't be able to do these for several weeks after your surgery.
What are the side-effects?
Side-effects are the unwanted but mostly temporary effects you may get after having a procedure. For carpal tunnel release surgery these may include:
pain and discomfort along the cut on your hand
swelling – keeping your hand elevated should help to reduce this
a scar
having a weaker grip than you had before surgery – this should return to normal as your hand heals
What are the complications?
As with every procedure, there is a risk of certain complications. General complications may include a diverse reaction to the anaesthetic, infection, bleeding or your wound not healing properly. Outlined below are complications that are more specific to carpal tunnel release surgery. If you are unsure about any of the following complications, ask your surgeon to explain how these may apply to you.
A tender and sensitive scar. Your scar may be tender and sensitive for a while after surgery. This is a minor complication whereby you may find that this sensitivity doesn't interfere with your day-to-day activities, but for some people it does.
Damage to nerves in your wrist. Although rare, there's also a chance that during the procedure other nerves in your wrist can get damaged.
Pain when putting pressure on your hand. You may also find that putting pressure on the palm of your hand causes some pain. Although this is a minor complication, it can be inconvenient as the heel of your hand often gets a lot of use during everyday activities.
Bowstringing. You may notice that when you flex your wrist after having the procedure, your tendons are more visible. This is called 'bowstringing'. In some patients this may cause some pain, a snapping sensation when they flex their wrist or pins and needles.
Complex regional pain syndrome (CRPS). Rarely patients may get this condition after the procedure.
Re-occurrence. Although most people find an improvement after surgery, there's a possibility that your symptoms may continue or come back. If this happens, you may need to have more surgery.
FAQ: Do I need to see a physiotherapist after having carpal tunnel release surgery?
Not everyone needs to see a physiotherapist after surgery. Instead, there are some general things that you can do at home. You may, however, need to see a physiotherapist if you have scar pain or stiffness.
After carpal tunnel release surgery your wrist and fingers are likely to be a bit stiff and you may also have some swelling. But, there are some things you can do on your own at home after surgery to help. For example, keep your hand elevated during the first few days after the operation. Remember not to walk with your hand down by your side or sit with it in your lap – using a sling may help.
There are also lots of rehabilitation therapies that are thought to help you recover after surgery, but how good they are isn't well known. In fact, specific exercises like squeezing foam balls to increase strength and mobility, if over done, may actually slow down your recovery. So, it's best to be guided by your surgeon and what feels right for you. Perhaps try using your normal day-to-day activities to build up the strength and mobility in your hand.
If your hand isn't getting back to normal: your scar is still painful or sensitive, you might need to seek the help of a physiotherapist for more guidance.
Details
Carpal tunnel treatment on demand

You can access a range of our health and wellbeing services on a pay-as-you-go basis, including carpal tunnel treatment.

Sources

Complications of hand surgery. OSH post-operative complications (online). Oxford Medicine Online. www.oxfordmedicine.com, published October 2011
Carpal tunnel syndrome and median nerve lesions. PatientPlus. www.patient.info/docto, reviewed May 2014
Carpal tunnel syndrome. NICE Clinical Knowledge Summaries. www.cks.nice.org.uk, published September 2012
Map of medicine. Carpal tunnel syndrome. International view. London: Map of medicine; 2014 (Issue 1)
Cooney W. The wrist: diagnosis and operative treatment. 2nd ed. Philadelphia: Lippincott Williams & Wilkins; 2011
Stedman's Medical Dictionary. Lippincott Williams & Wilkins. www.medicinescomplete.com, accessed September 2015
Median nerve entrapment. Medscape. www.emedicine.medscape.com, published March 2014
Map of medicine. Carpal tunnel syndrome (CTS). International view. London: Map of medicine; 2015 (Issue 1)
Treatment of painful tingling fingers. Royal College of Surgeons. www.rcseng.ac.uk, reviewed November 2013
Get well soon: helping you to make a speedy recovery after carpal tunnel release. Royal College of Surgeons. www.rcseng.ac.uk, accessed October 2015
DeLamar L. Preparing your patient for surgery. Top Adv Pract Nurs 2005; 5(1)
Carpal tunnel syndrome. Medscape. www.emedicine.medscape.com, reviewed July 2015
Yucel H. Factors affecting symptoms and functionality of patients with carpal tunnel syndrome: a retrospective study. J Phys Ther Sci 2015; 27(4):1097–1101. doi 10.1589/jpts.27.1097
Smoking and disease. Action on smoking and heath. www.ash.org.uk, published July 2015
Carpal tunnel syndrome. BMJ Best Practice. www.bestpractice.bmj.com, reviewed September 2015
Orthopaedic surgery for carpal tunnel syndrome: treatment and management. Medscape. www.emedicine.medscape.com, reviewed October 2014
Personal communication, Mr Giles Bantick, Consultant Plastic and Hand Surgeon, December 2015
Surgery in primary care (SIPC) for CTS. Carpal-tunnel.net. www.carpal-tunnel.net, reviewed December 2012
Chammas M, Boretto J, Burmann L, et al. Carpal tunnel syndrome - part II (treatment). Rev Bras Ortop 2014; 49(5):437–45
Anaesthesia explained. Royal College of Anaesthetists. www.rcoa.ac.uk, reviewed May 2008
Nerve blocks for surgery on the shoulder, arm or hand. Royal College of Anaesthetists. www.rcoa.ac.uk, reviewed 2015
Carpal tunnel surgery. Carpal-tunnel.net. www.carpal-tunnel.net, reviewed August 2015
Complex regional pain syndrome. PatientPlus. www.patient.info/doctor, reviewed October 2012
Orthopaedic surgery. Oxford handbook of clinical surgery (online). www.oxfordmedicine.com, published May 2013
Zieske L, Ebersole B, Davidge K, et al. Revision carpal tunnel surgery: a 10-year review of intraoperative findings and outcomes. J Hand Surg Am 2013; 38(8): 10.1016/j.jhsa.2013.04.024
Louie D, Earp B and Blazar P. Long-term outcomes of carpal tunnel release: a critical review of the literature. Hand (N Y) 2012; 7(3):242–46. doi 10.1007/s11552-012-9429-x
Peters S, Page M, Coppieters M, et al. Rehabilitation following carpal tunnel release. Cochrane Database Syst Rev. 2013 5;6:CD004158. doi: 10.1002/14651858.CD004158.pub2

We'd love to know what you think about what you've just been reading and looking at – we'll use it to improve our information. If you'd like to give us some feedback, our short form below will take just a few minutes to complete. And if there's a question you want to ask that hasn't been answered here, please submit it to us. Although we can't respond to specific questions directly, we'll aim to include the answer to it when we next review this topic.

Reviewed by Laura Blanks, Bupa Health Content Team, December 2015.
About our health information
At Bupa we produce a wealth of free health information for you and your family. We believe that trustworthy information is essential in helping you make better decisions about your health and care. Here are just a few of the ways in which our core editorial principles have been recognised.
Information Standard

We are certified by the Information Standard. This quality mark identifies reliable, trustworthy producers and sources of health information.

HONcode

This site complies with the HONcode standard for trustworthy health information:
verify here.
What our readers say about us
But don't just take our word for it; here's some feedback from our readers.
"Simple and easy to use website - not alarming, just helpful."
"It's informative but not too detailed. I like that it's factual and realistic about the conditions and the procedures involved. It's also easy to navigate to areas that you specifically want without having to read all the information."
"Good information, easy to find, trustworthy."
Meet the team
Nick Ridgman
Head of Health Content
Dylan Merkett – Lead Editor
Graham Pembrey - Lead Editor
Laura Blanks – Specialist Editor, Quality
Michelle Harrison – Specialist Editor, Insights
Natalie Heaton – Specialist Editor, User Experience
Fay Jeffery – Web Editor
Marcella McEvoy – Specialist Editor, Content Portfolio
Alice Rossiter – Specialist Editor (on Maternity Leave)
Our core principles
All our health content is produced in line with our core editorial principles – readable, reliable, relevant – which are represented by our diagram.
The '3Rs' encompass everything we believe good health information should be. From tweets to in-depth reports, videos to quizzes, every piece of content we produce has these as its foundation.
Readable
In a nutshell, our information is jargon-free, concise and accessible. We know our audience and we meet their health information needs, helping them to take the next step in their health and wellbeing journey.
Reliable
We use the best quality and most up-to-date evidence to produce our information. Our process is transparent and validated by experts – both our users and medical specialists.
Relevant
We know that our users want the right information at the right time, in the way that suits them. So we review our content at least every three years to keep it fresh. And we're embracing new technology and social media so they can get it whenever and wherever they choose.
Our accreditation
Here are just a few of the ways in which the quality of our information has been recognised.
The Information Standard certification scheme

You will see the Information Standard quality mark on our content. This is a certification programme, supported by NHS England, that was developed to ensure that public-facing health and care information is created to a set of best practice principles.

It uses only recognised evidence sources and presents the information in a clear and balanced way. The Information Standard quality mark is a quick and easy way for you to identify reliable and trustworthy producers and sources of information.

Certified by the Information Standard as a quality provider of health and social care information. Bupa shall hold responsibility for the accuracy of the information they publish and neither the Scheme Operator nor the Scheme Owner shall have any responsibility whatsoever for costs, losses or direct or indirect damages or costs arising from inaccuracy of information or omissions in information published on the website on behalf of Bupa.

British Medical Association (BMA) patient information awards

We have received a number of BMA awards for different assets over the years. Most recently, in 2013, we received a 'commended' award for our online shared decision making hub.
Contact us
If you have any feedback on our health information, we would love to hear from you. Please contact us via email: healthinfo@bupa.com. Or you can write to us:
Health Content Team
Battle Bridge House
300 Grays Inn Road
London
WC1X 8DU
Find out more
Close
Legal disclaimer
This information was published by Bupa's Health Content Team and is based on reputable sources of medical evidence. It has been reviewed by appropriate medical or clinical professionals. Photos are only for illustrative purposes and do not reflect every presentation of a condition.
The information contained on this page and in any third party websites referred to on this page is not intended nor implied to be a substitute for professional medical advice nor is it intended to be for medical diagnosis or treatment. Third party websites are not owned or controlled by Bupa and any individual may be able to access and post messages on them. Bupa is not responsible for the content or availability of these third party websites. We do not accept advertising on this page.
For more details on how we produce our content and its sources, visit the 'About our health information' section.
ˆ We may record or monitor our calls.