Food labelling
Food labels can provide a lot of useful information but at times they can be a little hard to make sense of. It's important to get to grips with them because they can help you make healthier food choices. Here, we guide you through some of the key things to look out for.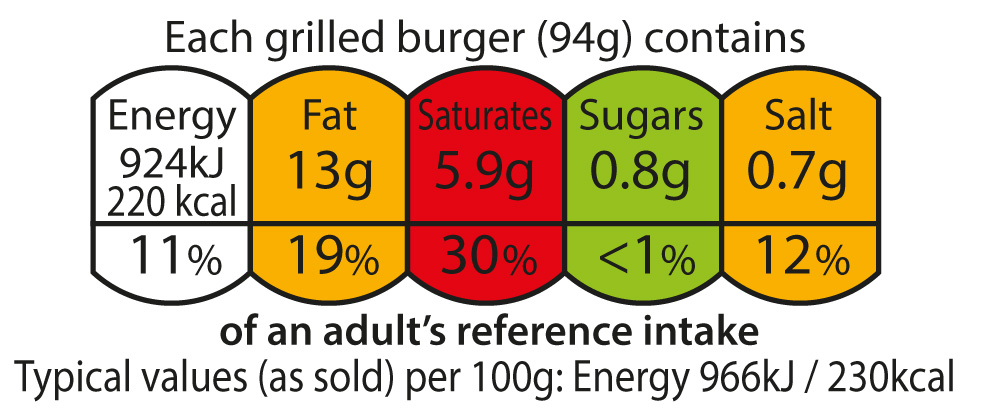 Food labelling and the law
What's required to be on a food label is strictly governed by European law. Food manufacturers and retailers are legally obliged to put the following information on food labels.
A list of ingredients, starting with the one there's most of.
The weight or volume of the product.
The name of the food – including a description for brand names. If a food has been processed, this must be stated on the label (for example, 'smoked salmon').
Storage instructions telling you the best way to keep the food so it doesn't go off.
A use-by date so you know how long you can safely keep the food in the recommended storage conditions. Stick to the use-by date so you don't get food poisoning – for more information, see our topic: Food safety. The best-before date is different. After this date, the food may lose some flavour or texture so it's no longer at its 'best', but it's unlikely to make you ill.
Clear instructions on how to prepare and cook the food if necessary.
The manufacturer's name and address so you can find out more about the product.
The place of origin so you can clearly see where the food has come from. It would be misleading not to show it – for example, a Greek-style yoghurt made in France.
Any genetically modified (GM) ingredients. This doesn't apply to meat, milk or eggs that come from animals that have been fed with GM products.
Safety information
Food labels must also list any key information that could affect the safety of the food, for example:
if the food contains an ingredient that some people are allergic to (this law applies to a list of known allergens)
if the food contains ingredients that are harmful in some people (for example, a high level of caffeine is unsuitable for some people)
the lot or batch number to identify batches of food if they have to be recalled (a date mark is sometimes used)
Nutritional information
Labels for most pre-packed foods in the UK must show nutritional information. Food manufacturers are also required to show nutritional information on food labels for foods that make a health claim such as 'low-fat'.
How do I read a food label?
Nutritional information labels show how much energy – in kilojoules (kJ) and kilocalories (kcal) – is in a product. They also list the amount (in grams) of things like:
saturated fat
sugars
protein
fibre
This information is usually put in a table on the label on the back of the food. It can be really useful to help you shop more healthily.
Nutritional information can also be displayed on the front of food packaging so you can immediately see how healthy it is. In the UK, the traffic light system is used to show this information.
Traffic light system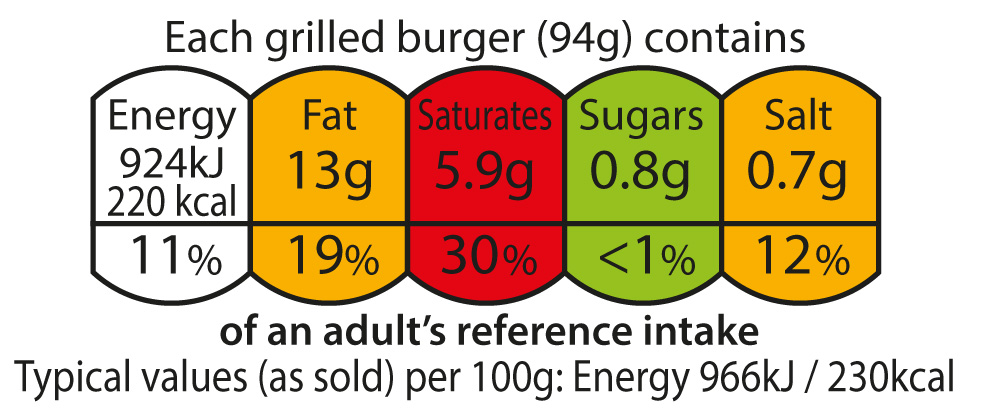 The traffic light colours show how much energy, fat, saturated fat (saturates), sugar and salt a food contains, and the grams of each in one serving. You can see at a glance how healthy a food is:
green = low amount in the food
amber = medium amount in the food
red = high amount in the food
The idea is to choose more items with green lights and fewer with red lights.
The label also shows the percentage of your reference intake (RI) a portion provides. This is usually the value for an average adult (unless it's a product for children).
Fat-free claims
If foods make health claims, they need to meet the legal criteria for those claims.
In order to claim that a product is fat-free, it has to contain no more than 0.5g of fat per 100g or 100ml of product.
Low-fat, light or lite claims
A solid food claiming to be low-fat, light or lite, can't contain more than 3g of fat per 100g. A liquid food making this claim can't contain more than 1.5g of fat per 100ml.
To claim a product is reduced saturated fat, the amount of saturated fatty acids and of trans-fatty acids in the product must be at least 30% less than in a similar product (ie the full fat version). And the trans-fatty acids content in the product must be equal to or less than in a similar product.
Low-sugar claims
Low-sugar foods can't contain more than 5g of sugars per 100g (if solid) or 2.5g of sugars per 100ml (if liquid).
No added sugar claims
To claim there is no added sugar, the product mustn't contain any added monosaccharides or disaccharides or any other food used for its sweetening properties. We explain the different words for sugar below. If sugars naturally occur in the food, the label should also say, 'contains naturally occurring sugars'.
Different words for sugar
It can be tricky sometimes to find sugar on food labels, particularly if food manufactures use scientific names for the various types of sugar. Names to look out for include:
dextrose
fructose
glucose
maltose
sucrose
monosaccharide
disaccharide
honey
molasses
syrups (for example, treacle, corn and maple syrups)
fruit juice concentrates
Low-salt claims
A food claiming to be low in salt mustn't contain more than 0.12g of sodium per 100g or 100ml of product. This equates to 0.3g of salt per 100g or 100ml of product. Very low-salt products can't contain more than 0.04g of sodium (0.1g salt) per 100g or 100ml of product.
You can read more about how much salt we need in our diet in the topic: Salt. For tips and advice on how to cut down, see our blog: How to eat less salt and add more flavour!
Details
Bupa Health Assessments

Through a series of tests, measures and checks, we can build a picture of where your current health is and where it might be heading. Find out more.

Sources

Looking at labels. British Nutrition Foundation. www.nutrition.org.uk, published December 2016
Food labelling and packaging. GOV.UK. www.gov.uk, accessed 20 October 2017
A reference to food composition and labelling legislation. Food Standards Agency. www.food.gov.uk, published March 2017
Food standards: labelling, durability and composition. Department for Environment, Food and Rural Affairs. www.gov.uk, published 11 June 2015
GM labelling. Food Standards Agency. www.food.gov.uk, last updated 30 January 2013
Food information to consumers – legislation. European Commission. ec.europa.eu, accessed 20 October 2017
Technical guidance on nutrition labelling. Department of Health. www.gov.uk, published March 2017
Guide to creating a front of pack (FOP) nutrition label for pre-packed products sold through retail outlets. Department of Health. www.food.gov.uk, updated November 2016
Nutrition claims. European Commission. ec.europa.eu, last update 21 November 2017
Sugar. British Dietetic Association. www.bda.uk.com, published March 2017

We'd love to know what you think about what you've just been reading and looking at – we'll use it to improve our information. If you'd like to give us some feedback, our short form below will take just a few minutes to complete. And if there's a question you want to ask that hasn't been answered here, please submit it to us. Although we can't respond to specific questions directly, we'll aim to include the answer to it when we next review this topic.

Reviewed by Rachael Mayfield-Blake, Freelance Health Editor, November 2017
Expert reviewer, Mr Paul McArdle, Registered Dietitian
Next review due November 2020
About our health information
At Bupa we produce a wealth of free health information for you and your family. We believe that trustworthy information is essential in helping you make better decisions about your health and care. Here are just a few of the ways in which our core editorial principles have been recognised.
Information Standard

We are certified by the Information Standard. This quality mark identifies reliable, trustworthy producers and sources of health information.

HONcode

This site complies with the HONcode standard for trustworthy health information:
verify here.
What our readers say about us
But don't just take our word for it; here's some feedback from our readers.
"Simple and easy to use website - not alarming, just helpful."
"It's informative but not too detailed. I like that it's factual and realistic about the conditions and the procedures involved. It's also easy to navigate to areas that you specifically want without having to read all the information."
"Good information, easy to find, trustworthy."
Meet the team
Nick Ridgman
Head of Health Content
Dylan Merkett – Lead Editor
Graham Pembrey - Lead Editor
Laura Blanks – Specialist Editor, Quality
Michelle Harrison – Specialist Editor, Insights
Natalie Heaton – Specialist Editor, User Experience
Fay Jeffery – Web Editor
Marcella McEvoy – Specialist Editor, Content Portfolio
Alice Rossiter – Specialist Editor (on Maternity Leave)
Our core principles
All our health content is produced in line with our core editorial principles – readable, reliable, relevant – which are represented by our diagram.
The '3Rs' encompass everything we believe good health information should be. From tweets to in-depth reports, videos to quizzes, every piece of content we produce has these as its foundation.
Readable
In a nutshell, our information is jargon-free, concise and accessible. We know our audience and we meet their health information needs, helping them to take the next step in their health and wellbeing journey.
Reliable
We use the best quality and most up-to-date evidence to produce our information. Our process is transparent and validated by experts – both our users and medical specialists.
Relevant
We know that our users want the right information at the right time, in the way that suits them. So we review our content at least every three years to keep it fresh. And we're embracing new technology and social media so they can get it whenever and wherever they choose.
Our accreditation
Here are just a few of the ways in which the quality of our information has been recognised.
The Information Standard certification scheme

You will see the Information Standard quality mark on our content. This is a certification programme, supported by NHS England, that was developed to ensure that public-facing health and care information is created to a set of best practice principles.

It uses only recognised evidence sources and presents the information in a clear and balanced way. The Information Standard quality mark is a quick and easy way for you to identify reliable and trustworthy producers and sources of information.

Certified by the Information Standard as a quality provider of health and social care information. Bupa shall hold responsibility for the accuracy of the information they publish and neither the Scheme Operator nor the Scheme Owner shall have any responsibility whatsoever for costs, losses or direct or indirect damages or costs arising from inaccuracy of information or omissions in information published on the website on behalf of Bupa.

British Medical Association (BMA) patient information awards

We have received a number of BMA awards for different assets over the years. Most recently, in 2013, we received a 'commended' award for our online shared decision making hub.
Contact us
If you have any feedback on our health information, we would love to hear from you. Please contact us via email: healthinfo@bupa.com. Or you can write to us:
Health Content Team
Battle Bridge House
300 Grays Inn Road
London
WC1X 8DU
Find out more
Close
Legal disclaimer
This information was published by Bupa's Health Content Team and is based on reputable sources of medical evidence. It has been reviewed by appropriate medical or clinical professionals. Photos are only for illustrative purposes and do not reflect every presentation of a condition.
The information contained on this page and in any third party websites referred to on this page is not intended nor implied to be a substitute for professional medical advice nor is it intended to be for medical diagnosis or treatment. Third party websites are not owned or controlled by Bupa and any individual may be able to access and post messages on them. Bupa is not responsible for the content or availability of these third party websites. We do not accept advertising on this page.
For more details on how we produce our content and its sources, visit the 'About our health information' section.
ˆ We may record or monitor our calls.