Healthy eating
Eating a well-balanced diet can reduce your risk of various diseases and help you to keep to a healthy weight. It's important to eat a good diet no matter what age you are – there's never a bad time to make some changes.
To help make healthy eating easier, we've explained how much you need of each food group along with some tips and advice to keep things on track. We've also got some tasty recipes to share with you too.
Why is healthy eating important?
There's good evidence that eating a healthy diet can reduce your risk of:
obesity
diabetes
heart disease
stroke
osteoporosis
some types of cancer
Eat the right proportion of foods from the major groups in the image below to give your body all it needs to stay healthy.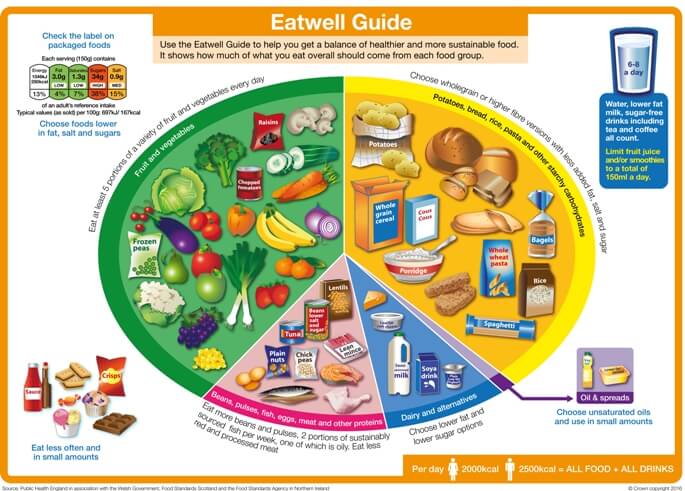 So how much should each type of food make up in your daily diet? National guidelines recommend the following.
| Food group | Amount per day |
| --- | --- |
| Starchy foods | 38 percent |
| Fruit and vegetables | 40 percent |
| Dairy and alternatives | 8 percent |
| Non-dairy protein | 12 percent |
| Oils and spreads | 1 percent |
Starchy foods
Starchy foods contain carbohydrates, which release energy slowly throughout the day. These are a major source of energy so it's a good idea to include them with every meal. They will fill you up so you're less likely to feel hungry and snack during the day.
Here are some examples of starchy foods and a suggested serving:
two wheat biscuits or 50g of muesli (with no added sugar)
two slices of medium sliced bread
one medium (about 180g) baked potato or five boiled new potatoes
five tablespoons of cooked rice, couscous, bulgur wheat or quinoa
75g dry spaghetti
half a 10 inch thin-crust pizza
Tip: Choose wholegrain or wholemeal varieties where possible, and brown rice, as these are particularly high in fibre.
Fruit and vegetables
Eat at least five portions of fruit and vegetables each day. One portion of fruit or vegetables is 80g. This is equivalent to:
one apple, banana, pear or orange
half an avocado or grapefruit
two kiwi fruits (or a similar sized fruit)
one slice of a large fruit like melon or pineapple
three heaped tablespoons of fruit salad or stewed fruit
one heaped tablespoon (30g) of dried fruit (such as raisins and apricots)
a glass (150ml) of fruit juice or smoothie
a cup of grapes, cherries or berries
three heaped tablespoons of vegetables
a dessert bowl of salad
Tip: Your five portions don't all have to be fresh – dried, frozen, tinned, and juiced fruit and vegetables count too. Remember though that a glass of fruit juice or smoothie only counts as one portion – no matter how many glasses you drink. This is because the processing removes some of the fibre from the fruit. They also contain a lot of sugar.
Dairy and alternatives
Milk and dairy products, such as cheese and yoghurt, are important sources of protein, calcium and vitamins. Eat moderate amounts of these – two to three portions of dairy foods a day will provide you with all the calcium you need.
One portion is equivalent to:
150g pot of yoghurt
30g of cheese
200ml of milk
If you're vegan or lactose intolerant you will need to find other sources of calcium, as well as vitamin B12, which is in dairy food. Look out for fortified foods such as:
yeast extract
calcium-enriched soya milk, yoghurts and desserts
breakfast cereals
calcium-enriched rice drinks and oat drinks
Tip: Check the labels and choose lower-fat and reduced-sugar options, such as semi-skimmed or skimmed milk. Or eat mature varieties of cheese so you max out on the flavour and eat less.
Non-dairy sources of protein
Meat, fish, beans, nuts, pulses, eggs and nuts are all important non-dairy sources of protein. Proteins give you energy and are essential to grow and repair tissues in your body.
Aim to eat two portions of fish a week (one portion is about 140g). Make one of these portions an oily fish, such as mackerel, salmon or pilchards. Oily fish is rich in long-chain, omega-3 fatty acids, which may help prevent heart disease, although more research is needed to prove this.
Limit the amount of processed meat you eat (such as sausages and beef burgers) as these foods often contain lots of fat and salt. They may also increase your risk of bowel cancer. Don't eat more than 70g a day. This is equivalent to:
a small steak (the size of a pack of cards)
three rashers of bacon or ham
a quarter-pounder beef burger
For more information, see our article Red meat, processed meat and bowel cancer risk.
If you're vegetarian or vegan, make sure you eat plenty of beans, nuts and pulses to get the protein you need. Aim to eat three heaped tablespoons (80g) of beans and pulses (such as kidney beans, chickpeas and lentils) a day. Nuts and seeds contain healthy polyunsaturated and monounsaturated fats as well as protein. Peanuts, almonds and cashews are particularly good protein sources. But don't eat too many because they are also high in calories – a small handful is all you need.
Tip: Some types of meat are high in fat, so always cut off any extra fat and skin. Grill, bake or poach meat and fish rather than fry it.
Fat and sugar
Many of us are conscious about the link between the amount of fatty food we eat and the amount that ends up on our hips. Yet in our eagerness to cut down on fat, it's very easy to up the amount of sugar we eat. Low-fat foods can often be pumped full of sugar so they won't help you on that quest to lose weight.
Singling out one nutrient is a bad idea and most of us should cut down on both fat and sugar anyway. A healthy diet is all about balance. If you eat the right balance of foods from the five major food groups and stick to sensible portion sizes, you're doing the right thing.
Fat
Fats are a really concentrated source of energy and they also have other roles, such as helping to transport essential vitamins around your body. It's an important part of your diet but you don't need very much – most of us need to eat less. The type of fat you eat is also important.
Saturated fat
Saturated fat can raise 'bad' cholesterol levels and increase your risk of heart disease. Men should have no more than 30g a day and women shouldn't have more than 20g. Sources of saturated fat include:
fatty cuts of meat
processed meats, such as sausages and bacon
butter
cheese
cream
crisps
chocolate, biscuits, cakes and pastries
palm oil
coconut oil
cream
Unsaturated fats
polyunsaturated (omega-3 and omega-6) fats can help to lower your level of 'bad' cholesterol. Sources include:
omega-3 fats like oily fish
omega-6 like vegetable oils, such as rapeseed, corn, sunflower oil, and nuts such as walnuts
Mono-unsaturated can help to maintain levels of 'good' cholesterol while reducing levels of 'bad' cholesterol. Sources include olive oil, rapeseed oil, avocados, nuts such as almonds, brazils and peanuts.
Men should have 65 g of unsaturated fats a day and women should 50g a day.
Tip: As you can see from the national guidelines, it's important to replace foods that are high in saturated (bad) fats, such as butter, pastries and cheese with foods that are rich in unsaturated (good) fats. These are found in oils such as olive and rapeseed oil, for example. Eat these in small amounts and swap butter for lower fat spreads.
Sugar
As with fat, most of us are currently eating too much sugar. It's added to a range of tempting foods such as sweets, cakes, biscuits, chocolates, fizzy drinks, and fruit juices, as well as some alcoholic drinks. These are called free sugars. If you eat a lot of these, they can make you gain weight as well as put you at risk of tooth decay. Added sugar isn't necessary for a healthy diet. Guidelines recommend that you don't eat more than 30g of free sugars a day – this is around the same as seven sugar cubes.
A range of foods contain natural sugar; examples are fresh fruit, peas, sweetcorn and milk. These also contain a range of other nutrients such as fibre and vitamins, so they are better for you than products with added sugar. Aim to satisfy your sweet tooth with these natural sugars rather than added ones.
Tip: Eat foods high in sugar less often and in smaller amounts. If you have the occasional treat, try to have a small portion – try individually wrapped cakes so you aren't tempted to have another slice.
Fibre
Fibre is another element of a healthy diet and there are two types.
Insoluble fibre passes through your digestive system undigested and bulks up your faeces so they move through your digestive tract more quickly. This can help to prevent various bowel problems, such as constipation and diverticular disease.
Soluble fibre is broken down by bacteria in your large bowel. It can help to control your cholesterol levels, which in turn reduces your risk of heart disease.
Aim to eat sources of soluble and insoluble fibre as they will both benefit your health but in different ways.
Soluble fibre is in:
grains such as oats, barley and rye
fruit, such as pears and plums
beans and pulses, such as lentils and chickpeas
root vegetables, such as carrots and potatoes
Insoluble fibre is in:
high-fibre breakfast cereals
wholemeal bread, pasta, and brown rice
vegetables, nuts and seeds
Tip: Leave the skin on vegetables because you will get more fibre from them. Potato wedges are a tasty option, as are carrots sticks with hummus.
Recipe: Quinoa stuffed peppers
Ingredients
1 medium onion, finely chopped (1 cup)
1 tablespoon (tbsp) of olive oil
2 stalks of celery, finely chopped (½ cup)
1 tbsp of ground cumin
2 cloves of garlic, minced (2 teaspoons, tsp)
1 kilogram (kg) of frozen chopped spinach, thawed and squeezed dry
2 cans of diced tomatoes, drained (but keep the liquid)
1 can of black beans, rinsed and drained
¾ cup of quinoa
3 large carrots, grated (1½ cups)
1½ cups of grated reduced-fat cheese
4 large red bell peppers, halved lengthwise and ribs removed
Method
First, heat the olive oil in a saucepan over a medium heat. Add the onions and celery, and cook 5 minutes, or until soft. Add the cumin and garlic and sauté for 1 minute. Stir in the spinach and drained tomatoes. Cook for 5 minutes, or until most of the liquid has evaporated.
Stir in the black beans, quinoa, carrots and 2 cups of water. Cover the saucepan and bring to a boil. Reduce the heat to medium-low, and simmer for 20 minutes, or until the quinoa is tender. Stir in 1 cup of cheese. Season with a small pinch of salt and pepper if you want.
Preheat your oven to 170°C. Pour the liquid from your tomatoes into the bottom of a baking dish.
Half fill each bell pepper with the quinoa mixture, and place them in the baking dish. Cover these with foil, and bake for 1 hour.
Uncover and sprinkle each pepper with the remaining cheese. Bake for 15 minutes more, or until the tops of the stuffed peppers are browned. Leave to stand for 5 minutes before serving.
Recipe: Grilled tofu or chicken breast with new potatoes and ratatouille
Ingredients for the ratatouille
1 medium aubergine, cut into 3cm cubes
3 courgettes, cut into thick round slices
3 carrots, cut into thick round slices
1 green pepper, cut into 3cm squares
1 red pepper, cut into 3cm squares
1 tsp of sunflower oil
1 medium onion, chopped
½ tsp of garlic, crushed
½ tsp of cayenne pepper
a small pinch of salt and freshly ground black pepper for seasoning
400g of peeled tomatoes
1 tbsp of tomato purée
½ tsp of dried mixed herbs
Method
Heat the oil in a saucepan and fry the onions. Add the garlic and continue cooking until the mixture is golden brown.
Add the aubergine, courgettes, carrots and peppers.
Add the cayenne pepper, salt and black pepper.
Add the tomatoes and tomato purée to the fried vegetables and stir. Add the dried herbs and stir again.
Simmer on a low heat for 30 minutes or until the vegetables are tender and the sauce has thickened.
Remember to check that there's enough liquid in the saucepan while it's simmering. If not, add some extra water and stir well.
Recipe: Beetroot and bean burger
Ingredients
2 tsp of olive oil
1 small onion, finely chopped
1 carrot, peeled and coarsely grated
1 small beetroot, peeled and coarsely grated
2 tsp of korma curry paste
750g of four bean mix, rinsed and drained
½ cup of loosely packed, fresh coriander leaves
2 wholegrain rolls, split down the middle and toasted
1 handful of baby spinach leaves
1 cucumber, sliced into ribbons
20g of quinoa flakes, plus 2 extra tbsp for the coating
Method
Add 1 tsp of olive oil to a non-stick frying pan and warm to a medium heat. Add the onions and cook, while stirring, for 5 minutes or until softened. Add the carrot and beetroot and cook for another 2 minutes.
Add the curry paste and cook, while stirring, for 1 minute. Then set the mix aside to cool.
Mix the beans and coriander in a food processor until they're coarsely chopped. Place the onion mixture and beans into a bowl. Use your hands to mix the two together until they've combined.
Shape the mix into 4 flat patties. Place the remaining quinoa on a plate. Gently press your patties into the quinoa until they're lightly coated.
Heat your remaining oil in a large frying pan over a medium to high heat. Add your patties and cook for 3-4 minutes on each side until they're golden. Then take them out of the pan and place them on a paper towel to drain.
Open your roll and add spinach, the patties and cucumber. Finally, add the roll tops to make a sandwich.
The glycaemic index
The glycaemic index (GI) of a food is a measure of how quickly the glucose in it is released into your bloodstream after eating.
Click on the image to open our infographic of the glycaemic index.
Details
An overview of your health

Find out how a Bupa health assessment can help you understand your health, identify future health risks, and offer practical advice for a healthier you.

Sources

Healthy eating. British Dietetic Association. www.bda.uk.com, reviewed November 2014
Why 5%? Scientific Advisory Committee. www.gov.uk, published July 2015
What are nutrients? British Nutrition Foundation. www.nutrition.org.uk, reviewed 4 January 2013
Starchy foods. British Nutrition Foundation. www.nutrition.org.uk, reviewed May 2014
The goodness in potatoes. European Food Information Council. www.eufic.org, published March 2010
Healthy diet and enjoyable eating. PatientPlus. www.patient.co.uk/patientplus.asp, reviewed 18 February 2011
Milk and dairy foods. British Nutrition Foundation. www.nutrition.org.uk, reviewed February 2014
Vegetarian diets. British Dietetic Association. www.bda.uk.com, reviewed October 2014
Fad diets. British Dietetic Association. www.bda.uk.com, reviewed October 2014
Meat, fish, eggs, beans and non-dairy protein sources. British Nutrition Foundation. www.nutrition.org.uk, reviewed February 2014
Iron and health. Scientific Advisory Committee on Nutrition. www.gov.uk, published 2010
Healthy eating for vegans and vegetarians. British Nutrition Foundation. www.nutrition.org.uk, reviewed 27 May 2015
Vegetarian and vegan mums-to-be. British Nutrition Foundation. www.nutrition.org.uk, reviewed April 2015
Healthy snacking. British Nutrition Foundation. www.nutrition.org.uk, reviewed May 2014
Healthy weight loss. British Nutrition Foundation. www.nutrition.org.uk, reviewed 21 December 2012
Good fats and bad fats explained. British Nutrition Foundation. www.nutrition.org.uk, reviewed 27 May 2015
Fat. British Nutrition Foundation. www.nutrition.org.uk, reviewed 6 July 2012
Foods and drinks high in fat and/or sugar. British Nutrition Foundation. www.nutrition.org.uk, reviewed February 2014
Sugar. British Dietetic Association. www.bda.uk.com, reviewed October 2014
Cholesterol. British Dietetic Association. www.bda.uk.com, reviewed October 2014
What is dietary fibre? British Nutrition Foundation. www.nutrition.org.uk, reviewed 26 June 2014
Fruit and vegetables – how to get five a day. British Dietetic Association. www.bda.uk.com, reviewed July 2014
The Eatwell Guide, Public Health England. www.gov.uk, updated March 2016

We'd love to know what you think about what you've just been reading and looking at – we'll use it to improve our information. If you'd like to give us some feedback, our short form below will take just a few minutes to complete. And if there's a question you want to ask that hasn't been answered here, please submit it to us. Although we can't respond to specific questions directly, we'll aim to include the answer to it when we next review this topic.

Reviewed by Rachael Mayfield-Blake, Bupa Health Content Team, July 2015.
About our health information
At Bupa we produce a wealth of free health information for you and your family. We believe that trustworthy information is essential in helping you make better decisions about your health and care. Here are just a few of the ways in which our core editorial principles have been recognised.
Information Standard

We are certified by the Information Standard. This quality mark identifies reliable, trustworthy producers and sources of health information.

HONcode

This site complies with the HONcode standard for trustworthy health information:
verify here.
What our readers say about us
But don't just take our word for it; here's some feedback from our readers.
"Simple and easy to use website - not alarming, just helpful."
"It's informative but not too detailed. I like that it's factual and realistic about the conditions and the procedures involved. It's also easy to navigate to areas that you specifically want without having to read all the information."
"Good information, easy to find, trustworthy."
Meet the team
Nick Ridgman
Head of Health Content
Dylan Merkett – Lead Editor
Graham Pembrey - Lead Editor
Laura Blanks – Specialist Editor, Quality
Michelle Harrison – Specialist Editor, Insights
Natalie Heaton – Specialist Editor, User Experience
Fay Jeffery – Web Editor
Marcella McEvoy – Specialist Editor, Content Portfolio
Alice Rossiter – Specialist Editor (on Maternity Leave)
Our core principles
All our health content is produced in line with our core editorial principles – readable, reliable, relevant – which are represented by our diagram.
The '3Rs' encompass everything we believe good health information should be. From tweets to in-depth reports, videos to quizzes, every piece of content we produce has these as its foundation.
Readable
In a nutshell, our information is jargon-free, concise and accessible. We know our audience and we meet their health information needs, helping them to take the next step in their health and wellbeing journey.
Reliable
We use the best quality and most up-to-date evidence to produce our information. Our process is transparent and validated by experts – both our users and medical specialists.
Relevant
We know that our users want the right information at the right time, in the way that suits them. So we review our content at least every three years to keep it fresh. And we're embracing new technology and social media so they can get it whenever and wherever they choose.
Our accreditation
Here are just a few of the ways in which the quality of our information has been recognised.
The Information Standard certification scheme

You will see the Information Standard quality mark on our content. This is a certification programme, supported by NHS England, that was developed to ensure that public-facing health and care information is created to a set of best practice principles.

It uses only recognised evidence sources and presents the information in a clear and balanced way. The Information Standard quality mark is a quick and easy way for you to identify reliable and trustworthy producers and sources of information.

Certified by the Information Standard as a quality provider of health and social care information. Bupa shall hold responsibility for the accuracy of the information they publish and neither the Scheme Operator nor the Scheme Owner shall have any responsibility whatsoever for costs, losses or direct or indirect damages or costs arising from inaccuracy of information or omissions in information published on the website on behalf of Bupa.

British Medical Association (BMA) patient information awards

We have received a number of BMA awards for different assets over the years. Most recently, in 2013, we received a 'commended' award for our online shared decision making hub.
Contact us
If you have any feedback on our health information, we would love to hear from you. Please contact us via email: healthinfo@bupa.com. Or you can write to us:
Health Content Team
Battle Bridge House
300 Grays Inn Road
London
WC1X 8DU
Find out more
Close
Legal disclaimer
This information was published by Bupa's Health Content Team and is based on reputable sources of medical evidence. It has been reviewed by appropriate medical or clinical professionals. Photos are only for illustrative purposes and do not reflect every presentation of a condition.
The information contained on this page and in any third party websites referred to on this page is not intended nor implied to be a substitute for professional medical advice nor is it intended to be for medical diagnosis or treatment. Third party websites are not owned or controlled by Bupa and any individual may be able to access and post messages on them. Bupa is not responsible for the content or availability of these third party websites. We do not accept advertising on this page.
For more details on how we produce our content and its sources, visit the 'About our health information' section.
ˆ We may record or monitor our calls.