Running programme - 5km
Maybe you've just signed up for your first ever race or have set your sights on beating your personal best marathon time. Whatever your aim, we have a training programme to suit your ability and goal.
Before starting any programme, make sure you have a look through the plan. If it has different types of run, familiarise yourself with the techniques involved. And no matter what level you are, don't forget the importance of preparation before training sessions and recovery afterwards. To find out more, read our information on how to avoid sports injuries.
The programmes involve running on several days a week. You don't have to stick to these exactly, but be sure to keep the recommended number of rest days. These give your body time to recover so you're ready for the next training session.
The programmes will take you towards, but not necessarily up to, your full event distance. The idea is that your fitness and ability progress steadily so that you're ready to complete the full distance by race day. The atmosphere and cheering crowds on the day will help to push you on for that extra mile or so.
How the programmes work
All the training programmes have three key elements, which alter as you progress. These are 'FIT'; which stands for:
F – frequency (how often)
I – intensity or pace (how hard)
T – time (how long)
Exercising regularly and gradually increasing how much you do is the key to improving your health and fitness.
As you get fitter, you'll be able to train more often and for longer in each session. As a beginner, this will mean that gradually you can run more and need to walk less. At an intermediate level, you should find that you're able to run distances faster.
It's hard to define 'intensity' (or pace) because it depends on your individual level of fitness, which will increase as your training progresses.
Some of the training programmes involve different types of run – see Types of training for more information. These correspond to your 'perceived effort scale'. The scale runs from one to 10, where one is standing still, and 10 is your maximum effort, such as running flat out. The table below has more detail. The activities in the running programmes correspond to the 'Activity' column of this table.
Perceived effort levels
| | | | |
| --- | --- | --- | --- |
| Effort level | Effort rating | Activity (approximate, depending on fitness) | Description |
| 1 | None | None | Standing still |
| 2 | Minimal | Shuffle | Minimal activity |
| 3 | Relaxed | Slow walk | Used in cool down |
| 4 | Light | Moderate walk | Normal pace - used in warm up/cool down |
| 5 | Fairly light | Fast walk / light jog | Walking - striding out or jogging a little above march pace; heart rate and breathing increase a little |
| 6 | Moderate | Jog / easy running | Easy jog - active but not challenging; breathing is easy and steady |
| 7 | Slightly challenging | Steady running | Sustainable steady running - general race pace; breathing and heart rate are raised but not uncomfortable |
| 8 | Challenging / slightly hard | Tempo running | Brisk - challenging running at increased pace; breathing should be harder |
| 9 | Hard | Hard running | Fast running with arms pumping - used in speed work and 400m to 800m distances |
| 10 | Maximum | Maximum | Maximum effort - sustainable for one minute or less |
Types of training
All the training programmes involve long runs and light / moderate (recovery) runs, and some also include faster runs (tempo and speed).
Easy runs
These allow your legs to recover from hard efforts and prepare you for the next day of training. Take them at a light to moderate pace (effort level of five to six). You should be able to enjoy running without feeling tired.
Steady runs
These runs should be at a slightly challenging pace with an effort level of six to seven. You should be able to hold a conversation, but find it difficult. This will become your race pace and be used for your long runs. It will increase your distance and build up your aerobic fitness, efficiency and endurance.
Tempo runs
Constant speed running is sometimes referred to as tempo running. This improves your running pace.
Although the true definition of tempo running varies, aim to run at a constant speed that feels 'comfortably hard'. This should be about an 8 on the effort scale. Stick to about 15 to 20 minutes at this pace and always include warming up and cooling down as follows:
30 mins total:

5 mins warm up (effort level 5)
20 mins tempo running (effort level 8)
5 mins cool down (effort level 3–4)



40 mins total:

4 mins warm up (effort level 5)
15 mins tempo running (effort level 8)
3 mins easy jog (effort level 5)
15 mins tempo running (effort level 8)
3 mins cool down (effort level 3–4)



50 mins total:

5 mins warm up (effort level 5)
20 mins tempo running (effort level 8)
5 mins easy jog (effort level 5)
15 mins tempo running (effort level 8)
5 mins cool down (effort level 3–4)
Interval training
Training with intervals builds your aerobic fitness, strength and speed. Interval training involves running fast (but not sprinting), over a set distance or time, at an effort level of 9. Follow each hard interval with an easy one of at least the same length, then repeat. Try using a treadmill or running track to help you get the distances and times right.
As you go through your training programme, try filling the recommended time with these sequences:
Starting interval training:

30 secs running (effort level 9)
2 mins easy jog/walk (effort level 5)



Hitting your stride (from week 8):

1 min running (effort level 9)
2 mins easy jog/walk (effort level 5)



Closer to race day (from week 12), try short/fast intervals and longer/slower ones, eg:

30 secs sprinting (effort level 10)
90 secs easy jog / walk (effort level 5)
(repeat x 5)
3 mins running (effort level 9)
4 mins easy jog / walk (effort level 5)
(repeat x 2/3)
30 secs sprinting (effort level 10)
90 secs easy jog / walk (effort level 5)
(repeat x 2/3)
Don't forget to perform 5 minutes of warm-up and cool-down before and after your interval training.
Cross training
This helps you to keep up your fitness but reduces the strain on the muscles you use for running. Take one session a week to do an activity such as swimming, cycling or using a cross trainer in the gym. This will work your muscle groups in different ways and help to stop you from getting bored of just running.
Walk to run programme
This programme is for you if you'd like to get into a more active lifestyle, but don't currently exercise. If you're not sure you're able to run, this is for you – it's a very gentle introduction to jogging and running. It's designed to allow you to repeat any of the weeks as often as you need to until you feel ready to move up to the next week's training. Click on the image below to see the full programme (PDF 239KB, opens in a new window).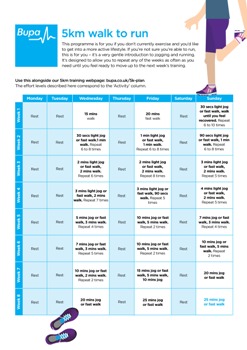 Beginner programme
This programme is for you if you'd like to run 5km as part of an organised race or simply to challenge yourself. It's a great way to get you started if you're not a regular runner. And even if you don't have an event in mind, it will help you increase your fitness. Click on the image below to see the full programme (PDF 241KB, opens in a new window).
Intermediate programme
This programme is for you if you have already done a 5km (3 mile) race and would like to improve your time. Click on the image below to see the full programme (PDF 220KB, opens in a new window).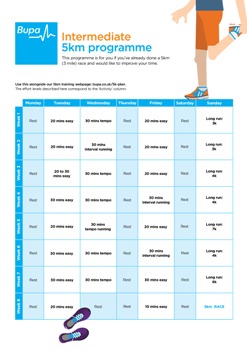 Details
Muscle strengthening

At our Health Centres, we offer self-pay health services for a wide range of conditions, including muscle, bone and joint treatment.

We'd love to know what you think about what you've just been reading and looking at – we'll use it to improve our information. If you'd like to give us some feedback, our short form below will take just a few minutes to complete. And if there's a question you want to ask that hasn't been answered here, please submit it to us. Although we can't respond to specific questions directly, we'll aim to include the answer to it when we next review this content.
About our health information
At Bupa we produce a wealth of free health information for you and your family. We believe that trustworthy information is essential in helping you make better decisions about your health and care. Here are just a few of the ways in which our core editorial principles have been recognised.
Information Standard

We are certified by the Information Standard. This quality mark identifies reliable, trustworthy producers and sources of health information.

HONcode

This site complies with the HONcode standard for trustworthy health information:
verify here.
What our readers say about us
But don't just take our word for it; here's some feedback from our readers.
"Simple and easy to use website - not alarming, just helpful."
"It's informative but not too detailed. I like that it's factual and realistic about the conditions and the procedures involved. It's also easy to navigate to areas that you specifically want without having to read all the information."
"Good information, easy to find, trustworthy."
Meet the team
Nick Ridgman
Head of Health Content
Dylan Merkett – Lead Editor
Graham Pembrey - Lead Editor
Laura Blanks – Specialist Editor, Quality
Michelle Harrison – Specialist Editor, Insights
Natalie Heaton – Specialist Editor, User Experience
Fay Jeffery – Web Editor
Marcella McEvoy – Specialist Editor, Content Portfolio
Alice Rossiter – Specialist Editor (on Maternity Leave)
Our core principles
All our health content is produced in line with our core editorial principles – readable, reliable, relevant – which are represented by our diagram.
The '3Rs' encompass everything we believe good health information should be. From tweets to in-depth reports, videos to quizzes, every piece of content we produce has these as its foundation.
Readable
In a nutshell, our information is jargon-free, concise and accessible. We know our audience and we meet their health information needs, helping them to take the next step in their health and wellbeing journey.
Reliable
We use the best quality and most up-to-date evidence to produce our information. Our process is transparent and validated by experts – both our users and medical specialists.
Relevant
We know that our users want the right information at the right time, in the way that suits them. So we review our content at least every three years to keep it fresh. And we're embracing new technology and social media so they can get it whenever and wherever they choose.
Our accreditation
Here are just a few of the ways in which the quality of our information has been recognised.
The Information Standard certification scheme

You will see the Information Standard quality mark on our content. This is a certification programme, supported by NHS England, that was developed to ensure that public-facing health and care information is created to a set of best practice principles.

It uses only recognised evidence sources and presents the information in a clear and balanced way. The Information Standard quality mark is a quick and easy way for you to identify reliable and trustworthy producers and sources of information.

Certified by the Information Standard as a quality provider of health and social care information. Bupa shall hold responsibility for the accuracy of the information they publish and neither the Scheme Operator nor the Scheme Owner shall have any responsibility whatsoever for costs, losses or direct or indirect damages or costs arising from inaccuracy of information or omissions in information published on the website on behalf of Bupa.

British Medical Association (BMA) patient information awards

We have received a number of BMA awards for different assets over the years. Most recently, in 2013, we received a 'commended' award for our online shared decision making hub.
Contact us
If you have any feedback on our health information, we would love to hear from you. Please contact us via email: healthinfo@bupa.com. Or you can write to us:
Health Content Team
Battle Bridge House
300 Grays Inn Road
London
WC1X 8DU
Find out more
Close
Legal disclaimer
This information was published by Bupa's Health Content Team and is based on reputable sources of medical evidence. It has been reviewed by appropriate medical or clinical professionals. Photos are only for illustrative purposes and do not reflect every presentation of a condition.
The information contained on this page and in any third party websites referred to on this page is not intended nor implied to be a substitute for professional medical advice nor is it intended to be for medical diagnosis or treatment. Third party websites are not owned or controlled by Bupa and any individual may be able to access and post messages on them. Bupa is not responsible for the content or availability of these third party websites. We do not accept advertising on this page.
For more details on how we produce our content and its sources, visit the 'About our health information' section.
ˆ We may record or monitor our calls.