Seborrhoeic dermatitis
Seborrhoeic dermatitis (or seborrhoeic eczema) is a condition that makes your skin red, inflamed and itchy. It affects up to five in every 100 people in the UK.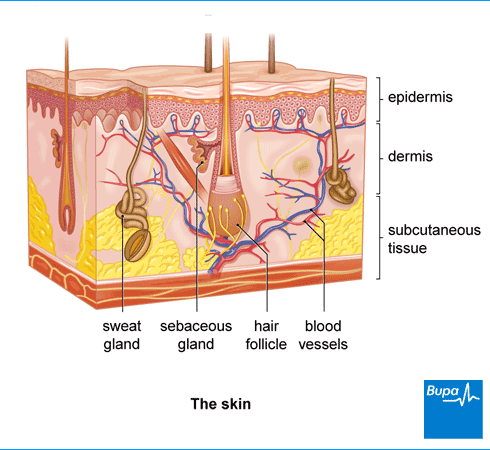 About seborrhoeic dermatitis
Seborrhoeic dermatitis is common in babies under three months. It also affects teenagers and adults. It's more common in men than women. The inflammation in seborrhoeic dermatitis is thought to be an overreaction to a yeast called Malassezia which is present on your skin.
Seborrhoeic dermatitis commonly affects the oilier parts of your body, such as your face, scalp and chest. The symptoms vary in severity from person to person, from mild dandruff to widespread patches of red, itchy, inflamed skin. You may notice your symptoms flare up at times and then get better again.
Babies under three months can also develop seborrhoeic dermatitis, mainly on their scalp. If the rash affects only your baby's scalp, this is called 'cradle cap'. Cradle cap isn't usually serious or harmful to your baby, and is likely to go away on its own within a few weeks or months.
Symptoms of seborrhoeic dermatitis
Seborrhoeic dermatitis causes red, inflamed patches on your skin. These patches are covered with white/yellow scales that look greasy and may be itchy. The patches most commonly appear on your:
scalp – scales, visible flakes (dandruff) and/or a red and itchy scalp
face – especially around your eyebrows, forehead and the sides of your nose
ears – inflamed skin in the tube that leads into your ear
upper chest and between your shoulder blades
skin folds – these are areas that tend to retain moisture and include your armpits, under your breasts and your groin
Seborrhoeic dermatitis can also affect your eyelids, usually where your eyelashes are attached. This can cause a common eye condition called blepharitis.
If your baby has seborrhoeic dermatitis, you'll probably notice greasy, yellow, scaly patches on their scalp. This is called cradle cap, and tends to develop in the first three months of your baby's life. The patches don't usually itch and are unlikely to bother your baby. Seborrhoeic dermatitis may also affect other parts of your baby's body, including their face, behind their ears and skin folds. It can also develop in your baby's nappy area.
Diagnosis of seborrhoeic dermatitis
Your GP will usually be able to diagnose seborrhoeic dermatitis just by looking at your skin. They may also ask you about your medical history.
Seborrhoeic dermatitis can look similar to a number of other skin conditions, especially psoriasis. Sometimes the two conditions can overlap – this is known as sebopsoriasis.
Your GP will usually be able to treat your seborrhoeic dermatitis. They may need to refer you to a dermatologist though, if your diagnosis isn't clear or your symptoms cover many areas of your body. A dermatologist is a doctor who specialises in identifying and treating skin conditions.
Treatment of seborrhoeic dermatitis
Seborrhoeic dermatitis treatments should keep your symptoms under control, but they won't be able to cure the condition completely. Your symptoms are likely to come back once you stop using the treatment. The treatments aim to reduce inflammation and the amount of Malassezia yeast on your skin.
Scalp seborrhoeic dermatitis
If you have scalp seborrhoeic dermatitis, your pharmacist or GP will probably recommend that you try one of the following treatments.
Medicated shampoos that contain ingredients such as coal tar, pyrithione zinc, ketoconazole, salicylic acid or selenium sulfide. These products will either help to reduce the amount of yeast on your skin, soften the scales or reduce itching. You can buy these shampoos from a pharmacy or your GP can prescribe them for you. See our frequently asked questions for more information.
Corticosteroid gels or lotions. These are recommended if you have severe inflammation, itching and flaking. You should only use them for short periods unless you have specific advice from your GP.
Seborrhoeic dermatitis on your face and body
Your GP may prescribe the following treatments for seborrhoeic dermatitis on your face or body.
An antifungal cream containing ketoconazole. This helps to reduce the amount of Malassezia yeast on your skin.
A corticosteroid cream to reduce inflammation. You may also be prescribed this as a combination cream containing an antifungal agent.
If these treatments don't work, you may be referred to a dermatologist to check that your symptoms are definitely caused by seborrhoeic dermatitis. The dermatologist may prescribe tablets containing an antifungal medicine called itraconazole if your rash is very widespread.
Seborrhoeic dermatitis in babies
If your baby has seborrhoeic dermatitis on their scalp ('cradle cap'), try regularly washing their scalp with a baby shampoo and gently brushing afterwards. This can help to remove the scales. You can also use baby oil or an emollient to soften the scales before gently rubbing them off and washing with water. Your baby's symptoms will probably improve on their own by the age of 12 months. If your baby's condition is more severe, your GP may prescribe a medicated shampoo or cream.
Causes of seborrhoeic dermatitis
It's not fully understood what causes some people to develop seborrhoeic dermatitis. However, a type of yeast called Malassezia is thought to play a role in its development. Everyone has Malassezia on the surface of their skin. But if you have seborrhoeic dermatitis, your immune system is thought to be more sensitive to it, which leads to an inflammatory reaction.
In most people, seborrhoeic dermatitis isn't associated with any underlying conditions. However, you may be more likely to get it if you have a condition that affects your nerves, such as Parkinson's disease or have had a stroke. You're also at greater risk of getting it if you have HIV/AIDS. HIV/AIDS can also make your symptoms more severe.
Your symptoms may get worse when you're tired, stressed or generally unwell. Your diet doesn't affect your symptoms. The condition isn't caused by a lack of cleanliness or having very dry skin. It also isn't contagious, meaning that you can't catch it or pass it on to another person.
You may notice that your symptoms are worse in the winter and early spring and improve in the summer.
Prevention of seborrhoeic dermatitis
Seborrhoeic dermatitis treatments should help you to control your symptoms, but they can't completely cure your condition. Your symptoms will probably come and go and are likely to return if you stop your treatment. If your seborrhoeic dermatitis keeps coming back, your GP may recommend that you carry on using an antifungal cream or shampoo once a week or once every two weeks. You shouldn't use corticosteroids for long periods of time or to try to prevent seborrhoeic dermatitis.
If your skin is prone to irritation, try not to use skin products that contain alcohol. Use a moisturising soap substitute instead of soap or shower gel. And don't use soap or shaving cream on your face if these irritate your skin. Hair sprays and gels or wax may make your seborrhoeic dermatitis worse, so avoid these products too. See our frequently asked questions for more information.
FAQ: Can I use moisturisers and make-up if I have seborrhoeic dermatitis on my face?
Yes, you can use these products, but make-up may irritate your skin even more.
There's no reason why you can't use make-up on areas of your skin where you have seborrhoeic dermatitis if you want to. But bear in mind that many people find make-up causes further irritation to their skin. Also, you may find that make-up doesn't work very well because of the changes to the surface of your skin.
You may find that non-greasy moisturisers and moisturising soap substitutes generally help to ease your symptoms.
Soap and cosmetics containing alcohol may irritate your skin. You can buy products that are free from alcohol and perfume, which are designed for sensitive skin – these may also contain moisturisers.
FAQ: How do I use an antifungal shampoo?
You use an antifungal shampoo in the same way that you use your usual, unmedicated shampoo, but you need to leave it on your hair for longer.
Antifungal shampoos usually contain the ingredient ketoconazole. You need to leave an antifungal shampoo on your hair for about three to five minutes before rinsing it off. You can use your regular shampoo afterwards if you want to. You will usually need to use the shampoo twice a week for up to four weeks. Don't use it more often than this without getting advice from your pharmacist or GP first. If you need to wash your hair more than twice a week, use your usual shampoo.
Once your symptoms have cleared up, you can use the antifungal shampoo once a week or once every two weeks to prevent further flare-ups.
Different products may work slightly differently. Always read the patient information leaflet that comes with your shampoo, and if you have any questions, ask your pharmacist or GP for advice.
FAQ: Will seborrhoeic dermatitis on my scalp cause hair loss?
Seborrhoeic dermatitis doesn't cause hair loss, even if your symptoms are severe.
Seborrhoeic dermatitis causes a greasy, scaly and irritated scalp, but doesn't make your hair fall out. In mild cases, your head may feel itchy and you may notice fine flakes of dandruff. Severe seborrhoeic dermatitis is rare and usually only occurs in people with HIV/AIDS. This can cause widespread yellow–red scales on your skin, especially on your scalp, face, ears and chest.
About our health information
At Bupa we produce a wealth of free health information for you and your family. We believe that trustworthy information is essential in helping you make better decisions about your health and care. Here are just a few of the ways in which our core editorial principles have been recognised.
Information Standard

We are certified by the Information Standard. This quality mark identifies reliable, trustworthy producers and sources of health information.

HONcode

This site complies with the HONcode standard for trustworthy health information:
verify here.
What our readers say about us
But don't just take our word for it; here's some feedback from our readers.
"Simple and easy to use website - not alarming, just helpful."
"It's informative but not too detailed. I like that it's factual and realistic about the conditions and the procedures involved. It's also easy to navigate to areas that you specifically want without having to read all the information."
"Good information, easy to find, trustworthy."
Meet the team
Nick Ridgman
Head of Health Content
Dylan Merkett – Lead Editor
Graham Pembrey - Lead Editor
Laura Blanks – Specialist Editor, Quality
Michelle Harrison – Specialist Editor, Insights
Natalie Heaton – Specialist Editor, User Experience
Fay Jeffery – Web Editor
Marcella McEvoy – Specialist Editor, Content Portfolio
Alice Rossiter – Specialist Editor (on Maternity Leave)
Our core principles
All our health content is produced in line with our core editorial principles – readable, reliable, relevant – which are represented by our diagram.
The '3Rs' encompass everything we believe good health information should be. From tweets to in-depth reports, videos to quizzes, every piece of content we produce has these as its foundation.
Readable
In a nutshell, our information is jargon-free, concise and accessible. We know our audience and we meet their health information needs, helping them to take the next step in their health and wellbeing journey.
Reliable
We use the best quality and most up-to-date evidence to produce our information. Our process is transparent and validated by experts – both our users and medical specialists.
Relevant
We know that our users want the right information at the right time, in the way that suits them. So we review our content at least every three years to keep it fresh. And we're embracing new technology and social media so they can get it whenever and wherever they choose.
Our accreditation
Here are just a few of the ways in which the quality of our information has been recognised.
The Information Standard certification scheme

You will see the Information Standard quality mark on our content. This is a certification programme, supported by NHS England, that was developed to ensure that public-facing health and care information is created to a set of best practice principles.

It uses only recognised evidence sources and presents the information in a clear and balanced way. The Information Standard quality mark is a quick and easy way for you to identify reliable and trustworthy producers and sources of information.

Certified by the Information Standard as a quality provider of health and social care information. Bupa shall hold responsibility for the accuracy of the information they publish and neither the Scheme Operator nor the Scheme Owner shall have any responsibility whatsoever for costs, losses or direct or indirect damages or costs arising from inaccuracy of information or omissions in information published on the website on behalf of Bupa.

British Medical Association (BMA) patient information awards

We have received a number of BMA awards for different assets over the years. Most recently, in 2013, we received a 'commended' award for our online shared decision making hub.
Contact us
If you have any feedback on our health information, we would love to hear from you. Please contact us via email: healthinfo@bupa.com. Or you can write to us:
Health Content Team
Battle Bridge House
300 Grays Inn Road
London
WC1X 8DU
Find out more
Close
Legal disclaimer
This information was published by Bupa's Health Content Team and is based on reputable sources of medical evidence. It has been reviewed by appropriate medical or clinical professionals. Photos are only for illustrative purposes and do not reflect every presentation of a condition.
The information contained on this page and in any third party websites referred to on this page is not intended nor implied to be a substitute for professional medical advice nor is it intended to be for medical diagnosis or treatment. Third party websites are not owned or controlled by Bupa and any individual may be able to access and post messages on them. Bupa is not responsible for the content or availability of these third party websites. We do not accept advertising on this page.
For more details on how we produce our content and its sources, visit the 'About our health information' section.
ˆ We may record or monitor our calls.