Testicular cancer awareness
How your testicles look and feel may not be something you've given much thought to. But it pays to be familiar with what's normal for you, and to know a few potential changes to look out for. This can help you to find lumps and swellings that may be a sign of testicular cancer at an early stage. If testicular cancer is found early, it can almost always be cured.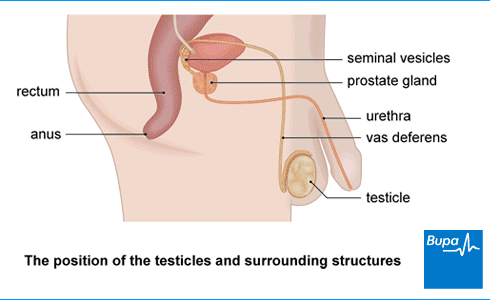 About your testicles
Your testicles, also known as testes, are two small, oval-shaped structures inside your scrotum. Their main role is to produce sperm and the male sex hormone, testosterone. Testosterone gives you your sex drive (libido) and ability to get an erection.
Most lumps you can get in your testicles aren't testicular cancer and are caused by other things. These include the following.
An inguinal hernia. This is a weak spot in the muscles of your lower tummy that allows fatty tissue or a bit of your bowel to pop out into your scrotum.
Hydrocele. This is a collection of fluid in your scrotum.
Epididymal cysts. These are fluid-filled lumps.
A varicocele. This is swelling in the scrotum that's caused by a collection of abnormally large blood vessels.
How to be testicle aware
Once you hit puberty, it's important to check your testicles regularly – ideally, every month. This will help you get an idea of their usual look and feel so if there are any changes, you'll notice them.
The best time to do it is while you're in the shower or bath, or just afterwards. The warmth will relax your scrotum and make it easier to feel anything unusual. Here's what to do.
Stand in front of a mirror and check if you can see anything unusual like any swelling on the skin.
Feel the size and weight of each testicle. You may notice that one testicle is larger or hangs lower than the other. This is completely normal.
Get to know the feel of your testicles by rolling each one between your fingers and thumb. They should feel smooth, without any lumps or swellings.
Compare your testicles with each other – get to know any differences between them.
Towards the top, at the back of each testicle, you'll feel a soft, tender tube. This is called the epididymis, and stores sperm, so it's good to remember where it is so you don't mistake it for a lump. Cancerous lumps don't usually develop here but on the sides or in front of your testicle. You might also feel a small and firm lump near the top of your testes. This might well be what's called the Hydatid of Morgagni and is completely normal. But if you're concerned about any lump, contact your GP for advice.
Testicle changes to get advice about
When you check your testicles, look for any:
lump, swelling or hardening – and whether any lumps feel like they're attached to your testicle or are free-floating
change in consistency – one may feel like it's full of fluid, for example
change in size, shape or weight
Other changes to look out for are:
a feeling of heaviness in your scrotum
any pain or a heavy or dull aching feeling in your testicle or scrotum
dull ache in your groin
These symptoms can sometimes be a sign of testicular cancer (but not always). If you have any of them, contact your GP for advice.
FAQ: Can injuring my testicle cause testicular cancer?
No, nobody has proved that there's any link between injuring your testicles and getting testicular cancer. But if you injure your testicles, it can cause swelling and inflammation that may hide lumps or other changes and make cancer difficult to detect. On the flip side, an injury to your testicles may bring a lump to your attention.
Doctors don't yet know exactly why some men develop testicular cancer but a number of things can make it more likely. It's probably caused by a combination of things. See our separate topic on testicular cancer to learn more about these. And, if you notice any changes in your testicles or have any concerns about testicular cancer, go and see your GP.
FAQ: What will happen if I have a lump in my testicle?
You might feel embarrassed about seeing your GP about a lump in your testicle, but remember this is nothing new to them. They'll ask about your symptoms and examine you, and may also ask you about your medical history. If your GP thinks the lump isn't normal, they'll refer you to see a specialist. This is usually a urologist – a doctor who specialises in identifying and treating conditions that affect the urinary system and genitals. They'll feel the lump to see if it's likely to be a cancer or not.
You'll probably need to have some blood tests and an ultrasound scan of your testicles. These will show whether the lump is caused by cancer or another condition.
The outlook for men diagnosed with testicular cancer is one of the best for all cancers. More than nine out of 10 men who are diagnosed early are cured.
FAQ: What is a hydrocele?
A hydrocele is a collection of fluid in your scrotum that causes swelling. It isn't painful.
Your testicle is surrounded by a protective covering. This makes a fluid that helps your testicles to move freely. Any extra fluid usually drains away but sometimes it can build up if your body makes too much, or if it doesn't empty away properly. This collection of fluid is called a hydrocele.
A hydrocele usually causes a soft, often painless, swelling in your testicle. It can happen if you injure your testicles, or get an infection, but may also be caused by testicular cancer. Some baby boys are born with a hydrocele – these don't usually need treatment and get better within a year.
If your hydrocele is small, you're unlikely to need any treatment. If it's large and uncomfortable, you may need to have an operation to drain or remove the hydrocele.
Details
Worried about testicular cancer?

Get a picture of your current health and potential future health risks with one of our health assessments. Find out more today.

Sources

Testicular cancer. BMJ Best Practice. bestpractice.bmj.com, last updated 3 October 2016
Testicular cancer. European Association of Urology. uroweb.org, published 2017
Oldenburg J, Fosså SD, Nuver J, et al. Testicular seminoma and non-seminoma: ESMO clinical practice guidelines for diagnosis, treatment and follow-up. Ann Oncol 2013; 24(Suppl 6):vi125–32. doi:10.1093/annonc/mdt304
Testes and epididymis anatomy. Medscape. emedicine.medscape.com, updated 30 June 2016
Do I have testicular cancer? American Cancer Society. www.cancer.org, last medical review 29 March 2016
Reproductive endocrinology. Oxford handbook of endocrinology and diabetes (online). Oxford Medicine Online. oxfordmedicine.com, published March 2014
Lumps in the groin and scrotum. PatientPlus. patient.info/patientplus, last checked 20 June 2014
Varicocele. PatientPlus. patient.info/patientplus, last checked 16 June 2014
Testicular self-examination. British Association of Urological Surgeons. www.baus.org.uk, published June 2017
Eponymous terms and rarities. Oxford handbook of clinical surgery (online). Oxford Medicine Online. oxfordmedicine.com, published March 2013
Suspected cancer: recognition and referral. National Institute for Health and Care Excellence (NICE), July 2017. www.nice.org.uk
Testicular cancer risks and causes. Cancer Research UK. www.cancerresearchuk.org, last reviewed 15 January 2014
Testicular cancer. PatientPlus. patient.info/patientplus, last checked 24 November 2014
Hydrocele. Medscape. emedicine.medscape.com, updated 20 March 2017
Hydrocele. BMJ Best Practice. bestpractice.bmj.com, last updated 19 September 2016

We'd love to know what you think about what you've just been reading and looking at – we'll use it to improve our information. If you'd like to give us some feedback, our short form below will take just a few minutes to complete. And if there's a question you want to ask that hasn't been answered here, please submit it to us. Although we can't respond to specific questions directly, we'll aim to include the answer to it when we next review this topic.

Reviewed by Rachael Mayfield-Blake, Freelance Health Editor, October 2017.

Expert reviewer, Professor Raj Persad, Consultant Urological Surgeon

Next review due October 2020
About our health information
At Bupa we produce a wealth of free health information for you and your family. We believe that trustworthy information is essential in helping you make better decisions about your health and care. Here are just a few of the ways in which our core editorial principles have been recognised.
Information Standard

We are certified by the Information Standard. This quality mark identifies reliable, trustworthy producers and sources of health information.

HONcode

This site complies with the HONcode standard for trustworthy health information:
verify here.
What our readers say about us
But don't just take our word for it; here's some feedback from our readers.
"Simple and easy to use website - not alarming, just helpful."
"It's informative but not too detailed. I like that it's factual and realistic about the conditions and the procedures involved. It's also easy to navigate to areas that you specifically want without having to read all the information."
"Good information, easy to find, trustworthy."
Meet the team
Nick Ridgman
Head of Health Content
Dylan Merkett – Lead Editor
Graham Pembrey - Lead Editor
Laura Blanks – Specialist Editor, Quality
Michelle Harrison – Specialist Editor, Insights
Natalie Heaton – Specialist Editor, User Experience
Fay Jeffery – Web Editor
Marcella McEvoy – Specialist Editor, Content Portfolio
Alice Rossiter – Specialist Editor (on Maternity Leave)
Our core principles
All our health content is produced in line with our core editorial principles – readable, reliable, relevant – which are represented by our diagram.
The '3Rs' encompass everything we believe good health information should be. From tweets to in-depth reports, videos to quizzes, every piece of content we produce has these as its foundation.
Readable
In a nutshell, our information is jargon-free, concise and accessible. We know our audience and we meet their health information needs, helping them to take the next step in their health and wellbeing journey.
Reliable
We use the best quality and most up-to-date evidence to produce our information. Our process is transparent and validated by experts – both our users and medical specialists.
Relevant
We know that our users want the right information at the right time, in the way that suits them. So we review our content at least every three years to keep it fresh. And we're embracing new technology and social media so they can get it whenever and wherever they choose.
Our accreditation
Here are just a few of the ways in which the quality of our information has been recognised.
The Information Standard certification scheme

You will see the Information Standard quality mark on our content. This is a certification programme, supported by NHS England, that was developed to ensure that public-facing health and care information is created to a set of best practice principles.

It uses only recognised evidence sources and presents the information in a clear and balanced way. The Information Standard quality mark is a quick and easy way for you to identify reliable and trustworthy producers and sources of information.

Certified by the Information Standard as a quality provider of health and social care information. Bupa shall hold responsibility for the accuracy of the information they publish and neither the Scheme Operator nor the Scheme Owner shall have any responsibility whatsoever for costs, losses or direct or indirect damages or costs arising from inaccuracy of information or omissions in information published on the website on behalf of Bupa.

British Medical Association (BMA) patient information awards

We have received a number of BMA awards for different assets over the years. Most recently, in 2013, we received a 'commended' award for our online shared decision making hub.
Contact us
If you have any feedback on our health information, we would love to hear from you. Please contact us via email: healthinfo@bupa.com. Or you can write to us:
Health Content Team
Battle Bridge House
300 Grays Inn Road
London
WC1X 8DU
Find out more
Close
Legal disclaimer
This information was published by Bupa's Health Content Team and is based on reputable sources of medical evidence. It has been reviewed by appropriate medical or clinical professionals. Photos are only for illustrative purposes and do not reflect every presentation of a condition.
The information contained on this page and in any third party websites referred to on this page is not intended nor implied to be a substitute for professional medical advice nor is it intended to be for medical diagnosis or treatment. Third party websites are not owned or controlled by Bupa and any individual may be able to access and post messages on them. Bupa is not responsible for the content or availability of these third party websites. We do not accept advertising on this page.
For more details on how we produce our content and its sources, visit the 'About our health information' section.
ˆ We may record or monitor our calls.