Underactive thyroid (hypothyroidism)
If you have an underactive thyroid (hypothyroidism), it means your thyroid gland isn't producing enough thyroid hormones.
Too little thyroid hormone slows down your body's metabolism. Your metabolism is the combination of chemical processes that happen in yourbody, such as those that change the food you eat into energy. When your metabolism slows down, it can lead to symptoms such as feeling tired and cold, and putting on weight.
Your thyroid gland is in your neck, in front of your windpipe. It produces two main hormones called thyroxine (T4) and triiodothyronine (T3). Women are around eight times more likely than men to develop an underactive thyroid. If you're middle-aged, you're also more likely to develop it.
Symptoms of underactive thyroid
Symptoms of an underactive thyroid can develop slowly and gradually, sometimes over several years. The symptoms of underactive thyroid can also be quite vague and can be caused by many other conditions or situations, such as feeling tired. This can sometimes make it hard to diagnose.
The main symptoms of underactive thyroid include:
feeling cold / less able to cope with cold
gaining weight
feeling tired with stiff muscles
dry skin and hair loss
heavy, irregular or no periods
slowing down, mentally and physically
a deep and raspy voice
constipation
cramps
tingling in your hands and arms
If you have any of these symptoms, see your GP.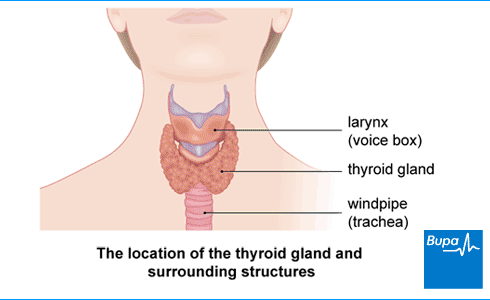 Diagnosis of underactive thyroid
Your GP will ask about your symptoms and examine you. They may also ask you about your medical history.
If your GP thinks you may have an underactive thyroid, they will ask you to have one or more blood tests. This is to check the level of thyroid hormones in your body. The main hormones measured in blood tests are:
TSH - thyroid stimulating hormone
FT4 - free T4 (thyroxine)
FT3 - free T3 (triiodothyronine)
If you have an underactive thyroid, you will usually have a TSH level above normal and a free T4 level below normal. The exact levels of hormones measured may vary between different laboratories. So what's classed as a normal, high or low level for each of the hormones may vary from one area to the next.
If the results of the blood tests show that you have an underactive thyroid, you'll usually be treated by your GP. But in some circumstances, your GP may refer you to a specialist – usually an endocrinologist – who specialises in treating thyroid conditions.
Treatment of underactive thyroid
The aim of treatment is to ease your symptoms and prevent any complications. This means getting your thyroid hormone levels back to normal.
If you have a mildly underactive thyroid (called subclinical hypothyroidism), you may not need any treatment. If you're not having treatment, your GP will usually check your thyroid hormone levels every six to 12 months. If you develop symptoms, your GP may suggest that you start having treatment.
Medicines
Your doctor may prescribe you a hormone replacement medicine called levothyroxine (thyroxine). You take this once a day as a tablet.
Usually, you start by taking a small amount of levothyroxine and this is gradually increased. Your GP will take a blood sample every three to four weeks and then change the amount, depending on the results.
It can take a while for your hormone levels to get back to normal, so it may be a few months until you start to feel better. Once your thyroid levels have returned to normal, you'll usually have a blood test once a year to check your thyroid hormone levels. You will need to take levothyroxine for the rest of your life.
Causes of underactive thyroid
In the UK, the most common cause of underactive thyroid is autoimmune thyroiditis (Hashimoto's thyroiditis). This is when your immune system attacks your thyroid gland, damaging it and stopping it producing enough thyroid hormone. If you have had your thyroid gland removed or radioactive iodine treatment for an overactive thyroid, this can cause an underactive thyroid. Radiotherapy for thyroid cancer can also lead to an underactive thyroid.
Other causes of underactive thyroid include:
some medicines, such as lithium and amiodarone
an infection caused by a virus (thyroiditis)
pregnancy – around one in 20 women develop an underactive thyroid in the six months after their baby is born
Complications of underactive thyroid
The symptoms of an underactive thyroid, such as physical and mental tiredness and lack of energy, can have a serious effect on your day-to-day life. You may find that your work life, relationships and social life suffer.
If you're pregnant, an underactive thyroid can mean your baby may be born early or underweight. It can also lead to miscarriage.
Other complications include:
heart problems, such as chest pain (angina) and an irregular and fast heartbeat (atrial fibrillation)
myxoedema – this is a rare but serious condition that can affect your heart – it can be life-threatening
FAQ: How soon will I feel better when taking levothyroxine?
Most people make a full recovery and feel completely better once their hormone levels get back to normal.
But don't worry if it takes a few months for your symptoms to go after starting treatment – this is to be expected. Some people find that they don't feel completely better until about six months after their hormone levels get back to normal.
Around one in every 20 people with an underactive thyroid will still have some symptoms, even though their hormone levels are normal. If this happens, your GP may arrange for you to have further tests to see whether something else is causing your symptoms.
FAQ: Is it safe to take levothyroxine when I'm pregnant?
Yes, you can take levothyroxine when you're pregnant. You will need regular checks during your pregnancy to make sure your thyroid hormones are at a healthy level.
When you're pregnant, it's important to have the right amount of thyroid hormones in your bloodstream. In the first trimester (first 12 weeks) of your pregnancy, thyroid hormones help your baby's brain to develop. Later on in your pregnancy, low thyroid hormone levels can cause complications such as pre-eclampsia and heart problems.
If you have an underactive thyroid, see your GP as soon as you think you're pregnant. While you're pregnant, your body usually needs more thyroid hormone. Your doctor may need to increase the amount of levothyroxine you take. After your baby is born, the amount you need to take should go down again.
Your thyroid hormone levels will be regularly checked while you're pregnant.
FAQ: Will I lose weight when I start treatment?
One of the main symptoms of an underactive thyroid is that you put on weight, even though you may feel less like eating. The weight doesn't always come off when you start treatment.
Being overweight has been linked to having an underactive thyroid. But, if you have an underactive thyroid, you put on weight because your body holds on to more water than usual, rather than because you're storing fat. Your metabolism also slows down, which means you don't use energy in the same way.
There are only a small number of research studies that have looked at weight in people who have an underactive thyroid. These show that once treatment starts, any weight that you've already put on doesn't always come off again.
If you want to lose the weight you put on, or keep your weight healthy, it's important to be active and eat the right foods. The main things you can do are listed below.
Do at least 150 minutes (2½ hours) of moderate-intensity activity each week. You don't need to do this all at once, you can break it down to sessions of 10 minutes or more. One way to do this is to do 30 minutes on at least 5 days a week.
Eat mostly vegetables, fruits, beans and pulses, wholegrains and fish.
Eat fewer foods and drinks high in saturated fat or sugar, such as fried foods, biscuits, savoury snacks and sweets.
Eat smaller portions.
Eat more wholegrain foods and foods that have a lot of fibre in them.
Have no more than 70g of red and processed meat a day.
If your weight changes a lot, see your doctor. They may need to change the amount of levothyroxine you take.
FAQ: I have borderline underactive thyroid. What is that?
You're classed as having borderline underactive thyroid if you have raised a thyroid-stimulating hormone (TSH) level, but normal thyroid hormone levels in your blood. Doctors usually call this subclinical hypothyroidism. As many as one in 10 people have borderline underactive thyroid, and the likelihood of developing underactive thyroid goes up as you get older.
Your doctor may suggest that you take levothyroxine if your TSH level is above 10mU/L. This is because you're more likely to develop underactive thyroid that needs treatment in the future.
Whether you have treatment or not, your doctor will do regular blood tests to check your thyroid hormone levels.
Details
Bupa On Demand

Discover how you can access a range of private treatments on a pay-as-you-go basis with Bupa On Demand.

Sources

Primary hypothyroidism. BMJ Best Practice. bestpractice.bmj.com, last updated April 2016
Hypothyroidism. The MSD Manuals. www.msdmanuals.com, last full review/revision May 2014
Stedman's Medical Dictionary. Lippincott Williams & Wilkins. www.medicinescomplete.com, accessed 15 March 2016
Overview of thyroid function. The MSD Manuals. www.msdmanuals.com, last full review/revision May 2014
Thyroid. Oxford handbook of endocrinology and diabetes (online). Oxford Medicine Online. oxfordmedicine.com, published March 2014
Hypothyroidism. NICE Clinical Knowledge Summaries. cks.nice.org.uk, last revised February 2011
The diagnosis and management of primary hypothyroidism. Royal College of Physicians, 2011.. www.thyroiduk.org.uk
Hyperthyroidism. Medscape. emedicine.medscape.com, updated November 2015
Hyperthyroidism. PatientPlus. patient.info/patientplus, last checked December 2015
UK guidelines for the use of thyroid function tests. The Association for Clinical Biochemistry, British Thyroid Association, British Thyroid Foundation. www.british-thyroid-association.org, published July 2006
Hypothyroidism guide. British Thyroid Foundation. www.btf-thyroid.org, revised 2015
Joint Formulary Committee. British National Formulary (online) London: BMJ Group and Pharmaceutical Press. www.medicinescomplete.com, accessed 23 March 2016
Jonklaas J, Bianco AC, Bauer AJ, et al. Guidelines for the treatment of hypothyroidism: prepared by the American Thyroid Association Task Force on Thyroid Hormone Replacement. Thyroid December 2014; 24(12): 1670–1751.
Preventing excess weight gain. National Institute for Health and Care Excellence (NICE), 2015. www.nice.org.uk
Start Active, Stay Active. A report on physical activity from the four home countries' Chief Medical Officers. Department of Health, 2011. www.gov.uk

We'd love to know what you think about what you've just been reading and looking at – we'll use it to improve our information. If you'd like to give us some feedback, our short form below will take just a few minutes to complete. And if there's a question you want to ask that hasn't been answered here, please submit it to us. Although we can't respond to specific questions directly, we'll aim to include the answer to it when we next review this topic.

Reviewed by Pippa Coulter, Specialist Health Editor, Bupa Health Content Team, May 2016
Peer reviewed by Dr Jonathan Katz MD FRCP, Consultant Endocrinologist
Next review due May 2019
About our health information
At Bupa we produce a wealth of free health information for you and your family. We believe that trustworthy information is essential in helping you make better decisions about your health and care. Here are just a few of the ways in which our core editorial principles have been recognised.
Information Standard

We are certified by the Information Standard. This quality mark identifies reliable, trustworthy producers and sources of health information.

HONcode

This site complies with the HONcode standard for trustworthy health information:
verify here.
What our readers say about us
But don't just take our word for it; here's some feedback from our readers.
"Simple and easy to use website - not alarming, just helpful."
"It's informative but not too detailed. I like that it's factual and realistic about the conditions and the procedures involved. It's also easy to navigate to areas that you specifically want without having to read all the information."
"Good information, easy to find, trustworthy."
Meet the team
Nick Ridgman
Head of Health Content
Dylan Merkett – Lead Editor
Graham Pembrey - Lead Editor
Laura Blanks – Specialist Editor, Quality
Michelle Harrison – Specialist Editor, Insights
Natalie Heaton – Specialist Editor, User Experience
Fay Jeffery – Web Editor
Marcella McEvoy – Specialist Editor, Content Portfolio
Alice Rossiter – Specialist Editor (on Maternity Leave)
Our core principles
All our health content is produced in line with our core editorial principles – readable, reliable, relevant – which are represented by our diagram.
The '3Rs' encompass everything we believe good health information should be. From tweets to in-depth reports, videos to quizzes, every piece of content we produce has these as its foundation.
Readable
In a nutshell, our information is jargon-free, concise and accessible. We know our audience and we meet their health information needs, helping them to take the next step in their health and wellbeing journey.
Reliable
We use the best quality and most up-to-date evidence to produce our information. Our process is transparent and validated by experts – both our users and medical specialists.
Relevant
We know that our users want the right information at the right time, in the way that suits them. So we review our content at least every three years to keep it fresh. And we're embracing new technology and social media so they can get it whenever and wherever they choose.
Our accreditation
Here are just a few of the ways in which the quality of our information has been recognised.
The Information Standard certification scheme

You will see the Information Standard quality mark on our content. This is a certification programme, supported by NHS England, that was developed to ensure that public-facing health and care information is created to a set of best practice principles.

It uses only recognised evidence sources and presents the information in a clear and balanced way. The Information Standard quality mark is a quick and easy way for you to identify reliable and trustworthy producers and sources of information.

Certified by the Information Standard as a quality provider of health and social care information. Bupa shall hold responsibility for the accuracy of the information they publish and neither the Scheme Operator nor the Scheme Owner shall have any responsibility whatsoever for costs, losses or direct or indirect damages or costs arising from inaccuracy of information or omissions in information published on the website on behalf of Bupa.

British Medical Association (BMA) patient information awards

We have received a number of BMA awards for different assets over the years. Most recently, in 2013, we received a 'commended' award for our online shared decision making hub.
Contact us
If you have any feedback on our health information, we would love to hear from you. Please contact us via email: healthinfo@bupa.com. Or you can write to us:
Health Content Team
Battle Bridge House
300 Grays Inn Road
London
WC1X 8DU
Find out more
Close
Legal disclaimer
This information was published by Bupa's Health Content Team and is based on reputable sources of medical evidence. It has been reviewed by appropriate medical or clinical professionals. Photos are only for illustrative purposes and do not reflect every presentation of a condition.
The information contained on this page and in any third party websites referred to on this page is not intended nor implied to be a substitute for professional medical advice nor is it intended to be for medical diagnosis or treatment. Third party websites are not owned or controlled by Bupa and any individual may be able to access and post messages on them. Bupa is not responsible for the content or availability of these third party websites. We do not accept advertising on this page.
For more details on how we produce our content and its sources, visit the 'About our health information' section.
ˆ We may record or monitor our calls.