Wisdom teeth removal
Impacted wisdom teeth can sometimes cause problems such as pain, swelling or infection. If you're having problems such as these with your wisdom teeth, make an appointment to see your dentist. Having impacted wisdom teeth surgically removed (extracted) can help to stop these problems. Your dentist will examine you and discuss with you whether this would be best in your case. Your dentist may be able to remove your wisdom teeth, or they may need to refer you to an oral surgeon for hospital treatment.
Your wisdom teeth are the four teeth located right at the back of your mouth. You may need your wisdom teeth removed if they're causing problems. It's a common procedure: every year in the UK over 75,000 people have their wisdom teeth removed.
Wisdom teeth usually come through between the ages of 18 and 24, although you may be younger or older. They are the last of the large grinding teeth (molars) at the back of your mouth to come through. Some people never develop all their wisdom teeth but you could have up to four – one in each corner of your mouth.
Your wisdom teeth may not be able to come through normally if they don't have enough space or you have other teeth in the way. Wisdom teeth that don't come through normally are known as impacted. For many people, wisdom teeth don't cause any problems, even if they are impacted, and don't need to be removed.
It's important to clean your teeth thoroughly if you have impacted wisdom teeth and to see your dentist regularly, as you normally would.
Read more
Close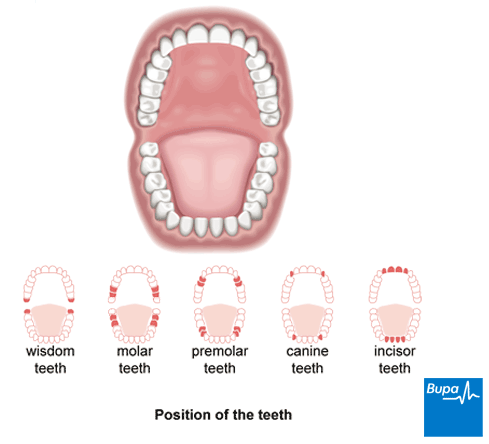 About our health information
At Bupa we produce a wealth of free health information for you and your family. We believe that trustworthy information is essential in helping you make better decisions about your health and care. Here are just a few of the ways in which our core editorial principles have been recognised.
Information Standard

We are certified by the Information Standard. This quality mark identifies reliable, trustworthy producers and sources of health information.

HONcode

This site complies with the HONcode standard for trustworthy health information:
verify here.
What our readers say about us
But don't just take our word for it; here's some feedback from our readers.
"Simple and easy to use website - not alarming, just helpful."
"It's informative but not too detailed. I like that it's factual and realistic about the conditions and the procedures involved. It's also easy to navigate to areas that you specifically want without having to read all the information."
"Good information, easy to find, trustworthy."
Meet the team
Nick Ridgman
Head of Health Content
Dylan Merkett – Lead Editor
Graham Pembrey - Lead Editor
Natalie Heaton – Specialist Editor, User Experience
Pippa Coulter – Specialist Editor, Content Library
Alice Rossiter – Specialist Editor, Insights (on Maternity Leave)
Laura Blanks – Specialist Editor, Quality
Michelle Harrison – Specialist Editor, Insights
Our core principles
All our health content is produced in line with our core editorial principles – readable, reliable, relevant – which are represented by our diagram.
The '3Rs' encompass everything we believe good health information should be. From tweets to in-depth reports, videos to quizzes, every piece of content we produce has these as its foundation.
Readable
In a nutshell, our information is jargon-free, concise and accessible. We know our audience and we meet their health information needs, helping them to take the next step in their health and wellbeing journey.
Reliable
We use the best quality and most up-to-date evidence to produce our information. Our process is transparent and validated by experts – both our users and medical specialists.
Relevant
We know that our users want the right information at the right time, in the way that suits them. So we review our content at least every three years to keep it fresh. And we're embracing new technology and social media so they can get it whenever and wherever they choose.
Our accreditation
Here are just a few of the ways in which the quality of our information has been recognised.
The Information Standard certification scheme

You will see the Information Standard quality mark on our content. This is a certification programme, supported by NHS England, that was developed to ensure that public-facing health and care information is created to a set of best practice principles.

It uses only recognised evidence sources and presents the information in a clear and balanced way. The Information Standard quality mark is a quick and easy way for you to identify reliable and trustworthy producers and sources of information.

Certified by the Information Standard as a quality provider of health and social care information. Bupa shall hold responsibility for the accuracy of the information they publish and neither the Scheme Operator nor the Scheme Owner shall have any responsibility whatsoever for costs, losses or direct or indirect damages or costs arising from inaccuracy of information or omissions in information published on the website on behalf of Bupa.

British Medical Association (BMA) patient information awards

We have received a number of BMA awards for different assets over the years. Most recently, in 2013, we received a 'commended' award for our online shared decision making hub.
Contact us
If you have any feedback on our health information, we would love to hear from you. Please contact us via email: healthinfo@bupa.com. Or you can write to us:
Health Content Team
Battle Bridge House
300 Grays Inn Road
London
WC1X 8DU
Find out more
Close
Legal disclaimer
This information was published by Bupa's Health Content Team and is based on reputable sources of medical evidence. It has been reviewed by appropriate medical or clinical professionals. Photos are only for illustrative purposes and do not reflect every presentation of a condition.
The information contained on this page and in any third party websites referred to on this page is not intended nor implied to be a substitute for professional medical advice nor is it intended to be for medical diagnosis or treatment. Third party websites are not owned or controlled by Bupa and any individual may be able to access and post messages on them. Bupa is not responsible for the content or availability of these third party websites. We do not accept advertising on this page.
For more details on how we produce our content and its sources, visit the 'About our health information' section.
ˆ We may record or monitor our calls.