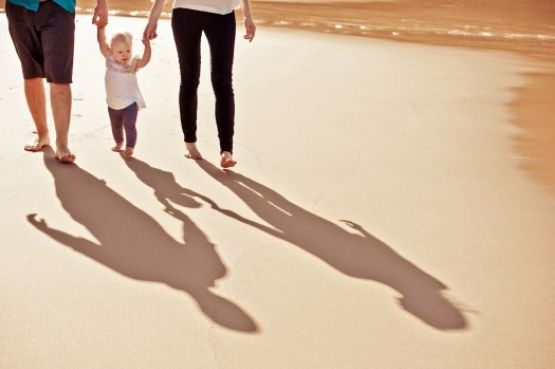 The weather is warming up and the sun's rays are strengthening. So to mark The British Association of Dermatologists' Sun Awareness Week, Bupa's Dr Stephanie Munn and British Skin Foundation Trustee, Dr Bav Shergill, explain how to take care of your family's skin.
"A sunny day often means picnics, trips to the beach and fun in the garden. Although sunlight is a great source of vitamin D, which is essential for good health, damage to your skin from the sun is a real risk," explains Stephanie. "We can all enjoy the great outdoors, but it's important to take some precautions, especially on hot, sunny days when the sun's harmful rays can cause lasting damage."
Stephanie highlights those who should take particular care in the sun.
Children, especially babies, and young people.
People who tend to burn rather than tan.
Those with lighter skin, fair or red hair, blue or green eyes, or who have lots of freckles.
People with lots of moles.
Those who have a weakened immune system because of a specific disease or a medicine they are taking.
People who are taking medicines that make your skin more sensitive to sunlight, for example, some acne treatments.
People who have had skin cancer before, or there is a family history of it.
"Talk to your children about sun safety and encourage them to take steps to protect their skin from a young age," suggests Stephanie. "This will help instil good habits for a lifetime. Teach them to apply sunscreen themselves, or perhaps treat them to a new hat that they like – this will mean they're more likely to wear it."
Dr Bav Shergill explains why it's so important to protect your skin from the sun's harmful rays: "UV rays can damage the DNA of cells in your skin, causing them to keep growing and not naturally stop. This unstoppable growth is cancer. For the majority of cases, skin cancer is preventable."
Top sun safety tips from Dr Bav Shergill
Protect your skin with clothing, such as wearing a loose t-shirt or long, loose trousers. Wear a wide-brimmed hat that protects your face, neck and ears.
Spend time in the shade between 11am and 3pm on a sunny day. This is when the sun's rays are strongest.
When choosing a sunscreen, use one with a high sun protection factor (SPF 30 or more) to protect against UVB radiation, which is linked to skin cancer. Also, look for a four or five star UVA rating on the bottle to help protect you from UVA radiation – this is associated with ageing of the skin.
Apply plenty of sunscreen 15 to 30 minutes before going out in the sun and reapply every two hours, as well as straight after swimming and towel-drying.
Try to keep babies and young children out of direct sunlight.
Dr Bav Shergill highlights the growing prevalence of skin cancer in the UK: "Seven people die from skin cancer every day in the UK, and over 100,000 new cases of skin cancer are diagnosed each year. Unfortunately, rates of malignant melanoma – the least common but more serious form of skin cancer – are rising faster than any other type of common cancer."

"We all need to take steps to protect our skin, and our children's skin, from the sun's rays," presses Stephanie. "Help reduce your chances of skin cancer by being safe in the sun, both at home and abroad."
For more information on skin cancer, visit the British Skin Foundation's website.
The British Skin Foundation is the only UK charity dedicated to raising funds for skin disease and skin cancer research. Their website contains handy 'Skinformation' pages for the public. Plus you can join their online community and ask questions, swap skin tips and share your experiences with others.
---
If you're worried about potential damage to your skin through sun exposure, you can visit our health centres for a check up.
More living well articles...
Bupa health insurance

Bupa health insurance aims to provide you with the specialist care and support you need, as quickly as possible. Find out how you could benefit.
Legal disclaimer
This information was published by Bupa's Health Content Team and is based on reputable sources of medical evidence. It has been reviewed by appropriate medical or clinical professionals. Photos are only for illustrative purposes and do not reflect every presentation of a condition.
The information contained on this page and in any third party websites referred to on this page is not intended nor implied to be a substitute for professional medical advice nor is it intended to be for medical diagnosis or treatment. Third party websites are not owned or controlled by Bupa and any individual may be able to access and post messages on them. Bupa is not responsible for the content or availability of these third party websites. We do not accept advertising on this page.
For more details on how we produce our content and its sources, visit the 'About our health information' section.