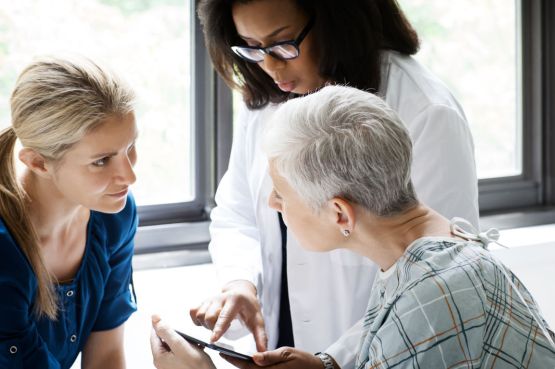 The average appointment with a GP lasts just 10 minutes. If you need to describe your symptoms, talk about anything related to them, and give details about your medical history, time can get pretty tight. Add on an examination and you could tip over the average before you know it. It can really help to do a bit of prep to make the most of your slot. Here's how.
One problem at a time...
If you have more than one health problem that you're concerned about, it's best to book more than one appointment than go through them all at the same time.
Doing this gives you the time to explain your concerns and symptoms, and gives your doctor time to focus on how best to help you. It also means that your appointment won't run over into someone else's.
Think about which problem you want to address the most and talk to your doctor about this one at your first appointment.
Preparation is key
Before you go to your doctor's appointment, it can help to research any questions you're likely to be asked, so you can prepare answers. You'll save valuable minutes trying to recall things.
Here are some questions your GP is likely to ask you if you have pain, for example.
Where's the pain?
What does it feel like?
When did it begin?
What makes it better or worse?
Does it go anywhere else in your body?
Dear diary...
Recording your symptoms in a diary is a great way to remember dates and times – and you can cross-reference what you were doing.
Before your appointment, have a look at your diary and see if you can spot any patterns or triggers yourself. You might notice that a rash flares up after you go for a run, for example. Use your diary to help draw up questions and to prepare your answers.
You, your doctor and the internet – three's a crowd?
The internet gives us access to a huge amount of health information. But once armed with all this knowledge, how can you bring it to a consultation with your GP?
If you've gathered lots of information, create a summary of what you've found. Summarise it in a few sentences – and list where you found it so your GP can check if it's from a reliable source.
Bear in mind that the information on the internet isn't specific to you, so be open to discussing how it relates to you as an individual. While the internet is really helpful to research your symptoms, some results can cause unnecessary concern. Your GP will put it all in context for you.
Your questions
It's a good idea to write down a list of questions you'd like to ask your doctor during your appointment.
What health problem could I have?
Will I need any tests? If so, what for and what will the results tell me?
What are the treatment options, and what are the benefits and side-effects of each option?
Do I need to change my lifestyle?
In turn, your GP will likely ask you what you think of different treatment options. It's a good idea to think about what's important to you and your preferences before you go. You'll then be prepared to put these into action in partnership with your GP.
More mindfulness articles...
Health information
At Bupa we produce a wealth of free health information for you and your family. We believe that trustworthy information is essential in helping you make better decisions about your health and care.
Legal disclaimer
This information was published by Bupa's Health Content Team and is based on reputable sources of medical evidence. It has been reviewed by appropriate medical or clinical professionals. Photos are only for illustrative purposes and do not reflect every presentation of a condition.
The information contained on this page and in any third party websites referred to on this page is not intended nor implied to be a substitute for professional medical advice nor is it intended to be for medical diagnosis or treatment. Third party websites are not owned or controlled by Bupa and any individual may be able to access and post messages on them. Bupa is not responsible for the content or availability of these third party websites. We do not accept advertising on this page.
For more details on how we produce our content and its sources, visit the 'About our health information' section.