Protein packs a strong health punch: it keeps you healthy by helping your body grow and repair itself. After water, it's the most plentiful compound in your body and is in every cell and tissue. But how can you make sure you're getting enough, particularly when you're busy and on the go?
How much protein do you need?
The Eatwell Guide from Public Health England shows you how much protein (the pink segment) you need to eat every day: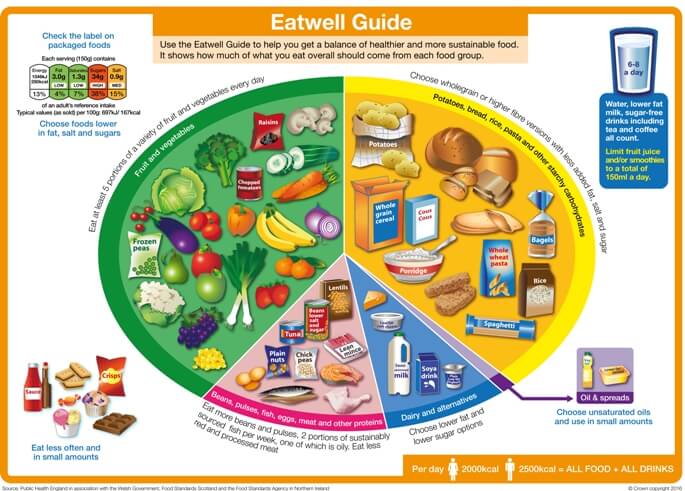 You need around 50g of protein a day (more if you're pregnant or breastfeeding). You may also need a bit more if you're very active or an athlete, but you can usually get enough if you follow a healthy, balanced diet. This isn't the same as following a high-protein diet; these examples show you how to get enough as part of a balanced diet.
But which sources of protein are best?
Lots of people do successfully get enough protein each day. But as a lifestyle adviser, I find that this can often be from convenient but unhealthy sources. These include processed meats, fatty cuts of meat and full-fat dairy products, which can be high in saturated fat, salt and sugar. Too much of these types of foods can lead to health problems such as obesity, high blood pressure and cardiovascular disease.
People often go for these convenience foods because of a lack of time, mainly due to work, exercise or family commitments. However, preparing a nutritious, protein-rich snack doesn't have to eat up all of your time.
Here are six ways to fit some quick and healthy sources of protein into your typical day:
1. Egg in a mug
Just microwave some low-fat spread for 20 seconds. Whisk in an egg and a splash of skimmed milk. Sprinkle in some low-fat cheese and microwave for a minute! Eat with a slice of wholemeal bread or breakfast muffin for a speedy start to the day.
Protein per 100g = 10g (plus extra protein from milk and cheese)
2. Nuts and seeds
Nuts and seeds are an easy and healthier option for a work snack. Swap the biscuits for some almonds, unsalted cashews, and sunflower, pumpkin or flax seeds. Add in some dried fruits or peel for a bit more variety. Nuts and seeds are also a great source of healthy fats that can help reduce your bad cholesterol.
Protein per 100g = 17–21g
3. Cottage cheese
This is a versatile option and a lot lower in saturated fats than harder cheeses. Mix with mashed avocado for a tasty dip, or add to pasta to make it stringy. For a sweeter option, halve a banana length ways and spoon the cottage cheese on top. Sprinkle some nuts and berries for a home-made banana split.
Protein per 100g = 12.4g
4. Lentils
For a simple spaghetti bolognese that's high in protein and lower in saturated fat, swap half of the beef mince with lentils. This also adds fibre to the dish to help with digestion.
Protein per 100g = 9g
5. Low-fat greek yoghurt
This is a delicious dessert! Greek yoghurt contains more protein than regular yoghurt, and half the amount of sugar. Add some sliced peaches or berries and a touch of cinnamon.
Protein per 100g = 10g
6. Peanut butter
Peanut butter is a treat that's high in protein and healthy fats. Make some homemade granola by adding peanut butter, cinnamon, vanilla and a drizzle of honey to some oats, and bake until golden brown. Or just keep it simple and use as a dip for fruit.
Protein per 100g = 22g
Protein-rich foods don't have to take long to prepare and cook. These six protein ideas are proof that you can throw together a healthy, nutritious snack packed with protein in just a couple of minutes.
*Note: amount of protein may vary according to brand and cooking method.
---
Do you know how healthy you truly are? Bupa health assessments give you a clear overview of your health. You'll receive a personalised lifestyle action plan with health goals to reach for a healthier, happier you.
More diet related articles...
Health information
At Bupa we produce a wealth of free health information for you and your family. We believe that trustworthy information is essential in helping you make better decisions about your health and care.
Legal disclaimer
This information was published by Bupa's Health Content Team and is based on reputable sources of medical evidence. It has been reviewed by appropriate medical or clinical professionals. Photos are only for illustrative purposes and do not reflect every presentation of a condition.
The information contained on this page and in any third party websites referred to on this page is not intended nor implied to be a substitute for professional medical advice nor is it intended to be for medical diagnosis or treatment. Third party websites are not owned or controlled by Bupa and any individual may be able to access and post messages on them. Bupa is not responsible for the content or availability of these third party websites. We do not accept advertising on this page.
For more details on how we produce our content and its sources, visit the 'About our health information' section.