If you're a football fan who likes to make the most of international tournaments, I'm sure you're readying yourself for a busy summer …
Starting next Thursday, 32 teams will battle it out over 32 days for the most famous trophy in fooball. In that period, there'll be 64 games, guaranteeing at least 96 hours (or – if you like – 5,760 minutes) of action. You certainly won't struggle to get your football fix during the World Cup.
The bad news is that hitting the sofa for 96 hours is hardly a recipe for a healthy summer. The health risks of a sedentary lifestyle are well established, and you might have other unhealthy habits that go along with your football-watching.
With that in mind, here are my top tips for staying healthy while you follow the action from Russia!
Choose healthy snacks
Have you ever found yourself wondering how you got through a family size bag of crisps? When you eat whilst watching television, you're less likely to pay attention to your hunger signals or how much you've had. So be mindful of what you're eating. Try replacing:
crisps with rice cakes and peanut butter, a fruit scone or hot-cross bun
salted nuts with a small handful of unsalted varieties
fried foods with fresh fruit or chopped vegetables and reduced-fat hummus
Take a look at 50 of our favourite food swaps for more ideas.
Monitor your alcohol intake
Football and beer often go hand-in-hand, and many of us will be enjoying a cold one while watching the game. But two beers with every match you watch during the week – even if that's just four or five matches – could tip you over the recommended guidelines. This is up to 14 units a week for both men and women.
You could try:
drinking low-alcohol or non-alcoholic drinks instead
adding soda water to your drinks to make spritzers
having alcohol-free nights and not drinking at home
Set yourself a curfew
How long a sporting event lasts isn't always within your control. If you're a cricket fan, you're probably used to some late-night sessions watching Southern Hemisphere matches.
Fortunately none of the World Cup matches start later than 7pm. However, extra time, penalties, and that crucial post-match analysis may take the coverage past the time you'd usually hit the sack.
But not getting enough sleep can have harmful effects on your health. Try:
setting yourself a time to switch off from the screen
watching the first half today and finishing the rest tomorrow
recording it to watch on another occasion
Keep moving
You can often get so involved in what you're watching that it's hard to tear yourself away. But sitting for long periods of time has been linked to some long-term health conditions. So make a conscious effort to get up and move as much as you can, especially if you've already been sedentary in work for most of the day. You could:
use half time to go outside for a brisk walk
give our 15-minute workout a try
follow our ad break workout below. Click the image to open a larger version.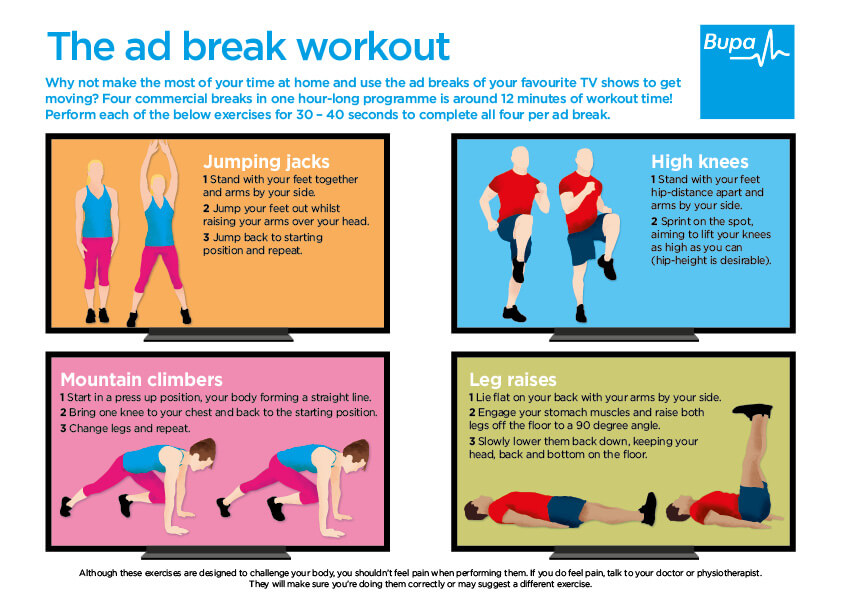 ---
Bupa health insurance aims to provide you with the specialist care and support you need, as quickly as possible. Find out how you can benefit.
More fitness related articles...
The Bupa knee clinic

If you have injured your knee or have a long-term knee problem, the Bupa knee clinic can help you find the information and support you need.
Legal disclaimer
This information was published by Bupa's Health Content Team and is based on reputable sources of medical evidence. It has been reviewed by appropriate medical or clinical professionals. Photos are only for illustrative purposes and do not reflect every presentation of a condition.
The information contained on this page and in any third party websites referred to on this page is not intended nor implied to be a substitute for professional medical advice nor is it intended to be for medical diagnosis or treatment. Third party websites are not owned or controlled by Bupa and any individual may be able to access and post messages on them. Bupa is not responsible for the content or availability of these third party websites. We do not accept advertising on this page.
For more details on how we produce our content and its sources, visit the 'About our health information' section.