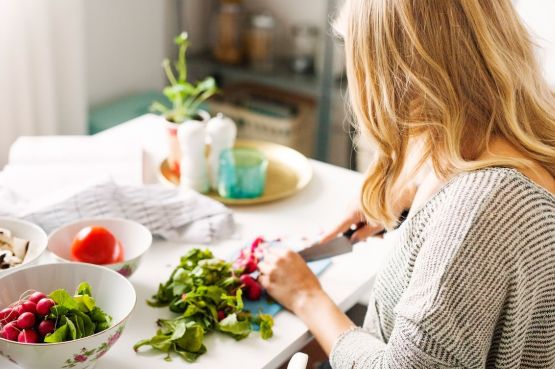 Have you ever wondered what a nutritionist actually eats? I've put together a food diary to show you that it's possible to eat healthily without making mealtimes a chore!
To me, eating healthily is about finding a balance and enjoying food. I follow the '80/20 rule'. This means that 80% of the time I aim to eat and drink well, and that allows me 20% to be more relaxed about what I have and not deprive myself of anything. When combining this with a regular exercise routine, it allows me to keep my weight steady and also feel good while enjoying what I eat. Something I have recently started practising is eating more mindfully. This is when I take more time to eat, focus on what I'm having and really enjoy it. I only eat until I don't want any more. I also try not to eat while watching TV or reading, which can be a distraction.
Below are some examples of what I typically eat in a day.
Breakfast
Breakfast sets me up for the day. This is usually porridge, which is made at home or at work, with a variety of fruit toppings. At the weekend when I have more time I often have some form of eggs and toast. In the summer I make overnight oats the night before, ready to add toppings and eat in the morning.
Lunch
I always take a lunch break away from my desk. This is typically leftovers from my evening meal the night before, which I portion off ready to take in the morning. Luckily, I have access to a kettle, microwave and toaster at work. If I'm in a rush I usually grab a mini avocado, some plum tomatoes and two slices of bread to make avocado on toast at work. Alongside soup, these are some of my staple lunchtime meals as they are quick and filling. I base my meals around having some protein, complex carbohydrate and salad/vegetable/fruit, with a small portion of healthy fats (olive oil, avocado, nuts) as I find that works well for me.
Evening meal
Cooking is one of my favourite things to do. I tend to stick to speedy, simple meals and often try out new recipes from food blogs and popular cookbooks to keep my meals interesting. I also have a few homemade favourites, which include chilli con carne, Thai green curry, or any other spicy curry, served with either basmati rice or cauliflower rice. Cauliflower rice is a substitute for rice; it uses a fresh cauliflower that's been through the food processer, rather than rice grains. It is a great replacement, as when it's combined with a sauce as there is little taste difference from normal rice. It is nutritious and low in calories, making it a good option if you're trying to watch your weight.
Some of my more experimental meals include avocado sauce spaghetti and tuna burgers with salad. Keep an eye out for recipes for these on the Bupa Health Blog in the coming weeks!
Snacks
I am a big grazer, which is something I am trying to cut down on. I often have a lot of healthy snacks around to help me make the right food choices. Fruit, a handful of almonds and raisins, some natural yoghurt, hummus and vegetable sticks, and snack-size popcorn bags are all things I keep handy at work and at home. I also have a portion of nuts in the car to stave off my hunger before teatime.
Remember – these are just my ideas and personal preferences when it comes to healthy eating. Try and experiment with different ideas and ingredients, keeping in mind the key principles of healthy eating.
---
Do you know how healthy you truly are? Bupa health assessments give you a clear overview of your health. You'll receive a personalised lifestyle action plan with health goals to reach for a healthier, happier you.
More diet related articles...
Health information
At Bupa we produce a wealth of free health information for you and your family. We believe that trustworthy information is essential in helping you make better decisions about your health and care.
Legal disclaimer
This information was published by Bupa's Health Content Team and is based on reputable sources of medical evidence. It has been reviewed by appropriate medical or clinical professionals. Photos are only for illustrative purposes and do not reflect every presentation of a condition.
The information contained on this page and in any third party websites referred to on this page is not intended nor implied to be a substitute for professional medical advice nor is it intended to be for medical diagnosis or treatment. Third party websites are not owned or controlled by Bupa and any individual may be able to access and post messages on them. Bupa is not responsible for the content or availability of these third party websites. We do not accept advertising on this page.
For more details on how we produce our content and its sources, visit the 'About our health information' section.