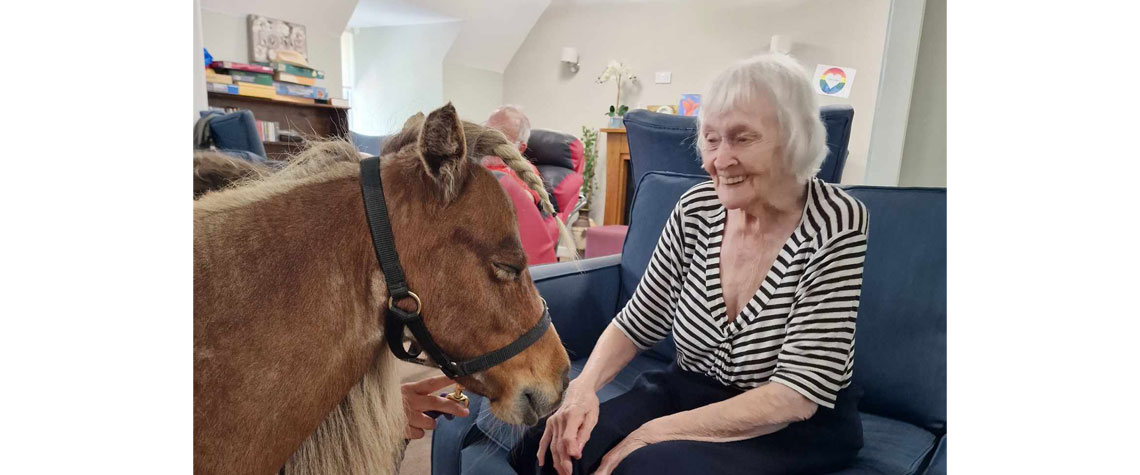 Residents and staff at The Links Bupa Care Home have recently enjoyed an animal therapy session with Mr Kelloggs – the miniature pony.
The afternoon session was organised by Gessica Dyke, The Links' Activity Co-ordinator, and Sharon Gledhill from Linking Hearts Therapy Horses. The residents were joined by Kelloggs in the lounge of the care home where they were invited to stroke and feed the beautifully groomed pony.
Linking Hearts Therapy Horses is run by Sharon and her daughter, Megan Gledhill who bought Kelloggs in 2021 and have been looking after him ever since. Kelloggs has had training a plenty to become accustomed to different sounds and surfaces making him the perfect companion to visit residents in the care home.
One resident, Pam Clements, aged 89, commented: "It was a lovely afternoon with Kelloggs. He is a beautiful boy, so small and soft. I cannot wait to see him again soon."
Another resident, June Smith, aged 89, added: "It was a great afternoon with our visit from Kelloggs. It was a lovely thing for the home to organise for us all."
Home Manager, Denise Arthur-Briskham, added: "Our residents love animals so much. It was lovely to welcome Kelloggs and his owner, Sharon, to the home. Animal therapy sessions are incredibly beneficial to our residents' well-being as they create such a relaxing environment. It was also lovely to see residents reminisce about the past and hear about all the different animals they have had and enjoyed as pets over the course of their lives."
Sharon Gledhill from Linking Hearts concluded: "Seeing the residents faces light up at the sight of Kelloggs was priceless, it was something I will never forget."
Residents and staff at The Links are looking forward to more animal therapy sessions with Kelloggs in the coming weeks and months.
The Links Bupa Care Home is situated in Broadstone and welcomes residents in need of nursing or residential care including those living with dementia, Huntington's, or Parkinson's. For further information, please visit https://www.bupa.co.uk/care-services
Contact Bupa Press Office
If you're a journalist and would like to find out more about any of our activity, or request a comment from one of our spokespeople, please contact the Bupa Press Office
Call us
Drop us a line using the number below

020 7656 2454^