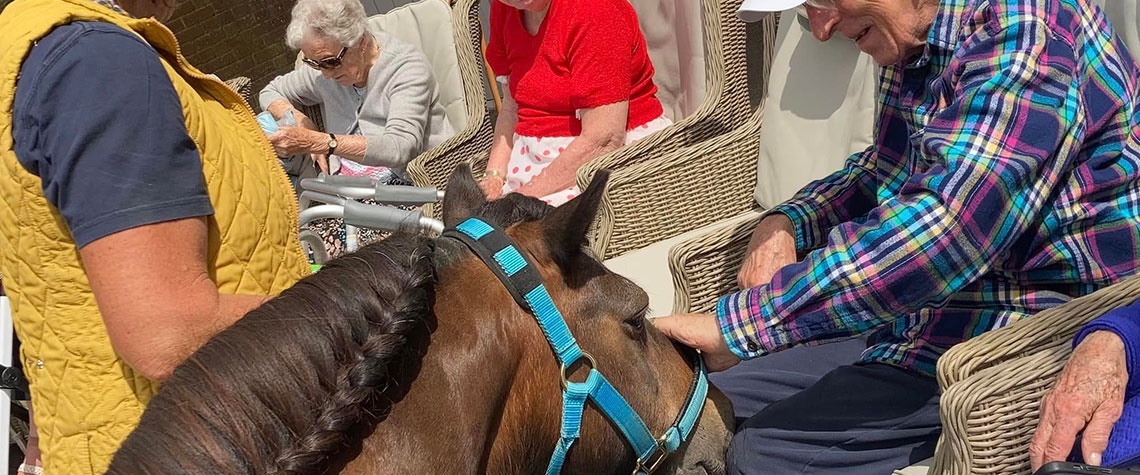 Residents and staff from Copper Beech Bupa Care Home were treated to a surprise visit from Rolo the miniature pony and his owner, Wendy Pattenden, to spread some equine magic around the home.
Rolo visited residents at the home, where they were over the moon to fuss, groom and cuddle him. The benefits of equine therapy are well documented, and carers noted that being able to stroke and engage with Rolo had an instantly positive effect on the resident.
Some of the residents spoke about owning horses in the past and enjoyed reminiscing and exchanging stories of riding and mucking out stables in their youth.
Rolo's owner, Wendy, has a special connection to the home as her parents, Peter and Doreen Thompson, live at Copper Beech. When asked how it felt to see Wendy with Rolo visiting them at the home, Peter commented: "We have incredibly fond memories of watching Wendy grow up with horses, so we were especially excited to see our daughter with Rolo."
One resident, Ann Chatterton, aged 81, commented: "I used to ride and keep horses on a farm in the past, so I really enjoyed meeting Rolo and cannot wait to see him again soon!"
Another resident, Betty Casella, aged 95, added: "I have always loved ponies, so Rolo's visit was a real treat for me."
Carole Sandells, Activity Co-ordinator at the home, concluded: "It was lovely to welcome Rolo and Wendy to the home for a visit. The residents really enjoyed their company, and it was lovely to hear residents chatting away about their memories of ponies. Animal therapy visits are incredibly beneficial for boosting the mood amongst residents and encouraging people to explore past memories. We are definitely looking forward to more visits from Rolo."
Residents and staff from Copper Beech are looking forward to more visits from Rolo in the coming months.
Copper Beech Bupa Care Home is situated in Uckfield and welcomes residents in need of nursing or residential care including those living with dementia or Parkinson's. For further information, please visit https://www.bupa.co.uk/care-services
Contact Bupa Press Office
If you're a journalist and would like to find out more about any of our activity, or request a comment from one of our spokespeople, please contact the Bupa Press Office
Call us
Drop us a line using the number below

020 7656 2454^