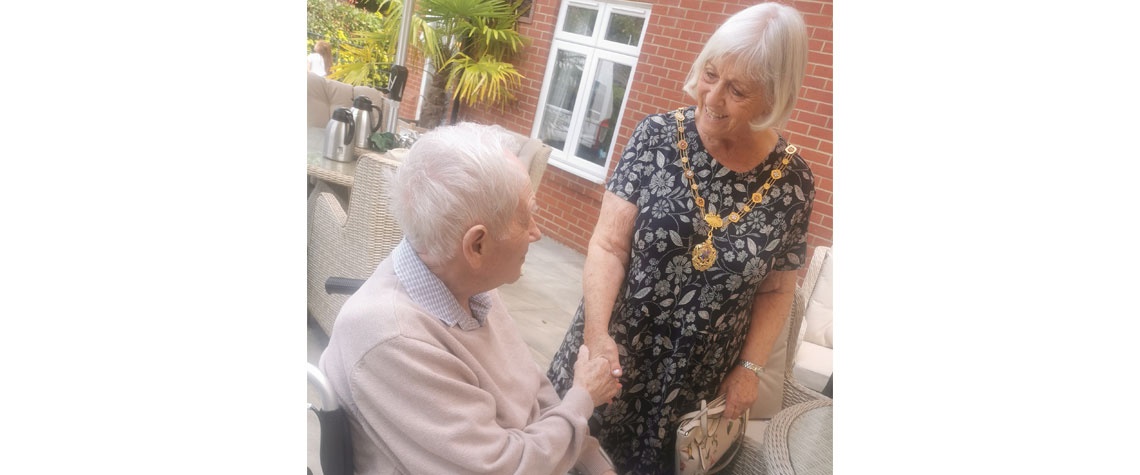 Roger Torpey, resident at The Links Bupa Care Home has recently enjoyed a surprise visit from the Mayor of Bournemouth ahead of his 90th birthday.
Staff at The Links organised for the Mayor of Bournemouth, Councillor Anne Filler to visit Roger ahead of his birthday as he spent over twelve years as a chauffeur to the Mayor in the 1990s. The visit was organised as he regularly talks about how much he loved the job. As Roger sat in the sunshine outside enjoying a cup of tea, the Mayor pulled up in a car similar to the one he drove for the special birthday visit. The pair chatted before he went for a drive in the car around the local area. The visit brought back many happy memories for him who had the opportunity to reminisce on his previous years.
When asked about the surprise, Roger commented: "It was a beautiful day and a lovely surprise. I had a ride in the car and couldn't stop smiling, it brought back many lovely memories of my job."
Denise Arthur-Briskham, Home Manager at The Links Bupa Care Home, commented: "It was wonderful to organise the visit for Roger and the look on his face was priceless, he was definitely surprised! The day was topped off when he was driven around in the car, he was smiling from ear-to-ear. We thoroughly enjoy organising different activities for our residents that are personal to them, it is incredibly important to us as it really improves our residents' well-being."
The Links is looking forward to organising more visits for their residents in the coming weeks and months.
The Links Bupa Care Home is situated in Dorset and welcomes residents in need of nursing or residential care including those living with dementia, Huntington's or Parkinson's. For further information, please visit https://www.bupa.co.uk/care-services.
Contact Bupa Press Office
If you're a journalist and would like to find out more about any of our activity, or request a comment from one of our spokespeople, please contact the Bupa Press Office
Call us
Drop us a line using the number below

020 7656 2454^