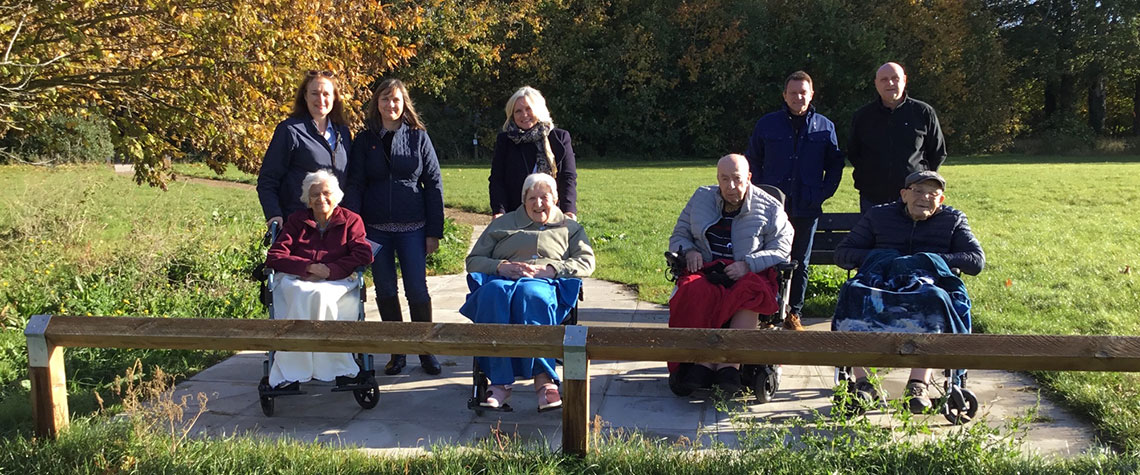 Staff and residents from Premier Court Bupa Care Home have recently unveiled a new accessible path to Southern Country Park in memory of resident, Barbara Wiggins.
The creation of the path came about in 2021, when Jane Holly, Activity Coordinator, approached East Herts District Council about the possibility of having a path laid between the home's boundary to the park, so that residents and their loved ones could enjoy the beautiful surroundings and views. With support from both the council and Friends of the Southern Country Park, work started in October 2022 and has recently been completed.
The path, part funded by East Herts District Council and Premier Court, is hoped to benefit many local residents to safely access the park and enjoy the benefits of being in nature, exercising and enjoying the company of others.
Barbara Wiggins, who lived at Premier Court for six years and was a great lover of the outdoors, advocated for the path throughout the process but unfortunately passed away before it was opened. Her family have continued to support Premier Court and the project, and together they felt it would be a lovely tribute to name the path in Barbara's memory. After discussions with residents and Barbara's family about what they should call it, they decided on the 'Forget Me Not Path'. To celebrate the opening, staff, residents, and Barbara's family came together to unveil a plaque bearing the name of the new path.
One resident, Pat Clarke, commented: "It was lovely to watch the path be unveiled. It's a pleasure to be able to use it and have such easy access to the lovely surroundings of Southern Country Park. It's also very touching it is named after Barbara, she was a good friend of mine, so it means a lot."
When asked about the completion of the path, Jane Holly, commented: "It's brilliant that the path is now open. We can now all enjoy it any time we like. It means so much to all our residents and staff that it's named after Barbara, she was an incredibly special resident who was a huge advocate for the path so she and other residents could have access to the beautiful views of the lake."
Staff and residents are already enjoying and looking forward to spending much more time in the park and enjoying the views of the lake.
Premier Court Bupa Care Home is situated in Bishops Stortford and welcomes residents in need of nursing or residential care, including those living with Parkinson's. They also provide respite and end of Life care. For further information, please visit https://www.bupa.co.uk/care-services
Contact Bupa Press Office
If you're a journalist and would like to find out more about any of our activity, or request a comment from one of our spokespeople, please contact the Bupa Press Office
Call us
Drop us a line using the number below

020 7656 2454^