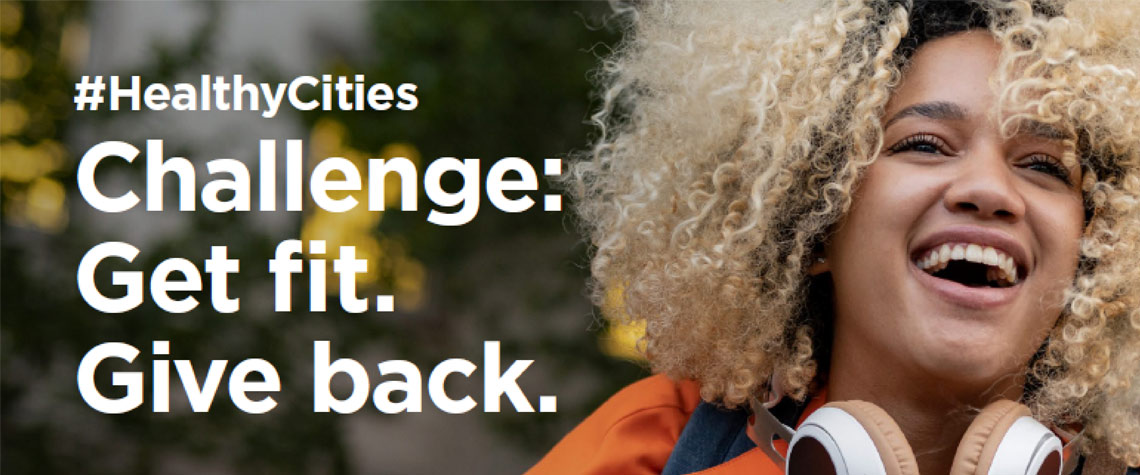 This year our #HealthyCities challenge is going global. It's part of our ambition to support one million people to improve their health each year by 2025, through restoring and regenerating nature.
What's the challenge?
It's all about getting moving. In the UK, we're challenging people to walk at least 6,000 steps (or equivalent wheelchair pushes) every day in June, all tracked by the 'Healthy Cities' app.
As our steps go up, so will our charity donations! We have £750,000 available to help make a better world – supporting regeneration of green space in the UK and overseas.
We'll also be opening a Green Grant programme in June, where local charities and schools can apply for funding. So, if you know an organisation that could benefit, please nominate them.
You and your employees can download the Healthy Cities app today.
For every profile created, we'll unlock £50 for charity*.
Scan the QR code or search 'Healthy Cities' on the app store.
Create a profile and link it to your smartphone or wearable
Join team: "UK - external guests"
*Up to the value of £250,000
If competition's your thing, you can see where you are on our leader board, putting themselves against thousands of Bupa colleagues.
Let's get fit and do our bit. Every step counts.
#HealthyPlanetHealthyPeople
Want to know more? Read more about #HealthyCities here.
Contact Bupa Press Office
If you're a journalist and would like to find out more about any of our activity, or request a comment from one of our spokespeople, please contact the Bupa Press Office
Call us
Drop us a line using the number below

020 7656 2454^