When our customers need to see a prosthetist or orthotist, we offer them a choice from our specialist network. If you would like to join the network, find out more about the benefits it could bring to your practice and the recognition criteria below: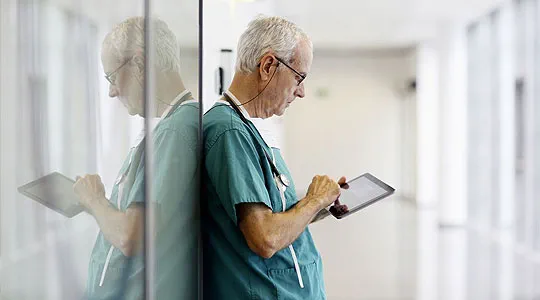 What we offer you
Bupa recognition can help you build and promote your practice. The benefits include:
access to a large share of the health insurance market
raising the profile of your practice through your personal page on Finder, our online directory of Bupa recognised healthcare professionals and healthcare services, which is used by our customers, GPs and the public and receives around 110,000 visits a week
Entry Criteria
Each therapist in a practice must be recognised individually. To become Bupa recognised prosthetists and orthotists need to:
be registered with The British Association of Prosthetists and Orthotists (BAPO) and the Health and Care Professions Council (HCPC)
have a clean record with the regulatory body. If you've previously undergone hearings or investigations we will need further information to process your application (please see the additional information section below which explains what we need to consider your application)
provide references from two Bupa recognised consultants who refer patients to you
have current indemnity insurance up to the amount advised by your professional or regulatory body, and attach a copy of your insurance certificate to your application
have an enhanced Disclosure and Barring Service (DBS) certificate (UK, Wales and Channel Islands) and have the appropriate child or adult barring list check depending on the patients to be treated. An AccessNI enhanced certificate or AccessNI basic for when self-employed (Northern Ireland), or a Disclosure Scotland enhanced disclosure or Protecting Vulnerable Groups (PVG) (Scotland) record check that was completed within the three years before applying for Bupa recognition
submit all invoices to Bupa online for eligible treatment for our customers, receive payment from Bupa via BACs, and not send invoices to our customers
You'll also need to supply photographic proof of identity. The
proof of identity form
(PDF, 0.1MB) explains which documents you can as proof of identity.
Additional information:
If you've previously undergone investigations or hearings with any of your professional bodies please attach a copy of any correspondence with them about the investigation in step two.
If you've told us about any declarations, convictions or previous suspensions please attach a copy of investigation case notes and a covering letter explaining the circumstances in step two.
Before you apply
You can apply for Bupa recognition online in three simple steps which should take less than an hour, depending on the complexity of your practice.
Before you apply, take a look at our Questions and Answers page where you can find more information about becoming Bupa recognised.
Please review the terms and conditions
If you apply for Bupa recognition, we'll take it that you agree to the terms and conditions for joining the Bupa Prosthetist and Orthotist Network (PDF, 0.4MB).
Confidentiality Guidelines
We'll only use the information that you submit to us as part of this process for the purposes of this application, and in our ongoing relationship in the event that you become Bupa recognised.
We've indicated in the application form which information may be shared with Bupa customers on our website and through other media.
You have the opportunity to give your permission for this as you complete the application form.
Gather the documents you need
You'll find it easier to complete your application if you have the following information to hand:
your professional qualifications
your references from two Bupa recognised consultants
name and address of your therapy room(s)
the make, model and service date of any equipment you use
a copy of your BAPO registration certificate
a copy of your enhanced DBS certificate, AccessNI enhanced certificate, AccessNI basic if self employed or Disclosure Scotland enhanced disclosure or Protecting Vulnerable Groups (PVG) record check
a copy of your current indemnity insurance certificate
your photographic proof of identity and completed Proof of Identity form
Apply online
We'll send you an on screen message to confirm we've received your completed application. Once we've received your application and supporting documents, we'll process them. We aim get back to you within five working days, but in busy periods it may take longer.
Your recognition begins on the day you're added to Bupa's list of recognised therapists, so please don't start treating Bupa customers until you've received our email confirming that your application is complete. We're unable to fund any services provided to Bupa patients before that.
In response to helpful feedback from consultants and therapists, we're introducing a new digital process which will make applying for Bupa recognition quicker and easier. While we do this, we're not progressing new applications for a short period. Please check back for further updates as they will be published here. Thank you for your patience.
About us
We're a global health and care company, and our purpose is helping people live longer, healthier, happier lives and making a better world. In the United Kingdom, we offer health insurance and other health and care funding products, including cash plans and pay as you go services. We also run care homes, and retirement and care villages; offer health assessments, physiotherapy and dental treatment at our health and dental centres; and provide care for insured, pay as you go and international patients at our Cromwell Hospital; as well as providing workplace health services. Find out how we can work together to support your patients.