The revolution in virtual health
In 1879, just three years after the telephone was invented, an article in The Lancet recorded the first ever remote consultation: A doctor listened to a child's cough over the phone, offered a diagnosis - "It's not the croup" - and treatment - "Settle down and get some sleep".
But the last three months have seen a revolution in remote and virtual health, with the attitudes of both users and providers changing beyond recognition.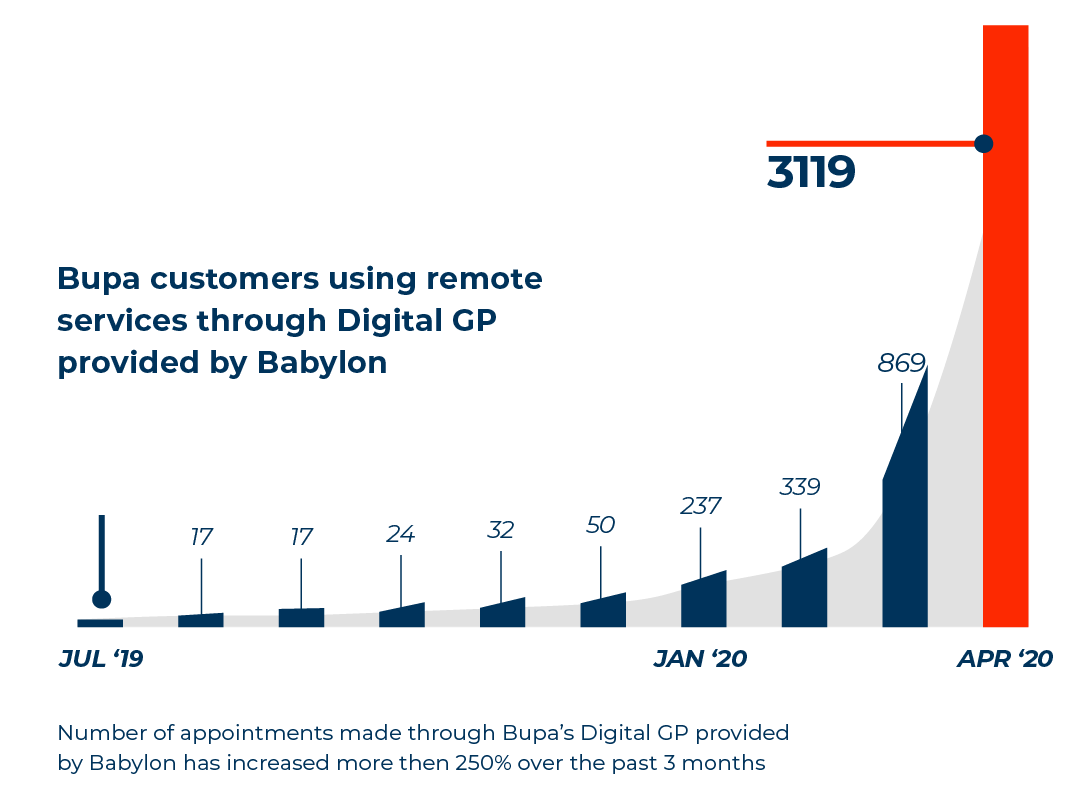 What's happening?
The use of remote services has spiked, operating at their highest ever levels - from simple telephone consultations to diagnosis over video calls and home chemotherapy services.
Chart ref: Babylon appointments have taken off since lockdown.
The numbers
90% of Bupa contracted consultants are offering telephone consultations. At the height of lockdown, 70% of Bupa members requiring physio were accessing treatment remotely, up from 22%, and the number of patients receiving chemotherapy at home has risen by 72%.
Patients receiving home chemotherapy
Patients received physio at home at the peak, with the average in 2019 being 25%
Remote consultations through Digital GP
There has been a large-scale and rapid shift across the healthcare landscape towards remote healthcare in 2020
55% of Bupa remote consultations have been over video
Bupa data, recorded 23 – 30 May
Only 1 in 4 NHS patients saw a GP face to face
Data from Royal College of GPs, 16 March – 12 April
In March 28% of all NHS appointments were over the phone, this rose to 48% in April
Data from: NHS Digital
The challenge
As we emerge from lockdown, it's crucial that patients and healthcare providers understand that this is all about choice. Individuals will have very different reactions to remote services. For some, it's both practical and emotionally reassuring to be treated at home. For others, it may cause unnecessary extra anxiety.
"It's really important we don't make assumptions about what type of care people want. Preferences around face-to-face or virtual treatment are very personal. Providing choice is essential."
Dr Luke James, Medical Director, Bupa Global and UK Insurance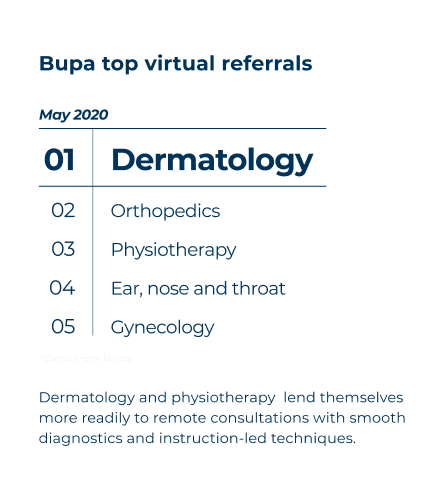 What does this mean?
One of the few positive legacies of this pandemic will be the wider acceptance and demand for remote services. Increasingly customers will expect there to be a virtual option, with 74% of Millennials and Generation X users who've tried virtual healthcare saying they would like to use it again. And as these younger generations shape the future of the workforce, there is an expectation that demand for these types of services will continue to grow.