Vampires, werewolves, witches and black cats are seen roaming the streets and knocking from door to door around this time of year, but for many children in Britain, it's your friendly local dentist who might send the coldest chill down the spine.
Children are among those most struck by fears and phobias surrounding their visits to the dentist's chair, and The Dental Law Partnership1 believes that dental phobia is a reason why up to 40% of children avoid visiting the dentist for scheduled check-ups.
As we enter spooky season, it's time we took a closer look at why children are scared of the dentist, and what parents, guardians and caregivers should do to stop fears getting in the way of good oral health
Why are children scared of the dentist?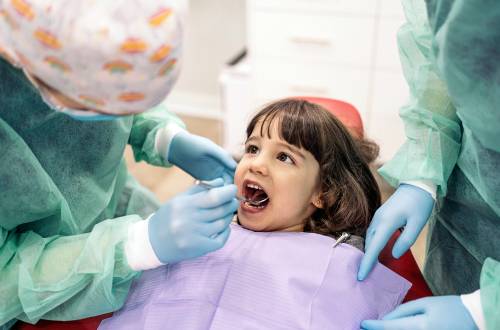 Dentistry has long been villainised by popular culture, despite significant leaps and bounds over the past couple of decades meaning even the more notorious treatments are now relatively comfortable.
More often than not, the irrational fears of dentistry in children begin at home. Parents and caregivers often forget that their formative experiences of dentistry were from a different generation. Indeed, their own childhood fears were most likely informed by their parents in turn, whose trips to the dentist as youngsters may have been from a radically different era of dentistry.
This often causes adult's fears and negative memories to inform the way they speak to their children about going to the dentist. Coupled with best-selling children's books like Demon Dentist, Halloween costumes of maniacal dentistry practitioners and the ever-present villainous dentist in movies and cartoons, it isn't difficult to see why even the bravest of little ones might feel apprehensive before a simple check-up.
At Bupa Dental Care, we understand that going to the dentist isn't always top of kids' wish lists for a fun day out… but not only is it an essential part of maintaining excellent oral health, it shouldn't be an unpleasant, stressful or anxiety-causing experience.
1. Start from a young age
Ask anyone who works in childcare or paediatrics and they'll tell you: children thrive on routine. Often, the fear of the dentist is nothing more than the fully understandable fear of something new and unfamiliar.
By establishing visits to the dentist as a normal part of life from a young age, children quickly get used to the idea. They may even end up looking forward to seeing their dentist, as it soon becomes apparent that it's nothing to be scared of. When should your child start going to the dentist? Most experts agree it should be by their first birthday, or when their first tooth appears.
2. Set a positive example
Children aren't the only ones who get scared of dentist visits. Dental phobia is relatively common in the UK, and a recent survey2 stated that 53% of British adults are anxious about trips to the dentist, with 17% suffering a phobia bad enough to put them off altogether.
Your children pick up on your feelings, attitudes and behaviours, especially when you're feeling stressed. While it might not always be easy, it's best to put on a brave face in front of the kids prior to your next appointment.
3. Set realistic expectations
It's definitely possible to overcompensate when it comes to being positive about going to the dentist. Children don't respond well to feeling misled or tricked into encounters that may not be what they expected, and it's important to set realistic expectations.
Let them know - honestly and fairly - that it might not always be comfortable in the dentist's chair. However, communicate clearly that nothing bad will happen and that they need to take care of their teeth… especially if they want some Halloween sweets.
4. Read or watch stories together
There are loads of fantastic resources aimed at making little ones feel good about getting their teeth checked. Spend some time in the weeks leading up to their appointment reading or watching stories, and create positive associations that lead to positive experiences.
We're particularly fond of Peppa Pig's trip to the dentist, and We're Going to the Dentist by Marion Cocklico. However, there are loads of brilliant stories and cartoons out there designed to help your children feel more confident about their next check-up.
5. Play dentist games
Kids love playing doctor and dentist games, and setting their imagination free in 'grown-up' scenarios. If there's a dentist appointment on the horizon, let your child take on the role of a clinician and integrate it into a fun game or activity.
It will provide plenty of opportunity to talk to them about the importance of dental health, and who knows? It may lay the foundations for a future passion and career in dentistry.
6. Try and see the same dentist every time
When it comes to helping children feel good about their regular check-ups, consistency makes a world of difference. If possible, try and speak to your local Bupa Dental Care practice to ensure your child sees the same dentist each time. They'll be able to build a rapport with the practitioner, which will help them look forward to their visits.
7. Talk to your dentist in advance
On the subject of rapport, that trusting connection will come about much quicker and easily if your child and their dentist can find some common ground in the dentist's chair.
Dentists are going to be able to do their important job more effectively if your child is comfortable or happy to be there. Is your child passionate about dinosaurs? Unicorns? A particular series of books or cartoons? Have a quick chat with the team prior to the appointment - dentists know that engaging a child on their favourite subject is a quick and effective way to get them feeling better.
8. Schedule sensibly
Every parent or caregiver knows that their child or children's moods will fluctuate throughout the day depending on a whole range of different factors. What's more, dental anxiety is often more likely to be anxiety of facing a new situation when they're already tired, hungry or over-stimulated.
This is particularly the case with toddlers and younger children, and by scheduling dentist appointments after a nap or first thing in the morning after a good sleep, you might be able to make the experience a less scary one.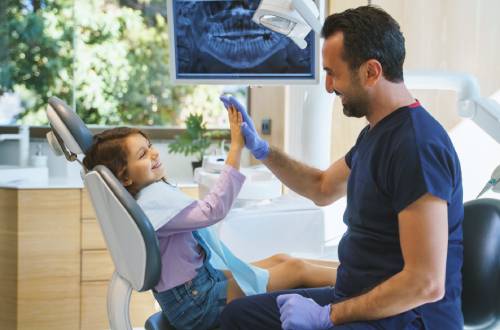 Keeping calm in the dentist's chair
At Bupa Dental Care, our skilled and experienced professionals know that happy children make fantastic patients, and have all kinds of fun ways to make sure little ones feel comfortable throughout their patient journey.
Find your nearest Bupa Dental Care dentist, and begin your child's journey to great oral health today. No jump-scares, bumps in the night or nasty surprises, guaranteed.
Find your local Bupa dentist
Bupa Dental Care is a trading name of Oasis Dental Care Limited. Registered in England and Wales No: 00478127. Registered office: Bupa Dental Care, Vantage Office Park, Old Gloucester Road, Hambrook, Bristol, United Kingdom BS16 1GW.
Oasis Dental Care Limited has a number of trading names including Bupa Dental Care. For a list of all our different trading names please follow this link.