With so much information available about coronavirus (COVID-19), how can we be sure that everything we read is factually correct? And how do we know that the content we share with family and friends isn't misleading or harmful? Here are some essential tips to help you fact-checking coronavirus information you read online and understand which websites you can trust.
Use the SHARE checklist
The UK government has launched a new SHARE checklist that you can use before you like, comment on or share coronavirus information online.
The SHARE checklist encourages everyone to:
rely on official Sources for guidance about coronavirus – NHS and GOV UK in the UK, and the World Health Organization (WHO) internationally
read beyond the Headline of an article, which doesn't always tell the full story
Analyse the facts and look them up, for example on fact-checking websites like Full Fact, if they feel unbelievable
check photos for signs they might have been Retouched or edited to mislead you
watch out for Errors and mistakes, like the wrong spelling being used – it might be a sign that there are errors with the facts too
Trusted sources of coronavirus information
Coronavirus advice from the UK government is available at the GOV.UK website. There you'll find the latest advice on what you need to do, from staying at home, travel and social distancing guidance. The website also has accurate information on the latest number of coronavirus cases.
Bupa GP Dr Paula Falconer stresses the importance of accessing information that is relevant to you: "The NHS and Public Health England (GOV.UK) should be the main sources of health information for everyone. WHO is of course a reputable source of information, but remember their advice has to span numerous countries, different populations and health systems. Although this is a global pandemic, it's important to stick to the advice of the country where you are living, which will be most relevant."
Ways to fact-check information
On top of using the SHARE checklist above, here are some other points to bear in mind when working out how trustworthy a piece of content is.
Not everything you read is true. Don't believe everything you read on social media or through your WhatsApp groups, as there is lots of false information doing the rounds. Check the page where the information came from so see how reliable it seems.
Check if other news sites are reporting it. If you're unsure about the reliability of a health news story, check to see what other trusted news sites and fact-checking websites are saying about it.
Watch out for false news stories or anonymous sources. News that is false can be presented to look like a familiar website, such as the NHS. Check for clues such as unusual content, bad spelling, a false URL or awkward layout. And, if you receive information from an anonymous source that you don't recognise, don't share it with others.
Beware of misleading images and videos. This is an important point outlined in the SHARE checklist. Genuine images and videos online can be manipulated and changed with misleading editing or captions to appear like things they're not. Search engines like Google Chrome can help you to find the source of the image. Just right-click on the image and choose 'Search Google for image".
Signs of a good health information website
Bupa is one of a number of organisations, including charities, the NHS and Patient.info, dedicated to providing high-quality health information. So how can you distinguish a trustworthy health information website from an unreliable one?
Look out for the PIF TICK
The Patient Information Forum (PIF) is a membership organisation for organisations that produce health information. PIF recently launched a new quality kitemark for health information, called the PIF TICK (Trusted Information Creator Kitemark). If you see the PIF TICK logo above on a page of health information, you can be assured it has been through a rigorous production process.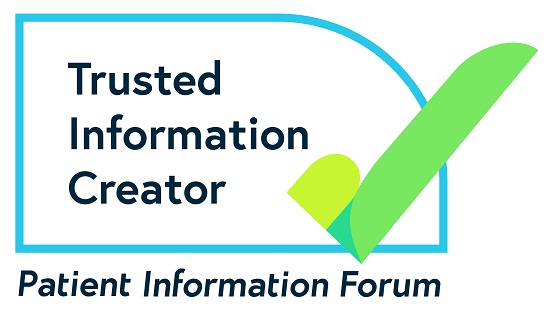 You can read about the PIF TICK criteria on the PIF website. Bupa is proud to be among the first members of the scheme, and you can find the tick on our A-Z information pages about different health conditions, treatments and topics.
Four other signs to look out for
Whether or not a website has the PIF TICK, here are four key things you can look out for to gauge whether it is on the right tracks.
1. Is the information up-to-date?
Look out for a published or 'last reviewed' date. Health information in general should ideally have been produced or updated within the last three years. For new or emerging health problems like COVID-19, the more recent the date on the content is, the better. Medical science is constantly evolving, and the consensus can shift quickly, so the best websites will keep on top of regularly updating their pages.
2. Is it clear and easy to understand?
It shouldn't feel like you're reading an academic journal article! The best providers of health information for the public will write in simple, straightforward language and avoid any complicated medical jargon.
3. Have experts helped to produce it?
Check for signs of expert involvement – it might be a doctor who is thanked for their input on the page, for example. This shows you that it hasn't been published without anyone who has the relevant medical or healthcare training checking it first.
4. Are the claims backed up?
Many of the most reputable websites will give details of the original sources that their facts come from, so you can see that the claims are based on good evidence. And these should always be dependable research sources, like large scientific studies or clinical guidelines, rather than personal blogs or newspaper articles.
A final word of advice
Constantly scrolling though websites and social media outlets for the latest news and advice can make us feel anxious and worried. Try and limit the amount of time you are on social media or news websites, and let your brain focus on other things apart from the coronavirus.
Things continue to change rapidly, and the speed of new information can feel overwhelming. By sticking to a small number of reliable sources for your information, it will be more manageable and avoid the need to fact-check everything you read.
SHARE checklist. HM government. GOV.UK. www.gov.uk, accessed July 2020
Coronavirus. World Health Organization. who.int, accessed 26 July 2020
Coronavirus (COVID-19): what you need to do. GOV UK. www.gov.uk, accessed July 2020
How you can fact check claims about the new coronavirus. Full Fact. www.fullfact.org, accessed July 2020
The PIF TICK. Patient Information Forum. www.pifonline.org.uk, accessed July 2020
About our health information
At Bupa we produce a wealth of free health information for you and your family. This is because we believe that trustworthy information is essential in helping you make better decisions about your health and wellbeing.
Our information has been awarded the PIF TICK for trustworthy health information. It also follows the principles of the The Information Standard.
More discover articles...
Did you find our advice helpful?
We'd love to hear what you think. Our short survey takes just a few minutes to complete and helps us to keep improving our healthy lifestyle articles.
Legal disclaimer
This information was published by Bupa's Health Content Team and is based on reputable sources of medical evidence. It has been reviewed by appropriate medical or clinical professionals and deemed accurate on the date of review. Photos are only for illustrative purposes and do not reflect every presentation of a condition.
Any information about a treatment or procedure is generic, and does not necessarily describe that treatment or procedure as delivered by Bupa or its associated providers.
The information contained on this page and in any third party websites referred to on this page is not intended nor implied to be a substitute for professional medical advice nor is it intended to be for medical diagnosis or treatment. Third party websites are not owned or controlled by Bupa and any individual may be able to access and post messages on them. Bupa is not responsible for the content or availability of these third party websites. We do not accept advertising on this page.
For more details on how we produce our content and its sources, visit the About our health information section.
^We may record or monitor our calls