Cancer screening
Book now to put any worries to rest or spot early signs of cancer on 03456003458
Lines open Monday to Friday 8am to 8pm and Saturday 9am to 5pm.
Look into your risk of developing cancer
Cancer screening tests look for signs of cancer before symptoms appear. Spotting them early can make treatment easier and increase the chances of successful treatment.
Our cancer screening checks with a GP are 30 minutes long. Your doctor will carry out a series of tests, chat through any worries you have and refer you for any follow-up assessments.
Is a cancer screening for me?
Our cancer screenings are designed for those without any symptoms. If you've already noticed a change or symptom, please see your GP or book a private GP appointment instead.
Signs to look out for can depend on the type of cancer, but generally involve the following:
a new lump in any area of your body, for example a breast lump or testicular lump
unusual bleeding, such as in pee, vomit, or poo (stool), and vaginal bleeding between periods or after sex
unexplained weight loss
fatigue
very heavy night sweats or fevers
a change in bowel habits
What kind of cancer screening can I get?
Targeted cancer screening
£171
This will look for early signs of cancer in your prostate, testicles, breasts or cervix depending on what is relevant for you. For more information on these tests, you can follow the links more suited to you.
You can also add a Mammogram, colon CT scan or a qFIT blood test, for an additional cost.
Breast health
£266
or 10 monthly payments of £26.60 with our 0% finance options.
Anyone over 40 can book a breast health check, to spot signs of cancer before they become a problem. A GP will conduct a breast examination and refer you for a mammogram if needed.
Colon health
£877
or 10 monthly payments of £87.70 with our 0% finance options.
A GP will arrange for a virtual colonoscopy (CT scan) that checks for signs of bowel cancer. They'll chat through the results and see if any next steps are needed.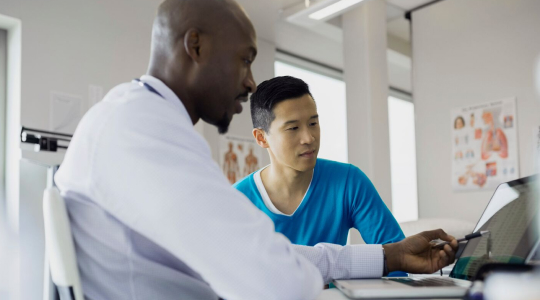 Want a full picture of your health?
Explore our range of health assessments
Our health assessments offer up a look at your overall physical and mental health, and come with 12 months of support to help with your health goals.
Our Be.Reassured and Be.Ahead options include a targeted cancer screening, and a bowel cancer stool test if it's clinically appropriate.
More information about cancer
Facts, advice and support from our experts on cancer and a range of health concerns.
I want to know more about cancer
We can help you through every step of your cancer journey. From learning about the different types and symptoms to the care you can get if you ever need it, we'll be there.
Cancer and age: what you need to know
Cancer can develop at any age, but it is more common in older people. We've put together some advice for how you can manage the risk as you get older, and some signs to look out for.
Contact us
If you'd like to to chat about your options, call us on 03456003458
Lines are open Monday to Friday 8am to 8pm and Saturday 9am to 5pm. We may record or monitor our calls.
Don't have time right now? Leave your details with us and we'll contact you.
Spread the cost
With our payment options, you can book some appointments and spread the cost with 0% finance.
‡Please be aware that information you send to this email address may not be secure unless you send us your email through Egress a trusted, secure email service. For more information and to sign up for a free Egress account, go to https://switch.egress.com. You will not be charged for sending secure emails to a Bupa email address using the Egress service.
Bupa health assessments are provided by Bupa Occupational Health Limited. Registered in England and Wales No. 631336. Registered office: 1 Angel Court, London, EC2R 7HJ.