Have you ever considered teeth straightening? There are lots of options out there for straightening your smile, including Invisalign treatment, which uses clear, discreet aligners instead of traditional braces.
Carly, a member of the Bupa Dental Care team, decided to get Invisalign aligners after wanting straighter teeth for years. She paid for the treatment herself and gave an honest account of her journey when we asked some questions about her experience.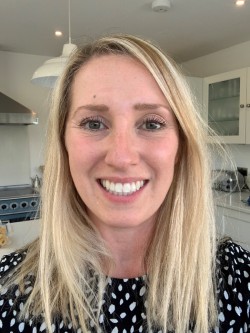 Choosing Invisalign teeth straightening
What motivated you to straighten your smile?
When my adult teeth grew through, they were very wonky, so when I was about 12 or so, my mum took me to the dentist, and I had traditional NHS metal train tracks for about 18 months. When they were taken off, I had a retainer which I wore for a year or so, but I stopped wearing it at about 15.
My teeth were fine for years, but when I reached 30 ish, I noticed my front teeth were sticking out and they'd got a little wonky again. I have quite a big teethy smile, I was just getting more and more self-conscious that when I was smiling, I was all teeth! I'm naturally quite a smiley person, and I guess I was just starting to lose a bit of confidence in my smile and used to hate smiling in photos.
So, it's one of those things I've thought about for a long time, but really wish I'd got it done sooner, especially before I got married.
Why did you choose Invisalign aligners in particular?
I guess for me, getting straighter teeth in later life, I wanted it to be quite discreet. There are times, especially at work, when you don't always want to be seen wearing a brace, and I didn't like the thought of having train tracks in photos for a year or so. So Invisalign aligners, which are clear and almost invisible, ticked that box. And I quite liked the fact that you could remove them and wouldn't have any complications eating and stuff like that.
So, how do Invisalign aligners work?
The aligners are clear, plastic, quite soft actually and fairly flexible, and I had them for the top and bottom teeth. You have a course of aligners, I had about 25 of them, which gradually straighten your teeth until you get your result. Every week I changed aligner and moved onto the next set.
Wearing Invisalign braces
How did you find wearing the aligners?
My first set of aligners felt a bit uncomfortable, and alien really, but that was just for the first week, then they became part of my body, second nature. It was amazing how quickly you can adapt to wearing something. When changing from one aligner to the next, you can tell you've changed aligners for a few hours, as it's a bit tighter, but that's it really.
And then the only other bits that were a little bit uncomfortable at first, were the attachments. They're tooth coloured, little blobs they put on some of your teeth, which helps hold the aligners in place. But by and large, I think it's quite an easy and comfortable process. There's nothing that would stop me recommending it to others.
Did people notice you were having your teeth straightened?
They were really discreet, to the point where I had to tell people that I had them in. So, I think they do exactly what they say on the tin really. People can't tell you're wearing them. People that know you really well, like your other half, or your parents, or your best friend can tell, but you've generally told those people already that you're going to have braces.
How did you find speaking while wearing aligners?
It does make your speech go a little funny at first. I remember pronouncing certain words was a bit tricky, and I felt a bit spitty at times, but it's amazing how quickly your mouth adjusts. I'd say after a week it's like normal and you don't even know you're wearing them. It's amazing.
In less than 10 words, what were the best benefits about Invisalign aligners?
Discreet, comfortable, removable, relatively quick and quite easy overall.
How long was your course of Invisalign treatment?
When I saw the dentist to start off with, they gave me a rough idea of how long it would take – about 8 months, I think. This obviously varies from person to person depending on how wonky your teeth are. I had aligners from December to the following September in the end, so 9 months in total, but it flew by!
Caring for your Invisalign aligners
What's involved in cleaning and caring for aligner trays?
They give you some Invisalign aligner-branded sterilization tablets, for cleaning them. You take your aligners out, put them in a glass of water and just add the sterilization tablet. Morning and night, I'd also brush them with a separate soft toothbrush, and a little bit of toothpaste, under lukewarm water, just to kind of keep them nice and fresh, and clean by and large. So, for me, cleaning them was quite simple and easy.
As you get towards the end of the week, the aligners can discolour ever so slightly, due to food and drink, but people wouldn't notice it.
Is there anything you can't do if you have Invisalign aligners?
No, not at all. You can take them out for up to two hours a day, for eating, drinking, and brushing, which is when I'd clean the aligners as well. And you can drink water with them in. You might need to take them out for some sports, but I wore them in for netball. They didn't influence my game play or anything like that. I think, because it was easy and comfortable, I just didn't feel the need to take them out, because you just forget you're wearing them, you really do. And I think because of that, you have no desire to take them out, apart from to eat and drink.
The Journey with Bupa Dental Care
How did you find your initial consultation?
I went to Bupa Dental Care Gloucester Road, a practice in Bristol, because they were running a free smile assessment, where you get a free consultation and iTero scan. And it was really informative. I chatted to a treatment coordinator and the dentist about the treatment, what was involved, how long it would take and how much it might cost. And I was lucky they had an iTero scanner, which is essentially a wand they put around your mouth that takes a 3Dimage of your teeth. From that, I could see my teeth, how exactly they would straighten them, and the transition of the movement. It's really clever.
After the scan I think I was just sold at that point. I was like 100%, I definitely want to have Invisalign treatment, I want straighter teeth.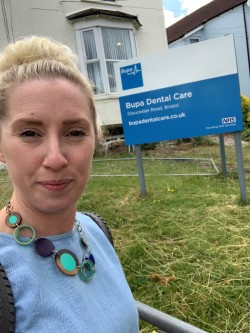 Can you tell us about your journey and the stages involved?
After the consultation, they send your scans to Invisalign who do some clever technology behind the scenes. And you get sent a treatment plan, with all the steps in your course, and how your teeth will move at each step. Your aligners arrive at the dentist, so I picked them up, put my first one in, and the dentist checked they fitted fine and I knew what I was doing. I went back in two weeks' time, because aligner number two had attachments which I needed to get fitted. It was quite a straightforward process, and I was sent away with another 15 aligners.
Towards the end of my treatment, I think I went back to the dentist twice to check on progress and they made a few tweaks to my treatment, based on how my teeth had moved and reacted so far, so some new aligners were ordered. Then at the end, after you've finished the teeth straightening process, you go in to see your final look and feel.
How did you find the aftercare with Bupa Dental Care?
After my treatment, I opted to pay for retainers called Vivera, which are made by Invisalign. After having your teeth straightened it's so important to keep it right. The last thing I wanted to do was go back to where I was. So, I now have retainers I wear every night when I sleep, and I think I've got three at the moment that will last me the best part of a year. They're a bit harder than the Invisalign aligner, just a bit. And they keep your teeth in place.
And I guess I've got a really good relationship now with my dentist called Steve. I used to see him quite a lot and obviously he was there through my highs and lows of having my teeth straightened.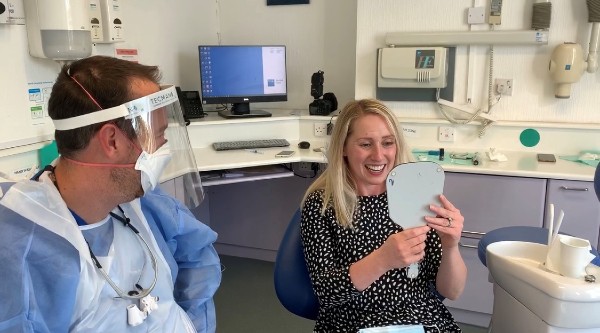 How did you find the care and support from staff during your journey?
Support from the staff was really, really good. They were helpful from start to finish. When in practice they'd always answer any questions, and give you comfort and reassurance that everything was going to plan. I could email Steve at any point if I wanted to, and ask any questions to the treatment coordinator. They were always on hand to give me help, support and advice. I was also given quite a lot of information as well, about care and the process, that was really helpful.
What is the cost of Invisalign aligners?
The cost will vary for everybody because it depends on your treatment plan. It's quite expensive, a few thousand pounds, so if you're looking for the most cost-effective option, then you might go for the metal train track. But I was willing to pay a little bit more to have a solution that was discreet and removable, and really comfortable.
I decided to go for the finance option they offered at the practice. They work with a finance provider called Hitachi. They actually had a 0% finance option I was eligible for, which was a bit of a no brainer for me. So, I was able to take the cost of my treatment and pay that back over a course of a year, in slightly more manageable bite-sized chunks, that just came out of my bank account every month.

Results created at Bupa Dental Care Gloucester Road, using Invisalign aligners, teeth whitening, composite bonding and contouring.
Results after Invisalign aligners
What are your thoughts on your results?
I was so delighted with the results, over the moon. I 100% wish I'd done this before. I was really pleased with having straight teeth. I just felt less goofy, like they were less big and obvious, and it gave me more confidence to smile again.
Has straightening your smile impacted your life in any way?
It really has been transformational. I look back at photos now and go, oh my gosh, look at your teeth. And I guess I'm just really confident and happy about smiling now and feel proud of my teeth. I'm much happier to have my photo taken, as my teeth were always the first thing I'd look at and cringe about.
Did you have any other cosmetic treatments after you had your teeth straightened?
I was really happy with my straight teeth, but Steve said there were other options to make my smile even better. So, at the end of my treatment, I also had whitening, composite bonding and contouring.
I had at-home whitening gels that I put in my aligners for three weeks to get my teeth all nice and white. I then had any little chips or nicks, or teeth that were maybe slightly higher than the others, have some composite bonding, which is kind of a bit of a white material that's matched to your teeth. Then finally, Steve contoured by teeth to make sure they were all level and the edges nice and smooth.
For me, they were included in my package, and just took me from having a straight smile that I was really happy with, to all of a sudden, feeling like I have this perfect Hollywood smile. You can't even tell this was added to your teeth and it looks great.

Results created at Bupa Dental Care Gloucester Road, using Invisalign aligners, teeth whitening, composite bonding and contouring.
What would your advice be to someone considering Invisalign treatment?
I guess my advice to anybody thinking about getting Invisalign is just do it. There's always a reason to put it off, but don't, because you definitely don't regret getting straighter teeth after you've had it done. And you'll be so happy with your brand-new smile.
Thinking about Invisalign aligners?
If you're thinking of straightening your smile, contact your nearest practice offering orthodontics. We'll arrange to speak to you about your options and answer any questions.
Bupa Dental Care is a trading name of Oasis Dental Care Limited. Registered in England and Wales No: 00478127. Registered office: Bupa Dental Care, Vantage Office Park, Old Gloucester Road, Hambrook, Bristol, United Kingdom BS16 1GW.
Oasis Dental Care Limited has a number of trading names including Bupa Dental Care. For a list of all our different trading names please follow this link.