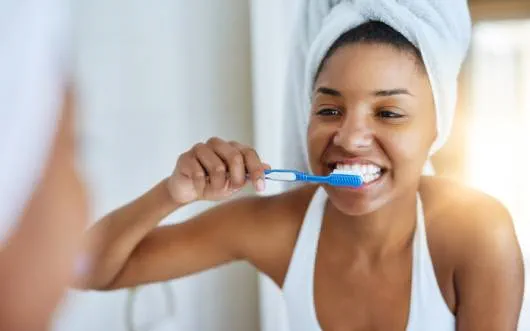 At Bupa Dental Care, we believe in the power of healthy, happy and confident smiles. Your smile is the gift you give to the world around you - it can light up people's day, signal your positivity, open doors to new opportunities and ensure better overall health and wellbeing.
As such, brushing for better health requires consistency. With a good daily routine in place from a young age and access to regular check-ups and dental treatments, we can all ensure our oral health leads to healthier teeth and brighter, more confident smiles.
Different stages of life may call for different approaches to dental health, as our needs change as we get older. However, the fundamentals remain the same - and when we take good care of our teeth, it really shows. Let's take a closer look at some of the daily essentials for better dental health and consider how we can improve our oral wellbeing with simple daily steps that make a real and lasting difference.
The best way to brush
Brushing your teeth twice a day is the bare minimum when it comes to maintaining good oral health. Whether you use a regular or electric toothbrush, it's important to brush for about two minutes each time, cleaning the surfaces of the teeth in a circular motion.
Brushing is the most effective way to regularly remove plaque - a sticky film that builds up on the surface of your teeth - and keep oral health problems like gum disease at bay. Be sure to brush right up to the gum line, and avoid rinsing with water straight after brushing, as this can flush away the concentrated fluoride present in your toothpaste.
Never neglect brushing before bed
While it's important to brush in the morning as well as at night, brushing before bed is arguably the more crucial of the two.
Failure to brush before bed will increase the likelihood of bacteria developing on the teeth overnight, which can lead to a build-up of plaque.
Use the right toothpaste
There are countless varieties of toothpaste on the market today, but no matter which you choose, make sure it contains fluoride. This is because fluoride remains a leading ingredient in the defence against tooth decay, fighting the germs that can lead to oral health damage and providing a daily protective barrier for the surface of the teeth.
Is flossing as important as brushing?
Many people who stick to twice-daily brushing neglect to floss their teeth, missing out on the benefits of this simple and straightforward addition to your oral health routine.
Flossing isn't just for removing food residue between your teeth - although this action also helps prevent harmful bacteria from developing. It's also an effective way to stimulate the gums, reduce inflammation and reduce plaque. Most dentists suggest that flossing once per day is all it takes to create a positive impact.
Stay hydrated for better oral health
It's no secret that drinking a decent amount of water each day is central to good health. However, drinking water is also hugely beneficial to your oral health too, especially if you drink a glass of water after each meal.
Whenever we eat, we subject our teeth to all kinds of potentially tooth-harming substances. Alongside sugar - which we all know is bad for our teeth - these include acidic, sticky and abrasive ingredients, all of which can lead to the production of bacteria and plaque. Water will help wash away some of this build up, as well as keeping our mouth hydrated and clean.
It's crunch time
When it comes to tooth-friendly foods, fresh and crunchy fruits and vegetables sit high on the list. Such ingredients contain plenty of healthy fibre, and help produce saliva which neutralises bacteria and maintains a healthy pH balance in the mouth.
Slash the sugar
Sugary foods - including many of the fruits and vegetables which are part of a healthy balanced diet - feed the bacteria which produce plaque, and which can eventually lead to gum disease and other oral health issues. While ingredients with 'added sugar' are the worst culprits, there is no such thing as sugar which isn't harmful for the teeth.
Keeping a close eye on your sugar consumption is a key part of maintaining good oral health. A low-sugar diet, coupled with regular brushing, flossing and a proactive oral health routine, is the best route to happier, healthier teeth.
Don't forget to smile
Our oral health is intrinsically linked to our overall wellbeing, and seeking out positivity and reasons to smile cannot be understated in its importance. The more we take care of our smile, the more we want to let the world see it.
See a dentist or hygienist regularly
While your habits and daily routines are of the utmost importance when it comes to your oral health, even the most attentive of us need regular trips to the dentist. Make sure you visit your dentist and hygienist regularly and take any advice on board.
Not only can your practitioner provide cleaning and scaling services, they can also check for cavities or signs of gum disease. By making regular trips to your dentist, potential issues will be spotted before they develop further, and advice or treatment on how to rectify them will be supplied.
Choosing your dentist or hygienist
If you don't currently have a dentist or you're looking for a new one, we have 100s of Bupa Dental Care practices around the UK accepting new patients.
There is an industry-wide shortage of NHS dentists currently, which means getting access to NHS dentistry can be challenging. Ask at your local practice about availability.
For those looking to spread the cost of private dental care or to improve their oral health routine, Bupa Smile Plan allows you to make the most of quality essential and preventative dental care. Covering two check-ups, two hygiene appointments and up to two X-rays (if required) per year, this plan ensures peace of mind while spreading the cost over twelve manageable monthly payments.
Get in touch with your local practice.
If you have any questions on how to keep your mouth healthy, or would like to book a dental check-up, contact your nearest practice.
Find your local Bupa Dental Care practice