During lockdown, it's easy to run out of inspiration for fun things to do with the family and in particular, to entertain younger children.
If you're racking your brains for ideas on how to keep your little ones entertained during COVID-19, we've put together some handy ideas to help you keep the boredom at bay.
Create an activity chart
Firstly, keep your kids involved in the process and get them looking forward to what they're going to do each day. You could get them to help you create a chart that you can stick to the fridge, or get them to fold up pieces of paper into a jar and each day pull out different activities they can do.
If there's anything you had planned over the summer, such as a holiday abroad or a trip to the zoo, write these down too and see how you can recreate these either at home or using resources online like virtual tours so they don't miss out.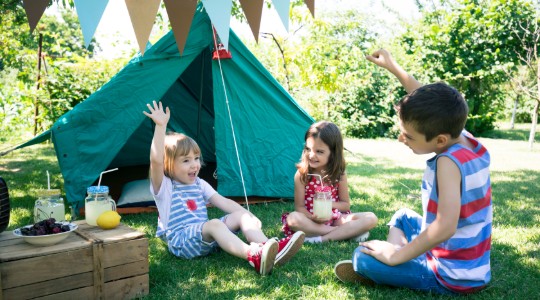 Go camping in your back garden
Lockdown might've halted your plans of going somewhere far away or exotic, but you can still take your kids on a family holiday…to the back garden!
Pitch up a tent, roll out the sleeping mats and get the sleeping bags down from the attic. Make the experience authentic by leaving your laptops and tablets in the house, and instead tell stories, cook marshmallows on the barbecue, stargaze, and nature watch for some quality family bonding. You could also tell scary stories when the sun goes down if you're feeling brave and use torches for extra-spooky effects.
If you don't have a garden, you could do something similar by creating a den indoors with blankets and duvets and camp out on the floor for a night.
Glastongarden
Another garden activity could be a DIY festival. Glastonbury 2020 might be cancelled, but there's nothing stopping you from having your own festival. Get the speakers, barbecue, and camping chairs out – as well as the flowery shirts and face paints. You could even get your kids to put on a performance for some extra entertainment.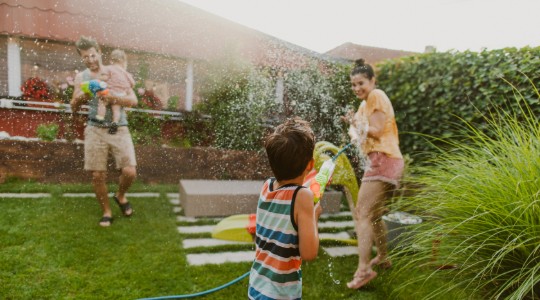 Cool off with a water fight
Being at home doesn't mean you have to stay cooped up indoors, especially if you've got use of a garden. If the weather stays nice, then what better way to cool off than with a family water fight? It's harmless fun that gets the heart racing and smiles beaming.
Plus, you'll all get a beneficial dose of vitamin D, which plays a crucial role in keeping your teeth, bones and muscles healthy.
The family's got talent
If the weather doesn't quite deliver the sunshine you'd like for the holidays, you can always bring outdoor entertainment inside. Saturday night entertainment on the TV usually centres around talent shows and singing contests.
Why not ditch the TV for a night and bring the talent to your living room? Everyone can get involved – whether it's singing, performing magic, a fashion show, or playing an instrument. Get some prizes and create your own judging panel to make it more realistic.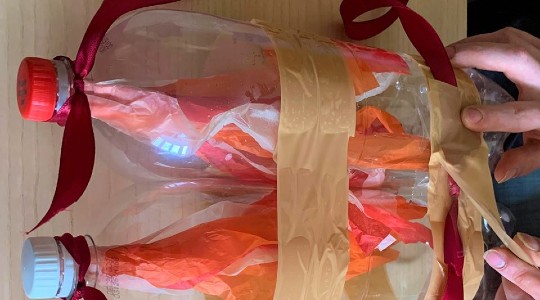 Go on a space adventure
The current guidelines might keep you indoors a lot of the time, but you can still take your little Buzz Lightyears on a space adventure with a homemade jetpack!
Get two large plastic bottles and stick them together using duct tape. Then tape some ribbon to the bottom for shoulder straps, and stick some red, orange or yellow tissue paper (if you have it) to the inside of the bottles to look like flames.
On a clear night, you could take your children outside and do some stargazing so their imagination can run wild, exploring faraway planets and galaxies.
Explore a jungle from your living room
Planned to visit a wildlife park or zoo during the summer? Take your young explorers on a virtual adventure by downloading the Wildeverse app, which lets your kids beam faraway places into your home.
They can explore virtual forests and jungles packed with all sorts of wildlife. Make the experience even more authentic by using pillows and blankets to create their very own explorers' 4x4 truck.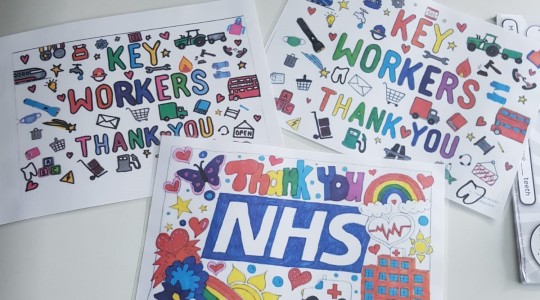 Get crafty
Whether it's knitting, baking or creating a rainbow to stick up in your window, we're sure you'll want to get creative during COVID-19.
Crafty activities can also be therapeutic and beneficial for your mental health and can also help to form part of a home-schooling plan. Read our article on creative activities to do at home and their benefits for ideas and inspiration.
We've also created a kids activity pack to help keep you entertained during this period, including a rainbow for you to print and colour in, as well as some fun games and activities.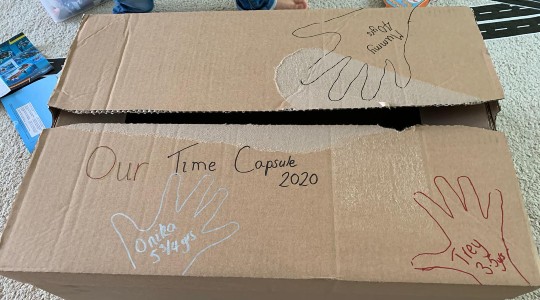 Create a time capsule
Time to get creative! Set your kids the task of making a time capsule by recycling a spare cardboard box and filling it with trinkets and memories.
The capsule will certainly give you all something to smile about on their 18th birthday and contain memories of the quality time you spent together when life was a bit unusual.
Have fun and keep smiling
The key to having fun during this period is to do whatever helps make you smile, whether that be crafts, camping, creating a time capsule or something else.
If you do try any of our activities, please share them with us on Facebook, Instagram or Twitter. We'd love to see them!