During the current COVID-19 situation, accessing regular fresh food has become more challenging. Government guidelines still require us to stay at home as much as possible. With boredom setting in, many people have turned to cooking as a creative way of staying busy and making a meal to enjoy with the family.
With this in mind, we've collated some nutritious, tasty and healthy recipes using kitchen staples, cans and packets. These recipes cover you for lunch, dinner, and those snacks in between.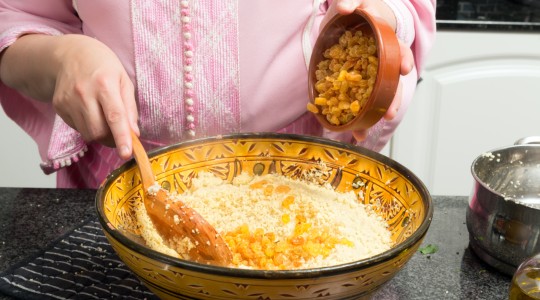 Couscous with tuna
Taking around ten minutes, from start to finish, couscous salad, with tuna, is a light and delicious lunchtime option. You'll only need:

½ cup couscous
Pint of ready-made stock, or 2 fish or vegetable stock cubes
Tbsp of harissa paste (optional)
One tin of tuna, in oil or spring water
Olive oil
Handful of sultanas
2 tsp of dried herbs
Serves 2-3
Add the dried herbs to the stock. Cook the couscous according to the instructions on the packet, using the stock instead of water, with sultanas added.
Once cooked, in a separate bowl, mash up the tuna with the olive oil and harissa paste, and then stir through the couscous. Serve hot or cold.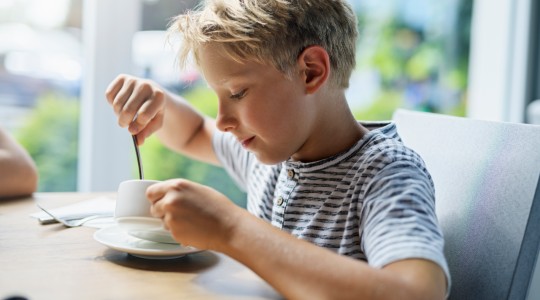 Pea and pesto soup
An easy-peasy, warming lunch for those colder days! For pea and pesto, soup, you'll require:

500mg frozen peas
4 medium potatoes (peeled and cut up)
3 tbsp green pesto
1 hot chicken or vegetable stock
Salt and pepper for seasoning
Serves 4
Pop the potatoes and peas in a pan, and simply pour in the stock. Bring the pan to the boil and let it simmer for roughly ten minutes.
Take around one third of the contents from the pan and set it aside for just a moment. Blend up the rest until it's smooth, then stir in the pesto and remaining vegetables. Next, heat it through, season, then your soup is ready to serve up!
Spinach pies with poached eggs
You can top up your protein, vitamins and minerals, with these elegant spinach pies. You'll only need:
6 vol au vent pastry cases from the freezer
6 free range eggs (as fresh as possible)
2 tsp of vinegar
1 tin of spinach
Celery salt
Serves 3/6 depending on pastry size>
Cook the vol au vents until they are golden brown, following the instructions on the packet, then let them cool on a wire tray.
Heat the spinach in a pan until there is light simmering, then drain it and keep it warm.
Poach the eggs in simmering water with vinegar added, for a maximum of three minutes.
Place a spoonful of spinach into every vol au vent and arrange a poached egg on top.
Season the dish with a sprinkle of celery salt, and serve with rocket.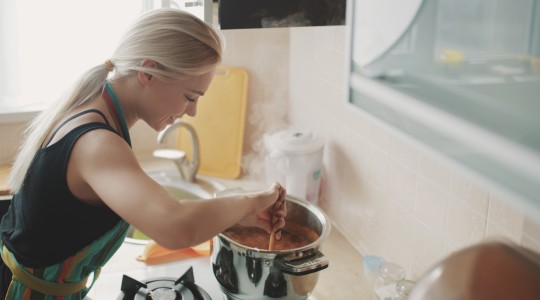 Mexican soup
Right from the cupboard, why not try Mexican soup for a flavourful and hearty, yet low fat lunch? You'll require:

2 tins of chopped tomatoes
1 tin of drained kidney beans
1 tsp (or as much as you like!) of pimentón or paprika
1 tsp of brown sugar (preferably organic and unrefined)
8oz jar of peppers, drained and roughly chopped
Tbsp of mixed dried herbs
10 black pitted olives finely sliced
One crumbled chicken stock cube
Seasoning
Half glass of red wine
Optional – Frozen tortillas
Pop all of the ingredients, except the kidney beans, into a large pan.
Cook the mixture slowly, for around 20 minutes, and if necessary, add a little water, to maintain a soup consistency. Taste the mixture and season as required.
When it is all cooked through add in the kidney beans and cook it for another five minutes.
Sprinkle some water on the tortillas and cook them for one minute in a hot oven. Serve them with the soup, and a generous spoonful of sour cream, if you have any!
Tuna steak and risotto
This simple, delicious dish is low in fat and packed with high-quality protein. You'll need:
4 tuna steaks from the freezer
Risotto rice – enough for the number of people you are cooking for
Pint of fish stock made with a large pinch of saffron (stock cubes are fine)
Tin of beans, e.g. cannellini or borlotti
Olive oil
Dried herbs
Serves 4
For around three minutes, lightly pan fry the steak until it's still pink in the middle, then remove it from the pan, let it cool, and shred.
In a heavy, large pan, lightly fry the rice in the herbs and oil for around three minutes.
Add the stock, pouring a little at a time, for around 20 or 30 minutes, and keep stirring throughout, without leaving the pan unattended. Continue until the rice is just 'al dente'.
Next, add the beans and tuna, then cover the pan with a lid, and leave it for around 20 minutes, to allow the rice to swell. Serve up on warm plates.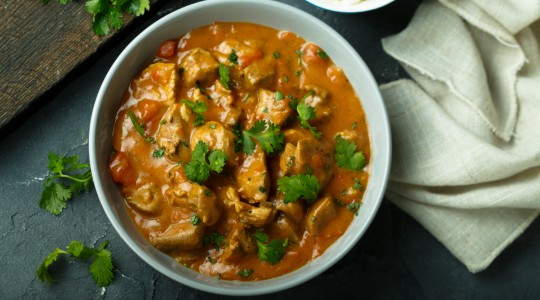 Easy chicken curry
For this quick, one-pan meal, bursting with flavour and spices, you'll need:

8 chicken thighs, defrosted, deboned and chopped
Handful of sultanas
1 tin of chopped tomatoes
Half block of creamed coconut or one tin of coconut milk
2 tbsp apple puree (from jar)
6 tbsp veg oil
2 tsp each of the following spices:
Ground coriander
Curry powder
Garam masala
Ground cumin
Some water
Serves 4
In a large pan fry the chicken with all the spices and stir constantly, using a gentle heat. This will take approximately 5 minutes. Keep stirring!
Add a splash of water and the apple and sultanas. Stir and add in half of the coconut and the tomatoes. If your using coconut milk it will need a good stir. Add a bit more water if needed to make a curry consistency.
Cook gently for approximately 30 minutes and add the final half of coconut just before the end. The taste will be enhanced if this dish is cooked the day before. Sprinkle with fresh herbs if you have any.
Stir-fried mushroom noodles
For this aromatic noodle recipe, you'll simply need these trusty cupboard items:
1 Pack of medium egg noodles
1 tbsp of light soy sauce
2 tbsp of sesame oil
Handful of unsalted peanuts
1 tsp of fish sauce
1 tbsp of orange marmalade (no shred)
1 tsp of five spice or curry powder
Tin of drained button mushrooms, sliced in half
Optional - Tsp Sesame seeds
Serves 3/4
Cook the egg noodles as per the packet instructions, then set them aside in a large warm pan.
In a wok or pan, for two minutes, use sesame oil to gently stir fry the mushrooms, and curry powder or five spice, but be careful not to let the curry powder burn. Next, add the marmalade and soy sauce, and continue stirring for another minute or so. If it's too thick, add a little tomato juice or water.
Add the fish sauce and peanuts and cook it gently for a further minute.
Pour the sauce on the noodles, then stir through. Serve it up in warm bowls sprinkled with sesame seeds and eat with chopsticks for some added fun.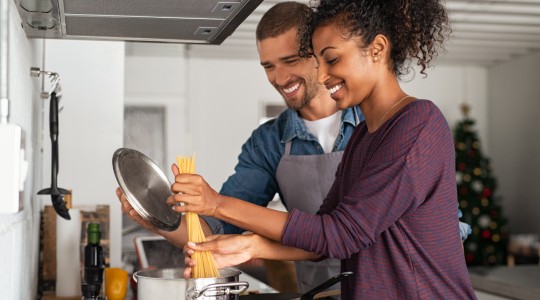 Italian herb marinated salmon with whole wheat spaghetti
Full of omega-3 and fibre, for this tasty evening meal you'll need::

Defrosted salmon fillet from the freezer - one portion per person
Mixed dried Italian herbs - 1 tbsp for 4 people
Olive oil
Handful of pitted black olives
Salted capers
Salt and pepper
Place the salmon within a zip lock bag with finely sliced olives, a slug of oil, capers, seasoning and herbs. Let it chill and marinate overnight.
Cook the pasta according to its instructions, then drain it and season it well.
Pan fry the salmon within oil, skin-side-down, until its crisp and sizzling. Turn it over and cook it for another minute. Remove it the from heat, letting it stand for one minute.
Serve the salmon on top of the spaghetti, along with a drizzle of olive oil and some black pepper.
Serve the dish with a side salad.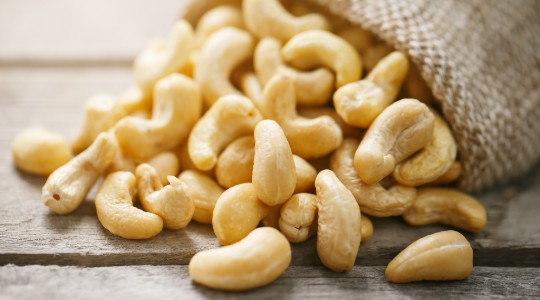 Devilled cashew nuts
We go nuts for this nutritional snack, with healthy fat, and a good source of minerals. For devilled cashew nuts, you'll need:

15 fresh curry leaves
100ml of vegetable oil
300g cashew nuts
1 tsp of brown sugar
½ tsp of chilli powder
Sea salt and pepper to taste
Serves 4
In a heavy-based saucepan, heat the oil on medium heat until it's smokey. Add in the nuts and fry them until they are a golden brown.
Pop in the curry leaves and cook them until crisp, then strain the oil.
Place the curry leaves and nuts in a bowl, and sprinkle on the sugar, pepper, salt, and chilli powder, and toss everything together to combine. Transfer the mixture to a bowl and serve up.
Curried humous dip
For this delicious, creamy dip, you only need these six ingredients:
1 tin of drained chickpeas
2 chopped anchovies from tin or jar
Juice of one fresh lemon, or use Jif lemon juice
2 tbsp sesame oil
2 tsp curry sauce (preferably Korma)
1 - 2 cups of semi-skimmed milk to dilute
Makes 4 large servings
Pop all the ingredients (except the milk) in a blender and whiz them up until you achieve a humous consistency. As you blend, you will need to add in the milk, a little at a time.
Serve with crackers or flatbread.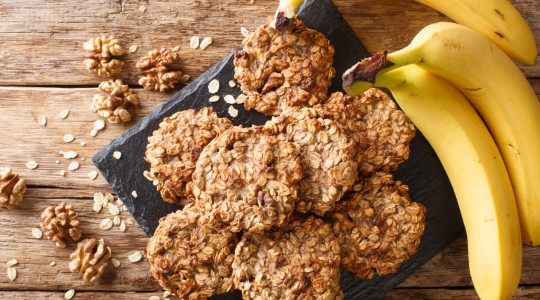 Banana and oat cookies
Kids and adults alike will love this one. For healthy banana and oat cookies, you will need:

1 medium ripe banana, peeled
1 cup rolled oats
2 tbsp honey
½ cup of nuts, raisins or cranberries
1 tbsp coconut oil, melted or soft
Pinch of salt
Serves 7
Preheat the oven to 170c. Pop the banana into a medium sized bowl and use a fork to mash it up. Add the coconut oil, honey and oats and stir it up until combined.
Leave it for 10 minutes, then add in the salt and majority of the nuts, raisins or cranberries and stir it to combine the ingredients.
Take a tablespoon of the mixture at a time, roll it into a ball, then flatten it to approximately 1cm thick. Place it on a baking tray and repeat.
Pop it in the oven, for 15 minutes. When removing it from the oven, sprinkle the cookies with the rest of the nuts, raisins, cranberries, then leave them to cool.
Oat and apple bars
These healthy bars will make your taste buds happy and have nutritional benefits! You'll need:
150g rolled oats
2 apples, chopped
50g raisins
45g nuts, chopped
2 tbsp honey
1 tbsp cinnamon
1 tbsp melted coconut oil or butter
1 tsp vanilla, almond or coconut essence
Pinch of salt
Makes 9/12 bars
Preheat the oven to 180C. Pop the chopped apples in a blender and whiz them up until they have a 'mushy' appearance.
Pour the honey, oil and vanilla in a pan, and stir the mixture on medium heat. Add in the apple and stir well.
In a bowl, mix the raisins, nuts, oats, cinnamon and salt, then add the mixture from the pan.
Transfer into a prepared baking tin lined with baking paper and press down evenly. Bake for around 15-20 minutes and allow to cool prior to cutting into bars.