On Christmas Day, we're all guilty of over-indulging and grazing on the treats around us, but how much sugar do we really consume on December 25th?
We're not suggesting this is a diet to follow for your Christmas Day dining, however, if your day looks anything like the below, this shows you how much sugar you could be consuming without realising.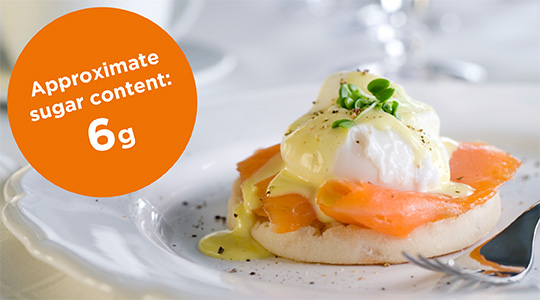 9am: Breakfast
Let's keep things fairly healthy:
1 English breakfast muffin
2 poached eggs
100g smoked salmon
2tbsp of hollandaise sauce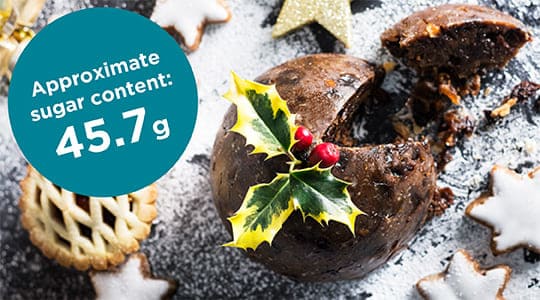 11am: Morning snack
We can't sit and eyeball those mince pies for very long without having one! So perhaps...
One mince pie
A splash of double cream
A glass of Buck's fizz
12:30pm: Pre-lunch snack
A handful of roasted nuts and a handful of Twiglets will tide us over until the sit-down lunch!
One serving of Twiglets
One serving of roasted peanuts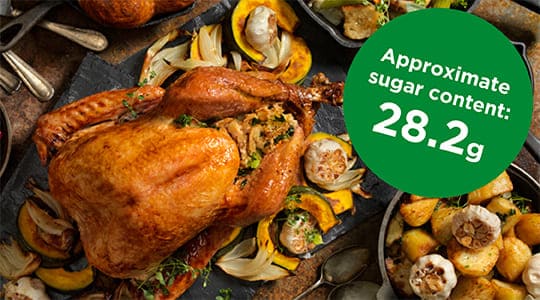 2pm: Christmas lunch
Here it is, the big one. Christmas lunch has arrived. The diet is fully out the window and it's time for the main event and all the trimmings.
One serving of roast turkey breast or nut roast
Carrots, sprouts and honey roasted parsnips
One serving of sage and onion stuffing
Two Yorkshire puddings and three roast potatoes
Four mini pigs in blankets (or a similar vegetarian alternative)
1tsp cranberry sauce
Two glasses of red wine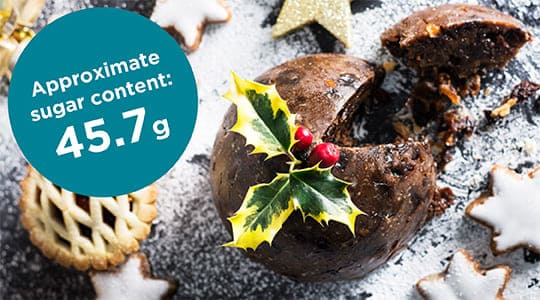 3pm: Christmas dessert
There's still room for Christmas pudding and custard.
100g Christmas pudding
1 serving of vanilla custard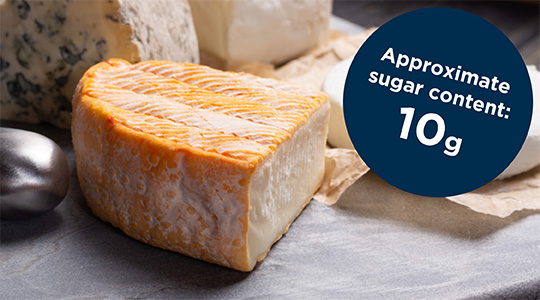 5pm: Cheese glorious cheese
A cheeseboard and crackers are often a traditional Christmas day treat.
30g x three different cheeses
Five crackers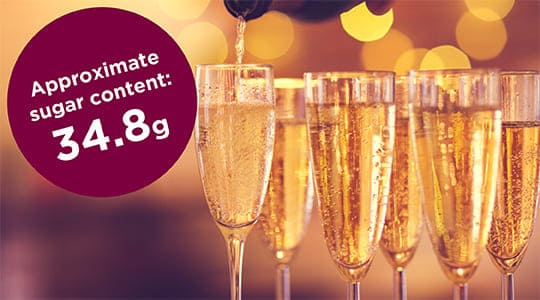 7pm: Evening grazing
All we've done is eat today but somehow, we can still fit in some after-dinner chocolates and a glass of prosecco to finish off the day...
Six chocolates
One glass of prosecco
How you can cut down on sugar this Christmas
If your day looks anything like the above, you would've consumed approximately 158.3g of sugar, which is around 5x your daily amount, as recommended by the NHS1.
Watching your sugar intake on Christmas Day can be incredibly difficult with all the temptations around you. We're not suggesting you can't enjoy your favourite foods over the festive season, but we've found a few swaps to help you protect your teeth this Christmas.
Swap regular orange juice for low-sugar orange juice. Some supermarket alternatives can contain nearly half the sugar, with approximately 5.8g sugar per serving rather than the average 11.4g sugar with regular orange juice.
Homemade mince pies are delicious, especially fresh out of the oven. Why not switch your regular shop-bought mince pie (that has approximately 18.3g sugar) for a homemade low-sugar mince pie following this recipe? Some homemade recipes contain as little as just 2.8g of sugar.
Cut out the added sugar in your cranberry sauce and add a bit of spice with a teaspoon of horseradish which sits at just 1.6g sugar vs. cranberry sauce which has on average 6.2g per tsp.
Don't spread out your sugar consumption. Consuming your sugar in one go rather than in small hits can help protect your teeth. Sugar is more damaging the more it can attack your tooth enamel. Eating sugar with meals can also help limit the acidity in your mouth, which helps fight against decay.
Find your local Bupa Dental Care practice
Bupa Dental Care is a leading provider of NHS and private dental care, offering services at over 350 practices across the UK. To find your nearest practice, search below.
Bupa Dental Care is a trading name of Oasis Dental Care Limited. Registered in England and Wales No: 00478127. Registered office: Bupa Dental Care, Vantage Office Park, Old Gloucester Road, Hambrook, Bristol, United Kingdom BS16 1GW.
Oasis Dental Care Limited has a number of trading names including Bupa Dental Care. For a list of all our different trading names please follow this link.