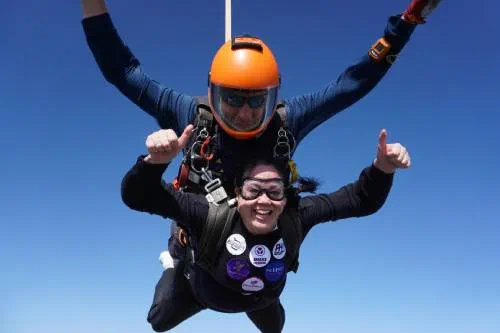 From fundraising drives to committed charity partnerships, and from company-wide schemes to practices and dentists doing their bit, at Bupa Dental Care we love getting involved in charitable causes as much as we love improving people's oral health and wellbeing.
We're proud of the fundraising efforts and connections we've made across the past few years, and we are committed to deepening our involvement with a wide array of good causes both within the world of dentistry and beyond.
Fundraising at our Bupa Dental Care practices
Throughout the year, our brilliant clinicians, dentists, hygienists and practice staff make a huge difference to the oral health and smiles of our nationwide patient community. However, they're also keen to lend a hand to an array of important causes beyond the dentist's chair.
Here's a taster of some of the many charitable deeds and fundraising activities our Bupa Dental Care team members have thrown themselves into.
1. In July, two nurses from Museum Square Dental Centre in Wisbech took to the skies at Sibson Aerodrome before braving a charity skydive from 13,000 feet. Letitia and Xyanthe managed to raise £750 for the East Anglian Air Ambulance and £1,775 for Dementia UK for their daring adventure.
2. The dedicated team at Bupa Dental Care Chelmsford raised £1,176 for Parkinson's UK, scaling the peak of Ben Nevis in June.
3. Also in May, eight members of the Bupa Dental Care Bishops Stortford team walked 13 miles to raise money for Helping Herts, a local charity that supports children and young people. Receptionist Sarah said "We had so much fun, although most of us were unable to move much the next day. Thank you to everyone who donated to us - we raised £1,510 in total!"
4. Bupa Dental Care Warminster ran a fundraising event in July for a local charity, The Multiple Sclerosis Therapy centre. They raised over £1,500 by organising a two-hour Zumbathon; an amazing event which saw everyone involved getting fit and having fun for a great cause.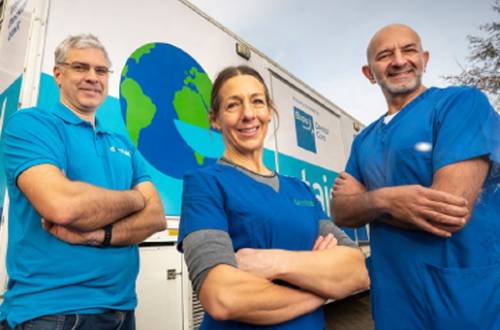 Bupa Dental Care and Dentaid The Dental Charity
Our oral health is deeply entwined with our overall wellbeing. No matter what our personal situation is, or where life has taken us, access to oral healthcare is an important right that should be within reach of us all. That's the philosophy behind Dentaid The Dental Charity, Bupa Dental Care's chosen charity partner, and it's what forms the foundation of the incredible work carried out by this organisation up and down the country and elsewhere across the globe.
Dentaid The Dental Charity provides much-needed dental treatment to those experiencing homelessness, as well as treating refugees, rough sleepers and at-risk individuals of all backgrounds. By providing oral healthcare to those who otherwise struggle to access a regular practice, Dentaid The Dental Charity is making a real difference every day.
Thanks to their fleet of mobile dental units, Dentaid The Dental Charity's team can travel to wherever they're needed most, offering check-ups, advice and dental procedures free of charge to an array of vulnerable patients.
Bringing positive change and essential care
Bupa Dental Care is deeply proud to partner with Dentaid The Dental Charity, and earlier in 2023 we were privileged to donate a new mobile dental unit - the fifth in our fleet - to make a real difference to the amazing work this charity does each day. We're honoured to have had this opportunity to support such a great cause, and to see the positive impact the unit will have on the lives of those most in need.
Fully equipped with everything the volunteers need, the mobile dental unit donated by Bupa Dental Care extends the reach of this extraordinary charity's work, enabling them to access more locations, more vulnerable patients, and alleviate more pain and discomfort.
Andy Evans, CEO at Dentaid The Dental Charity, stated:
"Bupa Dental Care has supported Dentaid The Dental Charity for a number of years. We are committed to increasing access to dental care because we know it can play an important role in helping under-served and vulnerable people move on to a new chapter in their lives, and we are grateful that our partnership with Bupa Dental Care helps us to achieve this."
Making a difference, one smile at a time
Anybody who has ever suffered with toothache or discomfort caused by oral health problems will know just how debilitating it can be. Left unchecked and untreated, oral health issues can lead to serious and irreversible problems. By providing procedures that help with various oral health issues to alleviate pain, the organisation's volunteers play a key role in maintaining the physical and mental health of those who visit the mobile charity.
What's more, dentists and oral health professionals are often the first line of defence against wider health concerns. The teeth, gums and mouth provide dentists with signs and symptoms of all manner of wider health issues, including mouth cancer and diabetes.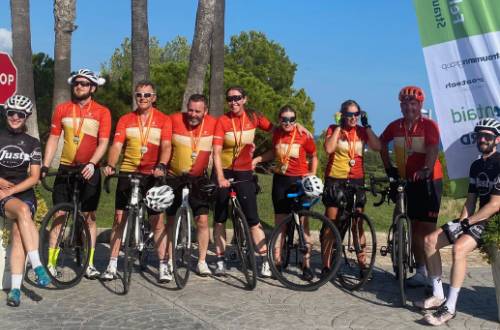 Our ongoing commitment to care
At Bupa Dental Care, we take pride in our partnership with Dentaid The Dental Charity, and have seen first-hand the remarkable work they're doing across the UK and the wider world.
Our community of dentists, hygienists, dental nurses, and support staff have all been involved with a broad range of fundraising events, raising awareness of what the charity does best. We've pedalled our way through the Straumann Bike Ride fundraiser and walked our way to raising £20,000 for Dentaid The Dental Charity through our Healthy Cities steps challenge.
We've worked hard to bring our skills and expertise to the patients treated by Dentaid The Dental Charity in their mobile dental units. Bupa Dental Care colleagues across the country regularly volunteer at their mobile dentist units, offering their skills and time to treat some of the most vulnerable people in society.
We are committed to continuing this rewarding collaboration, and we will support Dentaid The Dental Charity's incredible mission through fundraising, volunteering opportunities, and spreading the word about this fantastic charity and other initiatives doing great work.
To learn more about Dentaid The Dental Charity's mission, visit the Dentaid website. To look after your own dental health and to book an appointment, find your local Bupa dentist.
If you have any questions on how to keep your mouth healthy, or would like to book a dental check-up, contact your nearest practice.
Find your local Bupa Dental Care practice