High-street shops are full of teeth whitening products and kits which claim to make your teeth whiter, but how effective are they? We spoke to Karim Abdel-Khalek, a Bupa Dental Care dentist at Clifton, Bristol, to find out the answers.
1. Can over-the-counter teeth whitening kits whiten your teeth effectively?
There are many teeth whitening kits available over the counter, including toothpastes, strips, paint-on kits, and laser whitening kits. However, in-line with EU regulations, these kits contain no more than 0.1% hydrogen peroxide1, the chemical agent used to bleach the teeth. This is significantly lower than the amount required to effectively whiten teeth. So, although whitening kits may provide some whitening effect, these are often very short term.
2. Are over-the-counter teeth whitening kits safe to use?
Fortunately, in the UK, teeth whitening kits found in high-street shops can be considered safe, as they have met all EU regulations and laws.
3. Do whitening toothpastes have any effect?
Some whitening effect can be seen from whitening toothpastes that contain abrasives, which remove surface stains. However, the abrasives in these toothpastes can also remove enamel in addition to surface staining. Thinning of the enamel leads to a greater show-through of dentine (the tissue which sits below the top hard surface of your teeth) which is yellow in nature. Therefore, overuse of whitening toothpastes may make your teeth more yellow in the long term!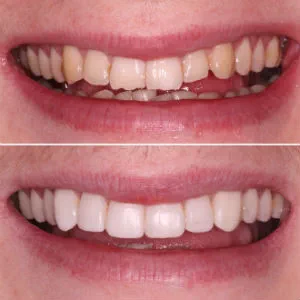 4. How do high street whitening kits differ from whitening kits used in a dental practice?
A dentist can legally prescribe or perform whitening treatment which contains up to 6% hydrogen peroxide- 600 times more concentrated than what's found in over-the-counter kits! For this reason, professional teeth whitening prescribed or carried out by a dentist means the whitening gel goes deeper into the tooth structure, leading to much whiter teeth and a longer-lasting result.
Dentist Karim Abdel-Khalek from Bupa Dental Care Clifton used a combination of teeth whitening and composite bonding to achieve this result.
5. If you're thinking of opting for a teeth whitening kit, what are the key things to look out for? Any ingredients or dangers?
If a whitening kit contains more than 0.1% hydrogen peroxide, this may indicate it's an illegal product. Always check the percentage before you buy.
6. Who can legally perform teeth whitening and who regulates teeth whitening kits?
Professional teeth whitening can only legally be carried out by a dentist or hygienist, registered with the General Dental Council. Be cautious of businesses such as beauty salons carrying out teeth whitening. This is illegal and could potentially be damaging to the teeth and gums.
7. Why shouldn't you buy teeth whitening kits off the internet?
Don't be tempted by cheap products with unrealistic claims of whitening results and many (often false) online reviews. There's a high chance that products bought over the internet may be counterfeit or contain potentially harmful chemicals.
The British Dental Association have reported that some kits have recently been seized for containing dangerously high levels of hydrogen peroxide, more than 33%2! High levels of hydrogen peroxide may lead to burning gums, gum recession and nerve damage. Make sure your teeth whitening is prescribed and supervised by a GDC registered practitioner to ensure the long-term safety and maintenance of your oral health.
8. Teeth whitening kits vary in price, with some as little as £10. Does price make a difference to effectiveness?
No. Over-the-counter kits will always only contain a maximum of 0.1% hydrogen peroxide which will offer a minimal whitening and stain removal effect.
9. If you use an over-the-counter kit multiple times, will whiteness continue to build?
The bleaching effect with over-the-counter kits is so minor that it would take an extremely long time to achieve that kind of results that can be achieved in a few hours or days professional teeth whitening carried out or prescribed by a dentist. The overuse of teeth whitening kits can also damage tooth enamel, potentially causing long-term oral health problems.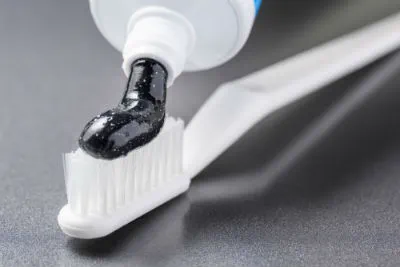 10. What damage can be done if you choose the wrong teeth whitening kit or treatment?
Recently, in order to avoid the laws surrounding teeth whitening, some products have used alternative ingredients such as sodium chlorite3. The effects of these chemicals on tooth enamel are currently unclear.
Using whitening products which contain unregulated or excessive amounts of hydrogen peroxide can cause extreme sensitivity. It can even cause the nerves inside the teeth to become inflamed and die off. This could then need to be rectified by either root canal treatment and in some cases, tooth extraction.
If a whitening product uses trays which don't properly contain the peroxide gel often found in whitening kits, this could lead to burning of the gums, or even the product to be accidentally swallowed. Burning of the gums can lead to gum recession that is irreversible without the use of gum surgery to correct this.
11. What's your advice to anyone looking to whiten their teeth at home?
Don't believe the hype! Many products online and on social media claim to whiten teeth, but some of the kits contain unregulated products that haven't been tested and may cause more harm the good. Plus, other products such as recently popular charcoal toothpastes can often wear down the enamel leading to sensitivity4.
12. I've used a teeth whitening kit and think I might have some damage to my teeth- what should I do?
See your dentist, immediately!
13. How often should you whiten your teeth? Does it last indefinitely?
Teeth whitening doesn't last indefinitely. Teeth will become darker with time due to the loss of the bleaching effect, the natural yellowing of teeth and staining from food and drinks such as coffee, red wine and curry, to name a few.
Whiteness can be restored by attending the hygienist and using a short top-up course of whitening gel which can be prescribed by your dentist. A top-up is usually required within 12-18 months of having your whitening treatment done.
14. If you whiten your teeth professionally and then continue to use whitening toothpaste, will this maintain the whiteness?
Because whitening toothpastes contain significantly less hydrogen peroxide than is required to bleach the teeth, it won't provide a bleaching effect- however they may be useful in order to remove surface staining that will contribute to the whitening effect of the teeth.
Interested in teeth whitening treatment?
If you're looking for a brighter smile, use our practice finder below to search for your nearest practice.
Bupa Dental Care is a trading name of Oasis Dental Care Limited. Registered in England and Wales No: 00478127. Registered office: Bupa Dental Care, Vantage Office Park, Old Gloucester Road, Hambrook, Bristol, United Kingdom BS16 1GW.
Oasis Dental Care Limited has a number of trading names including Bupa Dental Care. For a list of all our different trading names please follow this link.