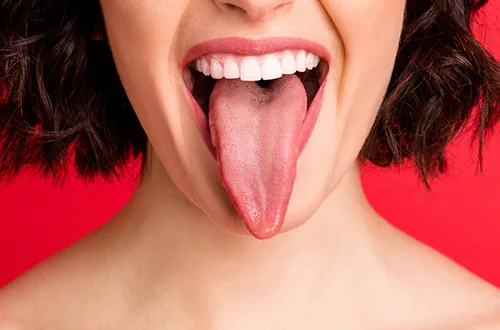 Your mouth says more about your overall health than you may think, and this includes your tongue. If your tongue changes in colour or texture, this could be a sign of an underlying health concern. Our clinical director, Sarah Ramage, pinpoints what a healthy tongue looks like and what some changes could mean.
What does a healthy tongue look like?
It's important to recognise a healthy tongue and keep an eye out for any changes. Sarah explains, "A healthy tongue is pink in colour with a slightly rough surface. What gives it this texture are the tiny bumps on top, called papillae."
Any shift from this may signal a health issue or be a sign that you need to work on your oral health.
Changes to the tongue
Below is a rundown of some of the common changes that can happen to your tongue, and what they mean. Some changes are harmless, and due to easily treatable conditions, while some could be a cause for concern.
Red or white patches
Abnormal looking patches, lumps or spots could be a sign of mouth cancer and your dentist will look out for these during your check-up. Red patches could signal a condition called erythroplakia and white or grey patches may be leukoplakia, which could lead to cancer if untreated.
Sarah explains, "If your dentist spots this, they'll ask you some questions about your symptoms and your medical history, and then if there are any concerns, they'll refer you to a GP or doctor specialising in mouth cancer."
Mouth cancer rates have increased by almost 60% in the last decade1, so it's important to be aware of any changes. By booking regular check-ups with your dentist, they'll be able to look out for any issues you haven't spotted.
If you think you spot these symptoms and they've lasted for over two weeks, don't panic, but ensure you arrange an appointment with your dentist to check it over.
White spots (lesions)
If you see creamy white spots or lesions on the tongue, Sarah explains, "These can indicate a fungal infection, such as oral thrush. It's usually harmless and can be easily treated with mouth gel from the pharmacy."
It's important not to ignore it, because left untreated, oral thrush may spread to other parts of your mouth, or the back of your throat. This can cause an unpleasant taste in your mouth, pain or difficulty eating and drinking.
A blotchy 'geographic' tongue
If you have a map-like pattern on your tongue's surface, with normal patches and smooth red patches, Sarah explains, "This is known as 'geographic tongue' and is normally harmless. This happens when the 'old' surface of the tongue replaces itself and the top layer doesn't come off properly. It can leave a red, sore area like a scratch. In other places the skin stays on too long and looks white." Over time, the position of these patches can change.
A geographic tongue isn't something to worry about or linked to any infection. Although, if you do experience discomfort, speak to your dentist for advice.
White or yellow coating
If you spot a white coating across your tongue, Sarah says, ''This is caused by a build-up of bacteria, food debris and dead cells. It can also be yellow in colour, caused by nicotine, tea or coffee stains. This generally happens when you don't brush your tongue.
"We all know that we should brush our teeth twice a day, but it's also important to brush your tongue every time you clean your teeth. The tongue harbours the majority of the bacteria in your mouth so brushing it can prevent the bacteria transferring to your teeth and gums, causing damage and creating bad breath."
To remove a white or yellow coating, you can use a tongue scraper (which you can get from a pharmacy) or brush it gently with a toothbrush.
How to keep your tongue (and health) in-check
It's important to see your dentist for regular check-ups, who'll look out for any issues, including changes to your tongue, and provide advice on next steps. They can also help you with other problems that might stem from tongue health, such as bad breath.
If you've noticed any white or red patches that have lasted for over two weeks, we recommend visiting your dentist as soon as possible.
To arrange a check-up with your local dentist, find your practice below.
Bupa Dental Care is a trading name of Oasis Dental Care Limited. Registered in England and Wales No: 00478127. Registered office: Bupa Dental Care, Vantage Office Park, Old Gloucester Road, Hambrook, Bristol, United Kingdom BS16 1GW.
Oasis Dental Care Limited has a number of trading names including Bupa Dental Care. For a list of all our different trading names please follow this link.