We've recently seen an increase in the number of people opting for teeth straightening with affordable 'DIY' aligners, ordered from online aligner companies.
It isn't hard to understand the growing popularity of at-home teeth straightening. While some at-home aligner companies put their customers in touch with in-person dental practitioners, the main brands promoting cut-price clear aligners promise impressive results at low prices, as well as removing the need to visit a dental practice regularly. As is so often the case, these savings come with an unpleasant set of side effects - more and more individuals are reporting oral health issues because of a DIY approach to teeth straightening. From stories of discomfort and pain to developing loose and failing teeth, there are plenty of reasons to view DIY aligners with real caution.
At Bupa Dental Care, your satisfaction and oral health are always going to come first. Our dentists aim for the utmost in patient satisfaction, revealing straighter and more confident smiles as well as expert aftercare to ensure long-lasting results.
Issues surrounding online clear aligners have hit the headlines frequently in recent years. We're keen to provide our professional insight, based upon decades of experience and countless straighter and more confident smiles, delivered safely and with expertise.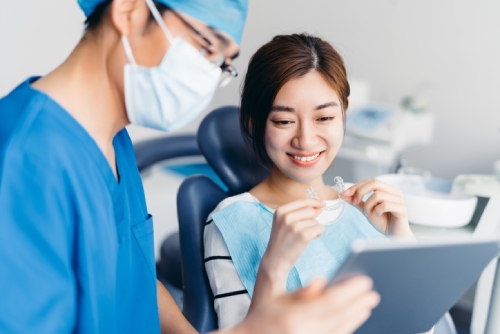 The importance of expert care
While some customers who have bought clear aligners online have reported satisfactory results, many have ended up causing their teeth and gums lasting harm. There have even been cases of lost teeth because of badly fitting aligners.
There are many reasons why such issues have occurred. Patients sometimes underestimate just how much force is put onto the teeth by aligners, which are designed to apply pressure to reposition the teeth and straighten your smile.
If the individual using the aligners has gum disease or tooth decay, they can cause serious and long-lasting damage. An initial visit to a dentist or hygienist is an essential aspect of any orthodontic consultation – they'll be able to spot signs of decay or disease and treat this appropriately - and it's an important step not always included in remote services. A professional examination is also important to make sure that there is nothing affecting the ability of your tooth roots to withstand the pressure that aligners create. These issues can only be identified with a clinical examination and X-rays, making some time spent in the dentist's chair before going ahead with teeth straightening truly indispensable.
As well as this, aligners that are not monitored with ongoing expert supervision can also cause teeth to move too quickly. This can cause a skewed bite or loosened teeth, particularly if there are underlying or undetected health issues.
Most crucially, DIY aligners and at-home teeth straightening lacks the ongoing care and attention of a qualified dental or orthodontic professional. By choosing instead to get teeth straightening treatment at a trusted practice, you won't just get braces that fit perfectly, you'll also have regular contact with a dentist. They'll track the progress of your teeth straightening and are an important source of information on how best to take care of your smile. They'll also be able to rectify any issues that may arise along the way, ensuring you and your teeth are in the best possible condition before, during and after treatment.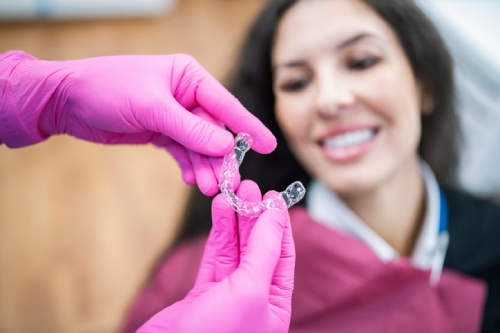 Proven professional care has no replacement
It's easy to see why so many people are looking into getting a straighter smile. We live in an age of social media, selfies, and video conferencing – a confident smile is possibly more valued than ever.
Nonetheless, when it comes to your gums, teeth, and oral health in general, seeking out orthodontic treatments delivered by qualified, certified, and experienced professionals is of the highest importance. If you have any doubts regarding whether you'll receive top-quality care before, during, and after your aligners are fitted, it's best to not put your dental health and happiness at risk.
Dr Sean Hamilton, Orthodontist for Bupa Dental Care was crystal clear when it came to his advice on the matter. "DIY aligner treatments often provide suboptimal results. This is because aligners on their own can only move teeth by tipping, without the involvement of a dentist. A dentist will tailor conventional aligner treatment to the individual by creating space through techniques such as IPR (Interproximal Reduction), the use of inter arch elastics or by rotating teeth using small attachments cemented to the surfaces of teeth to facilitate tooth movements such as rotation, intrusion or extrusion.
DIY aligner treatments can circumvent the involvement of a dentist in the planning and delivery of treatment. This means that your dental health cannot be initially ascertained nor monitored as you progress through treatment. Any problems are often diagnosed late, often leading to more serious consequences.
If you are thinking about having orthodontic treatment, a face-to-face consultation is essential. The use of DIY mail order aligner systems risks permanent damage to teeth and often results in suboptimal outcomes."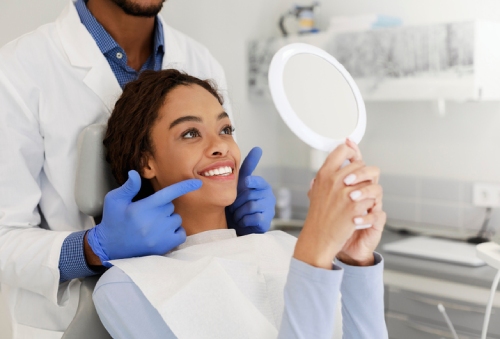 Exceptional care in teeth straightening and beyond
The rise of at-home clear aligners has become a real concern in the dental community and has been commented on by the General Dental Council. The lack of control, absent aftercare, and potential harm they cause has resulted in many orthodontists having to treat and rectify the issues they've created.
What seems like an affordable quick solution can end up being anything but. Aftercare costs resulting from poorly fitted and administered braces can hugely outweigh any apparent savings, and the possible damage caused by DIY orthodontics makes this fad one to approach with genuine caution.
At Bupa Dental Care, we take great pride in our track record of providing high-quality dental care to individuals right across the UK. From your initial consultation and right through to the extensive aftercare, we'll ensure you benefit from our expertise, leading technology, and long-lasting positive results. Our values and best practices not only mean you get access to an experienced dentist who'll keep your teeth straightening journey on track, but you'll also end up with the result you've always wanted.
Interested in straightening your teeth? Speak to your local Bupa Dental Care dentist to discuss your options.
Find your nearest Bupa Dental Care practice
Bupa Dental Care is a trading name of Oasis Dental Care Limited. Registered in England and Wales No: 00478127. Registered office: Bupa Dental Care, Vantage Office Park, Old Gloucester Road, Hambrook, Bristol, United Kingdom BS16 1GW.
Oasis Dental Care Limited has a number of trading names including Bupa Dental Care. For a list of all our different trading names please follow this link.