Following on from our article on becoming a new parent during lockdown, I spoke to several new mothers to hear their story first-hand.
Becky, Zoe, Kirsty and Rhona share their challenges of having a new baby during the coronavirus pandemic, and talk about what helped them through this time.
Becky, mother to Jack, born 12 May 2020
"The hardest thing for me personally was the time before giving birth. I was juggling looking after a toddler [Jack is Becky's second baby], and still working. I was so tired and found it difficult to get the balance right without feeling guilty that I couldn't give my attention to one or the other.
"The uncertainty of not knowing how much the coronavirus pandemic would impact the way I could deliver my baby was hard too. The advice for maternity wards seemed to change on a weekly basis, and the choices that I previously had seemed to be taken away. For example, the option for a home birth.
"Luckily, I haven't felt lonely or isolated. If anything, I've felt it less this time around as my husband has been furloughed. I do think it would be hard for first-time mums who may not have the opportunity to make a support network and meet others in the same situation. I also found support services very limited after giving birth. Everything was done over the phone, apart from one midwife appointment after Jack was born.
"Being able to talk and have video calls with my friends has helped. And meeting friends and family for walks. I've loved being able to visit local gardens that have reopened, and we have explored so many parks and outdoor spaces around us."
I asked Becky what advice she would give new mothers during this time:
"Enjoy the time you have not feeling pressured to have lots of visitors. Connect with friends and family over video calls and make use of outdoor spaces, even if it's just a 10-minute walk. I've found that no matter how tired I've been, walking and breathing in fresh air really makes a difference. I've also enjoyed staying in my PJs some days and watching Netflix!"
Zoe, mother to George, born 2 June 2020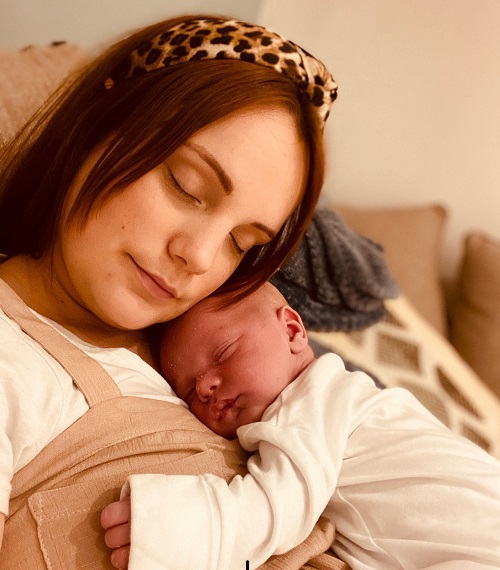 "Experiencing pregnancy and becoming a first-time mum during lockdown has definitely been a difficult journey. I've always had this image of sharing the experience with my parents, especially as I have such a close relationship with my mum and it's their first grandchild. But lockdown has meant precious memories, such as my baby shower, sharing antenatal appointments and the birth, was not the experience I expected.
"My partner was not able to be there at the beginning of my labour. And so, I ended up alone in a room at the hospital experiencing birth with no support from my family. I'm now so grateful to be in a more relaxed lockdown situation. My parents have been able to hold their grandchild and I've been able to see my family.
"The loneliest times during lockdown were the days. The loneliest times during lockdown were the days, as my partner is a key worker and was still working. This meant I was alone at home a lot, unable to go out, and only being able to communicate with others virtually.
"The scariest moment during lockdown was when my partner dropped me off to the hospital to be induced. Walking into the hospital on my own, not knowing what was going to happen or when my partner was going to be allowed to join me was such an awful moment."
I asked Zoe what helped her feel better during this time:
"I enjoyed making home cooked meals for me and my partner to have each evening. Going to the supermarkets every few days to collect groceries and make a meal from scratch really relaxed me. It also made sure we were eating right and that we spent time together at the table.
"My main support has been from the NCT women that I have stayed in contact with. All eight of us were in the same position. It was really reassuring to know my feelings weren't isolated, and that these women were feeling the same way.
"My advice to new mummies would be to just enjoy the moments that you can. No-one can control what's going on in these crazy times. Worrying and being anxious about it won't help you, your baby or your experience. You want to look back and still have wonderful memories and not feel like it's been tainted."
Kirsty, mother to Oscar, born 29 January 2020
"The inability to establish a consistent routine has been really difficult. Staying at home for the majority of time has been tough. Especially when I had a taste of what normality with a new baby was like for three weeks before lockdown started.
"Plus, mum guilt really is a thing! The feeling of not being able to provide my baby with stimulation and interaction has made me question whether I'm hindering Oscar's development. The lack of faces, environment, sounds and scenery have been compromised for him."
Finding the positives
I asked Kirsty if there were any positives she could focus on to boost her wellbeing.
"Among all the mayhem, we have been fortunate to spend time as a family, as my husband was forced to close his business during this pandemic. With some initial struggles with breastfeeding, he has been my go-to for support. Now, the thought of him returning back to work does give me some anxiety.
"Thankfully, I haven't felt lonely, but I certainly have felt isolated. I've avoided even the simplest of tasks, like the weekly food shop, due to worry. I have sometimes felt confined to my own four walls, which is difficult.
"Postnatal support has, unfortunately, been limited since most face-to-face health visitor appointments were stopped. This can be worrying when you're questioning if your baby is gaining weight, growing well and generally in good health. It can be such a fragile time for new mums as they question their ability. I think it'll be reassuring for all parents when drop-in clinics resume, and we can come face-to-face with health professionals again.
"Going for a walk with my dogs once a day (until restrictions were lifted) in deserted fields helped keep my mind fresh, but it was also a great time for reflection. Appreciating the smaller things, having appreciation for our health and to remember that I'm not in this alone."
Rhona, mother to Emilia, born 23 May 2020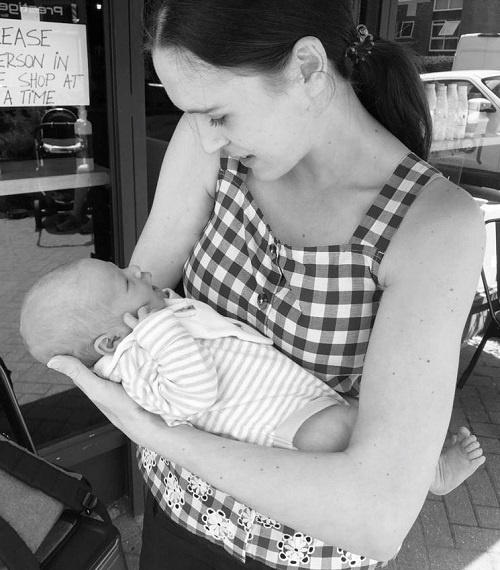 "The hardest thing about lockdown has been not seeing my family. For them, not seeing my bump grow and not being able to cuddle Emilia in the early stages was hard.
"I've been having video calls with my family every day, and I'm living with my husband and his grandma, so I have had company. It was hard being in the vulnerable category, as I couldn't go anywhere, not even to the shops.
"My sister gave me yoga lessons most mornings when I was pregnant. And I went for a walk every day, often with my husband. This really helped my mental health and to clear my mind. I did virtual NCT classes when I was pregnant, and the teacher provided us with lots of information that I found useful."
I asked Rhona what advice she would give new mothers during this time:
"Make the most of the online help, as well as helpline numbers, and reach out to other people in the same situation. I've spoken to a few people who gave birth at a similar time and the women from my NCT group, which was really helpful."
About our health information
At Bupa we produce a wealth of free health information for you and your family. This is because we believe that trustworthy information is essential in helping you make better decisions about your health and wellbeing.
Our information has been awarded the PIF TICK for trustworthy health information. It also follows the principles of the The Information Standard.
Did you find our advice helpful?
We'd love to hear what you think. Our short survey takes just a few minutes to complete and helps us to keep improving our healthy lifestyle articles.
Legal disclaimer
This information was published by Bupa's Health Content Team and is based on reputable sources of medical evidence. It has been reviewed by appropriate medical or clinical professionals and deemed accurate on the date of review. Photos are only for illustrative purposes and do not reflect every presentation of a condition.
Any information about a treatment or procedure is generic, and does not necessarily describe that treatment or procedure as delivered by Bupa or its associated providers.
The information contained on this page and in any third party websites referred to on this page is not intended nor implied to be a substitute for professional medical advice nor is it intended to be for medical diagnosis or treatment. Third party websites are not owned or controlled by Bupa and any individual may be able to access and post messages on them. Bupa is not responsible for the content or availability of these third party websites. We do not accept advertising on this page.
For more details on how we produce our content and its sources, visit the About our health information section.
^We may record or monitor our calls