During the coronavirus pandemic, you might be experiencing and processing a range of emotions. You may be feeling stressed and anxious or you may be looking for new things to do around the house to keep you entertained or motivated.
Creative activities are a great way to boost your mental wellbeing. According to the Mental Health Foundation, art can be a great way of helping with loneliness, boosting our confidence and alleviating anxiety, depression and stress1.
Arts Council England has also reported that creative activities help people feel happier and more relaxed than when doing other activities such as watching TV2. You don't have to be an artist to get crafty. Art can be as simple as drawing scribbles to express your feelings. Here are some ideas for creative activities you can do at home.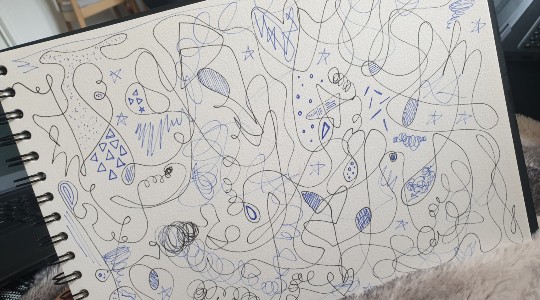 Scribble drawings and doodling
The simplest creative thing you can do is simply doodling. Grab some paper and a pen and move it as you feel.
Scribble drawing can be particularly helpful if you're taking a break while working from home, or if you have children who are struggling to adjust to learning outside of the classroom.
Research from Harvard Medical School suggests that doodling is often useful for giving your brain a break from continuous concentration, without totally losing focus3. If you have children, scribble drawings can also be made into cards to send to friends and family, to stay connected during lockdown.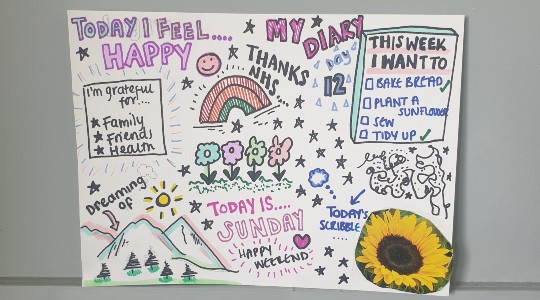 Keep a visual diary
Visual diaries, also known as art journaling, are a great way to express your feelings and get creative. In a time where everything is unknown, putting pen to paper can help you organise your thoughts more clearly, gain control of your emotions and help you identify anything causing you stress4.
If you have children who aren't old enough to understand the coronavirus pandemic, getting them to express themselves in a diary might help you to understand where they need support. You could encourage them to use different colours depending on how they feel, if they don't want to write it down.
It's also a chance to bring some positivity. Use your visual diary to write down the things you're grateful for and the opportunities that COVID-19 has given you. For example, having more time to exercise, take up a new skill or spend more time with your family. This could eventually form a memory box or time capsule which you can look back on in years to come.
You don't need anything other than a pen and some paper to keep a visual diary. You could even write over your existing diary if you wanted to. But if you want to make it more creative, you can use whatever materials you want including colouring pens, pencils and magazines. If you have a polaroid camera, you could even include photos you've been taking at home.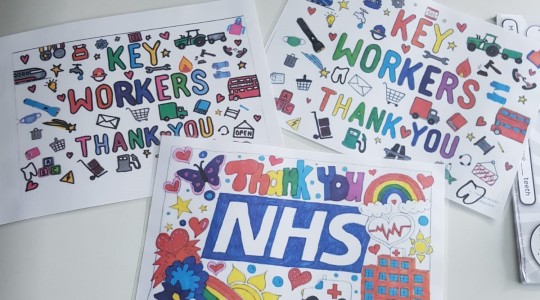 Rainbows and thank you signs
Rainbows in windows have become a symbol of hope during the coronavirus pandemic, with homes all across the country displaying theirs, as well as thank you signs for keyworkers.
If you've not done one already, it's a fun creative activity as well as a show of support for those on the frontline. Here's an example of some thank you signs made by members of staff in our Cleveleys practice.
You can also download your own rainbow printout to colour-in, from our kids activity pack. Share your finished rainbows with us on social media, we'd love to see them!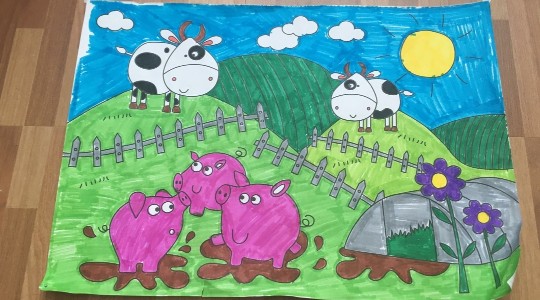 Colouring-in
If you're looking for something therapeutic, then colouring-in might be for you. It's not just for children; there are plenty of adult colouring-in books available too. You might want to use colouring as a relaxing activity on your lunch break if you're working, or as something to do while watching TV in the evening.
Research published in the Creativity Research Journal found that colouring-in can increase mindfulness and reduce some symptoms of anxiety5. Some studies have suggested that signs of anxiety can be decreased even more by colouring-in mandalas, which are symbols often associated with meditation and mindfulness6. There are lots of free templates online for colouring-in that you can download, or you can buy colouring books online.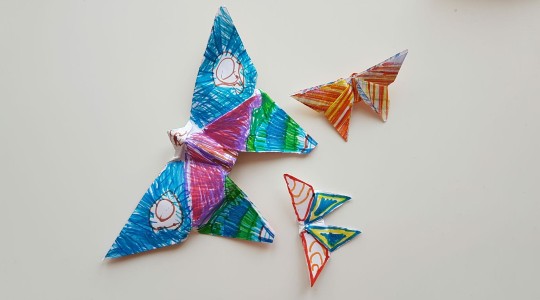 Origami
Paper crafts like origami are a great way to get creative. From paper cranes to more complex designs, you can create just about anything using paper. You can also decorate your creation either before or after making it, using coloured pencils or felt tip pens if you have them.
Studies have shown that using your hands to put things together is engaging for your brain and can help regulate your mood by limiting the release of stress hormones in your brain7.
Download our origami tutorial to find out how to make your own origami butterfly.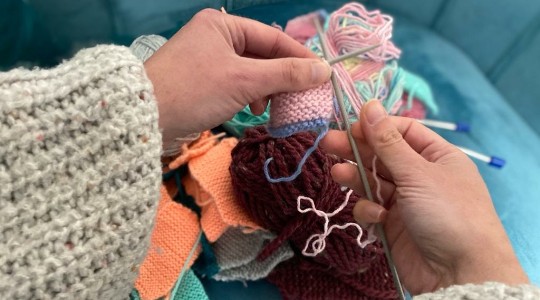 Knitting
If you're looking for another hands-on project, knitting is a relaxing activity which can help reduce stress. Research shows that there's a strong connection between knitting and feeling calm and happy8.
You can even try knitting for charity if you want to. There are lots of initiatives out there where you can create crafts and send them to people or animals in need. You can also knit gifts to send to friends and family members while you can't see them to help you stay connected.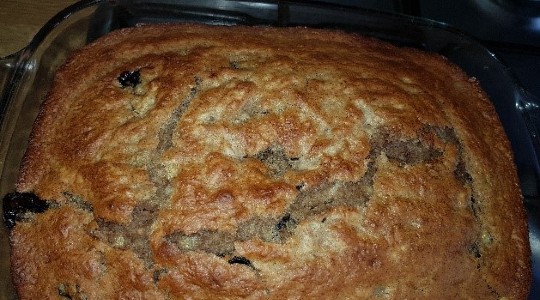 Baking
Social media is full of people baking banana bread since the start of COVID-19. But did you know baking could actually help your mental health?
According to research, baking and cooking frequently can help you feel happier and relaxed in your everyday life9. It also reports that completing activities including baking can help you feel a sense of personal growth.
It's also a great way to connect as a family and learn new skills. Getting your kids involved in baking and cooking could form part of their school work, learning new life skills or helping them to take a break from reading and writing. You could also bake cakes for someone in your community who's vulnerable and self-isolating to bring a smile to their face.
Do what you enjoy and keep smiling
The key to getting creative and keeping calm during this period is to do whatever helps make you smile, whether that's baking, colouring-in, knitting or something else entirely.
If you do try any of our activities, please share them with us on Facebook, Instagram or Twitter. We'd love to see them!
References
1 Mental Health Foundation: https://www.mentalhealth.org.uk/blog/how-arts-can-help-improve-your-mental-health
2 Arts Council England: https://www.artscouncil.org.uk/sites/default/files/download-file/Cultural_activities_artforms_and_wellbeing.pdf
3 Harvard Medical School: https://www.health.harvard.edu/blog/the-thinking-benefits-of-doodling-2016121510844
4 University of Rochester: https://www.urmc.rochester.edu/encyclopedia/content.aspx?ContentID=4552&ContentTypeID=1
5 Jayde A. M Flett, Celia Lie, Benjamin C Riordan, Laura M Thompson, Tamlin S Conner & Harlene Hayne (2017) Sharpen Your Pencils: Preliminary Evidence that Adult Coloring Reduces Depressive Symptoms and Anxiety, Creativity Research Journal, 29:4, 409-416, DOI: 10.1080/10400419.2017.1376505
6 Mantzios M, Giannou K. When Did Coloring Books Become Mindful? Exploring the Effectiveness of a Novel Method of Mindfulness-Guided Instructions for Coloring Books to Increase Mindfulness and Decrease Anxiety. Front Psychol. 2018;9:56. Published 2018 Jan 30. doi:10.3389/fpsyg.2018.00056
7 Press reader, Kelly Lambert research: https://www.pressreader.com/uk/mens-health-uk/20180801/281578061401675
8 Mental Health America: https://www.mhanational.org/blog/mental-health-benefits-knitting
9 Tamlin S. Conner, Colin G. DeYoung & Paul J. Silvia (2018) Everyday creative activity as a path to flourishing, The Journal of Positive Psychology, 13:2, 181-189, DOI: 10.1080/17439760.2016.1257049