In the current circumstances, we can't connect with others in the same ways we're used to, whether that's attending weekly football matches, eating out, or visiting the pub. Feeling close and connected to others has a big impact on our mental health, so it's important to be creative, and to find other ways to connect.
Remember, we can meet up to six people in a public space, as long as we stay two metres apart, so a picnic in the park is not off limits – weather permitting.
Thanks to technology, there are lots of other ways we can stay connected with friends, family, and the communities around us. Here are some ideas you could explore: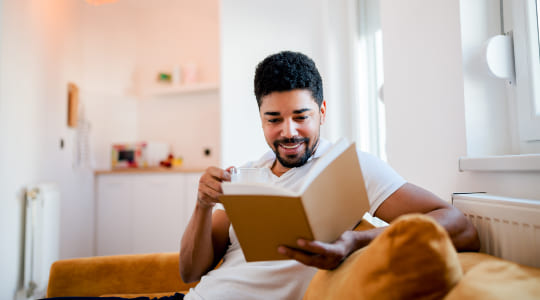 Start a virtual book club?
If you love a good book, why not start a virtual book club with friends or family? Using a video calling service, such as Skype or Zoom, you could share summaries of various books, or read and discuss the same title. Millions of books can be downloaded online, for example, on Google Books or Open Library, or you could use a Kindle, if you have one.
You could alternatively join one of many online book clubs, such as Good Housekeeping's online book club and the Rebel Book Club.
Take a trip to the museum – from your sofa!
Even in lockdown, you can take a cultural trip to the museum, theatre, or plan a movie night.
With hundreds of theatre, comedy, and ballet performances being released online, you and your friends can watch the same shows and review them later. The English National Ballet, the National Theatre and Shakespeare's Globe are just a few examples of companies sharing free performances with the public. You might want to video call while you watch them, so you can talk about them in real time.
You can also take the opportunity to feel more connected with the local community, and culture, by exploring Google's art and culture collection. The compilation offers virtual tours of more than 500 top worldwide attractions.
It's also possible to watch movies in sync with your friends. If you have Netflix or Disney Plus, you can download the Disney Plus Party, and Netflix Party Google Chrome extensions, allowing you to play and pause movies at the same time.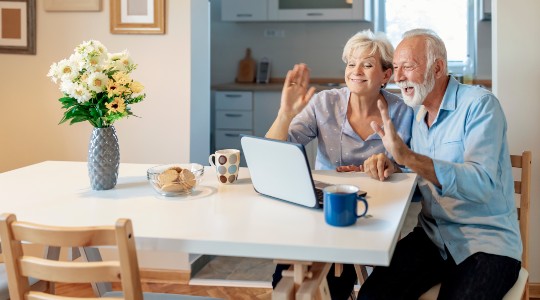 Create a virtual coffee morning
Why not set up a weekly coffee and cake catch up with friends, or family, which can create a sense of normality and help you feel relaxed. Or for a more sophisticated, evening twist, how about wine and cheese nights?
If you're looking for something fun and healthy to bake at home, why not try our low-sugar banana bread.
Live workouts and virtual PT sessions
A variety of gyms, fitness studios, and classes are running live-streamed workouts, that you can do right from your living room. A few examples are Nike Training Club's community workout classes which live-stream every Saturday on YouTube, and Women's Health magazine's frequent workouts on Instagram Live. Joining live workouts can help you feel part of a bigger community, working towards similar goals, and having fun at the same time.
Or, if you've always wanted a personal trainer but never had time, now might be the time to find one offering virtual sessions.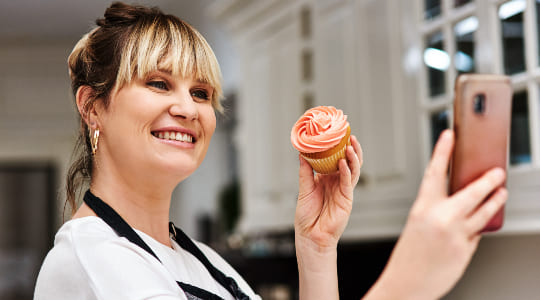 Set weekly challenges with friends and family!
You can still have fun with friends, and share laughter, by taking turns to set weekly challenges for the group. Some ideas are baking cakes, drawing pictures, or doing your best party tricks on a video call. It's entertaining and could give you all something to look forward to each week.
Virtual quiz night
A brilliant way to keep in touch, and have fun with friends, are virtual quizzes over video calls. One of you can be quiz master, or you can take in turns to quiz each other on different topics.
Various virtual quiz events are also being hosted online, which anyone can be a part of. One example is the Virtual Pub Quiz YouTube channel which streams quizzes twice a week.
Keep connected and keep smiling
Facebook also has various community groups that you can join, so you can connect with people in your area.
If you try any of our ideas, feel free to share them with us on Facebook, Twitter or Instagram, we'd love to see them, or if you've got ideas of your own, please don't keep them to yourself.
Not everyone has someone to speak to or is as familiar with technology. If you're older and shielding at home, and would like someone to speak to, Bupa's launched a new phone support service called Bupa Buddy. You can chat to a Bupa Buddy about anything at all, six days a week, and they can give extra support if needed.