Are you looking for some mocktail ideas? Or maybe you want to swap your weekly units of alcohol with some tasty non-alcoholic alternatives? Mixing up a mocktail is a fun way to enjoy a special drink without the alcohol.
Here are three tasty mocktail recipes that you might like to try. They're easy to make and perfect for all seasons and every occasion.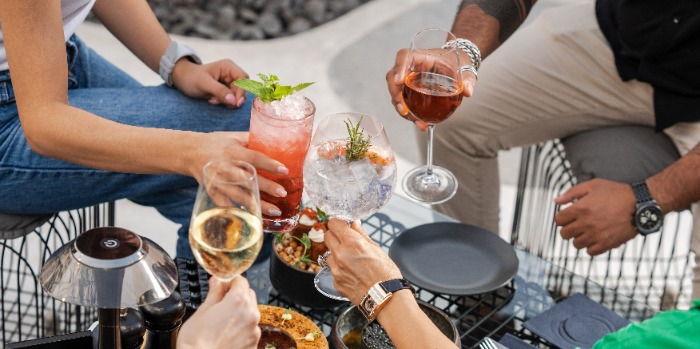 1. Virgin pina colada
This is a great summer party drink option, that's an easy mocktail formula to follow and will add a bit of sunshine to your day. Ingredients include pineapple juice, coconut milk and mock rum syrup.
Ingredients (serves 1)
150ml (5.28 floz) pineapple juice
50ml (1.76 floz) coconut milk
25ml (0.88 floz) lime juice
Handful of ice
Tinned cherry to garnish (optional)
For the mock rum syrup:
100g (3.53oz) dark brown muscovado sugar
1 pineapple, plus a few strips of skin and leaves to garnish
5 cloves
1 cinnamon stick
5 black peppercorns
Method
Start by making the mock rum syrup. Add the brown muscovado sugar and 200ml water to a saucepan, and heat gently until the sugar dissolves.
Add the black peppercorns, cloves, cinnamon stick and a few strips of pineapple skin.
Bring the mix to the boil, then turn off the heat and allow to cool.
When cooled, strain into a jug and leave in the fridge.
Next, pour the pineapple juice into a tall glass, and add the lime juice and coconut milk.
Still gently and fill the glass to the top with a handful of ice.
Slowly add 25ml of the syrup so it sinks to the bottom.
Garnish with pineapple leaves and your tinned cherry.
2. Raspberry cordial
With lots of fruity goodness this easy-to-make raspberry infused mocktail recipe is a tasty option for all seasons, and tastes delicious with soda on ice.
Ingredients (makes 700ml / 14 standard drinks)
500g (17.6oz) fresh or frozen raspberries
500g (17.6oz) caster sugar
3 tbsp red wine vinegar
Soda and ice to serve
Method
Add the raspberries to a pan with the vinegar and sugar.
Mash over a low heat for 10 minutes until syrupy and smooth.
Rub the mix through a sieve into another pan.
Tip the seeds from the sieve into a bowl and stir in 300ml of water.
Then sieve again to separate the remaining pulp from the seeds.
Pour the liquid into the pan with the sieved pulp, stir well and boil for 1 minute.
Add the soda and ice to serve, or seal in small sterilised bottle until needed.
3. Cheat's ginger beer
This refreshing mocktail is the perfect alcohol-free choice to enjoy, especially if you like a bit of spice. Only four ingredients are needed to make it.
Ingredients (serves 6)
1 chopped lemon
100g (3.5oz) ginger, roughly chopped
100g (3.5oz) light muscovado sugar
1-litre (1.76 pints) chilled lemonade /sparkling water to serve
Method
Add the lemon and ginger to a bowl.
Pour over 300ml water and blitz with a hand blender until very smooth.
Strain through a sieve into a bowl, then press the pulp to remove as much liquid as you can.
Add the sugar to the bowl and blitz again.
Pour mix into a bottle and chill until ready to use.
Add the sparkling water or lemonade to dilute before serving.
If these don't sound appealing there are lots of other alcoholic-free recipes online that you can try. You can also find out about the benefits of alcohol-free alternatives and how to make them extra special.
---
Are you interested in learning more about your health? Discover more about our range of health assessments.
About our health information
At Bupa we produce a wealth of free health information for you and your family. This is because we believe that trustworthy information is essential in helping you make better decisions about your health and wellbeing.
Our information has been awarded the PIF TICK for trustworthy health information. It also follows the principles of the The Information Standard.
Did you find our advice helpful?
We'd love to hear what you think. Our short survey takes just a few minutes to complete and helps us to keep improving our healthy lifestyle articles.
Legal disclaimer
This information was published by Bupa's Health Content Team and is based on reputable sources of medical evidence. It has been reviewed by appropriate medical or clinical professionals and deemed accurate on the date of review. Photos are only for illustrative purposes and do not reflect every presentation of a condition.
Any information about a treatment or procedure is generic, and does not necessarily describe that treatment or procedure as delivered by Bupa or its associated providers.
The information contained on this page and in any third party websites referred to on this page is not intended nor implied to be a substitute for professional medical advice nor is it intended to be for medical diagnosis or treatment. Third party websites are not owned or controlled by Bupa and any individual may be able to access and post messages on them. Bupa is not responsible for the content or availability of these third party websites. We do not accept advertising on this page.