Your smile has power. It can brighten someone's day, open doors to new opportunities, elevate your confidence or get you a second (or third, or fourth…) date. It's a universal signal of happiness, openness and kindness, and your smile is central to what makes you special.
At Bupa Dental Care, we know the impact a confident and healthy smile can make. From dental health to mental health, positive daily habits and tooth-friendly dietary choices, there are many ways to ensure your smile retains its power for you and those around you.
Spreading smiles around the world
World Smile Day was launched in 1999 and set for the first Friday of each October, the message of the annual event is a clear, simple and beautiful one: Do an act of kindness. Help one person smile.
To mark World Smile Day 2023, we've put together a list of 9 ways to make your smile last all year round, and to apply a holistic view of happiness and wellbeing to everyday life.
1. Maintain your teeth cleaning routine
Let's start with the basics. Behind every confident and sparkling smile is a regular, reliable and effective teeth cleaning routine. Brush at least twice per day for 2 minutes with a fluoride toothpaste to remove plaque and food residue, and increase your daily protection against gum disease and tooth decay.
2. Don't forget to floss
Astonishingly, one in three people in Britain have never flossed1 or used interdental brushes. While regular brushing will remove most of the food residue that can cause bacteria to develop on the teeth, the gaps between your teeth also need careful attention. Flossing after brushing will help dislodge any residue caught in the teeth, stopping harmful bacteria from attacking your tooth enamel and causing gum disease.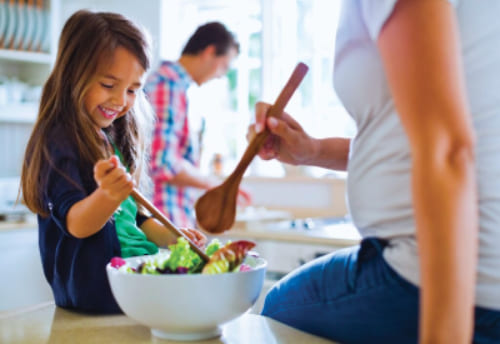 3. Enjoy a smile-friendly diet
While we all enjoy a sweet treat now and then, keeping sugary snacks at a minimum is important if you want to maintain your best-ever smile. Try swapping out less healthy snacks for more tooth-friendly items, such as fresh fruits and vegetables, hummus with crudites, or sugar-free alternatives.
Crunchy vegetables are particularly recommended for dental health, as they encourage the production of saliva which helps flush away bacteria. What's more, eating a balanced diet with plenty of fresh, seasonal and vitamin-packed produce will help you live a healthier lifestyle, and there's evidence to suggest that a fruit and vegetable-packed diet can bring positive changes to mental health, too2.
4. Visit your dentist regularly
Regular visits to the dentist should be on everyone's to-do list, especially if you're looking to keep your smile in tip-top condition. Not only will scheduled check-ups and dental hygiene appointments help keep your teeth clean and healthy, your dentist will also be able to advise on maximising your daily oral health regime for a smile that lasts all year round. What's more, your dentist can spot any early warning signs of gum disease, tooth decay or more symptoms of serious issues like mouth cancer.
It's easy to stay on top of your regular check-ups and hygiene appointments with Bupa Smile Plan. Enabling you to pay for year-round oral healthcare in manageable monthly payments, your Bupa Smile Plan includes a set number of check-ups and hygiene appoints to meet your oral healthcare needs, as well as X-rays and discounts on a number of different additional treatments. Interested? To find out more information or to sign up, visit Bupa Smile Plan. Or speak to your local dentist for further information.
5. Check in on your mental health
Your smile doesn't begin and end with your mouth and teeth - it's something that comes from within. We all know that life can feel hurried and stressful at times, and keeping an eye on your mental health and wellbeing is an important aspect of self-care; one we should all take the time to stay on top of.
Approximately 25% of Britons will experience some form of mental health problem this year.3 Knowing who to turn to if things get difficult, having a trusted confidante, time with a mental health professional or simply an effective way to relieve stress are all vital aspects of ensuring your overall wellbeing is kept in check. When we approach physical and mental health holistically and consider self-care as part of our daily lives, we're able to keep smiling for longer.
6. Practice mindfulness
Mindfulness is the simple practice of living in the present moment, and taking the time to be aware or mindful of what you're doing, how you're feeling, and how your actions and choices are influencing both yourself and those around you.
Practitioners of mindfulness believe that by making a few small changes to your perception of yourself and the moment you're experiencing, you can slow down, alleviate stress, and generally live a happier and more peaceful existence. This can involve something as simple as taking a moment to sit down with your breakfast in the morning instead of grabbing something on the go, or something a little more involved such as deep breathing techniques, mindful meditation or partaking in stress-relieving exercises like yoga. However you choose to live more mindfully, approaching each day with an 'in the moment' attitude might help produce more smiles for yourself and those around you.
7. Level up your confidence
There's nothing quite like a confident smile. However, many people shy away from showing off their smile as a result of crooked teeth, common misalignment issues like overbites and underbites, or because they feel their smile could be whiter and brighter.
At Bupa Dental Care, we take pride in offering quality teeth straightening and teeth whitening treatments that can make a lasting difference to your smile and confidence. From discreet clear aligners to fixed braces for straighter teeth, and from in-practice teeth whitening to teeth-whitening kits you can take home, (and much, much more!) we've got everything you need to let your confident smile shine.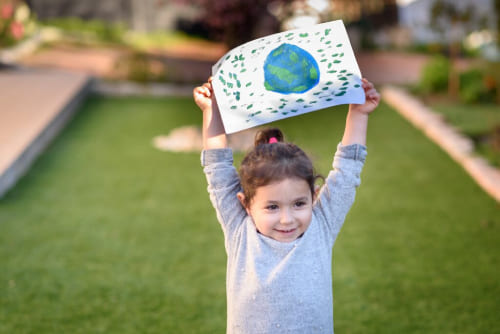 8. Get creative
Letting your creativity shine is a fantastic way to destress and add value to your days, and everyone can get involved in creative hobbies that guarantee more smiles and relaxation. All too many people think that they are simply not creative and allow this belief to stifle them. However, anyone can be creative and there are countless ways to let your individualism shine.
Whether you're into painting, baking, journaling, dancing, handicrafts or something completely different, letting your creative juices flow - no matter whether you consider yourself naturally talented or an enthusiastic amateur - is something that can bring happiness, fun and freedom of expression into everyday life.
9. Acts of kindness
The message of World Smile Day 2023 is "Do an act of kindness. Make one person smile". Through kindness, generosity and decency, we can not only help others feel happy, but we can also bring more happiness into our own lives, too.
If you have time and resources, consider volunteering for a local charity or helping a neighbour, friend or someone in your community in need. If you don't have the ability to do so, consider donating to charity in some other way. If that's not practical at the moment, then simply lend an ear or a moment of your time to someone close to you. We all have the ability to make others smile, and there's no better way to make the world a happier place - one smile at a time. Looking for some ideas? Read our rundown of recent charitable actions.
Find your nearest dental practice
Bupa Dental Care is a trading name of Oasis Dental Care Limited. Registered in England and Wales No: 00478127. Registered office: Bupa Dental Care, Vantage Office Park, Old Gloucester Road, Hambrook, Bristol, United Kingdom BS16 1GW.
Oasis Dental Care Limited has a number of trading names including Bupa Dental Care. For a list of all our different trading names please follow this link.