We're delighted to announce that our practice manager, Abbe Mackenzie, took home the award for 'Most Invaluable Team Member' at the Irish Dentistry Awards 2020.
Celebrating our award-winning practice manager
The 'Most Invaluable Team Member' award recognises one member of staff, across the whole of Ireland, who is hard-working, driven and goes the extra mile. We're thrilled that Abbe's hard work and dedication has been recognised at a national level.
Speaking of the award wins, Abbe said, "I am totally blown away with winning the award. It's nice to get recognised for all the hard work we put in every day.
"I never knew when I took the practice manager position three years ago how much I would enjoy working for Bupa Dental Care, especially within the Bangor practice.
"I am very proud to work for Bupa Dental Care Bangor and have an excellent team around me. Without them, I would not have won the award."
This image was produced before the COVID-19 outbreak. Therefore, current social distancing rules are not being applied.
This image was produced before the COVID-19 outbreak. Therefore, current social distancing rules are not being applied.
Abbe's incredible success story
Abbe was nominated by Zara Doyle, area manager for Bupa Dental Care in Northern Ireland, with contributions from Bangor's practice coordinator, Joanne, and lead dentist, Niall.
Abbe joined the Bupa Dental Care family in 2016 as a receptionist after making a huge decision to give up her career due to a bereavement in her family. She had previously spent at least three nights a week working away and chose to give up her original career to look after her family.
When she started, other team members quickly found her inspiring and selfless. Abbe did not realise, at the time she joined, that we'd be looking for a practice manager. But after just three months working on reception, Abbe was nominated by multiple colleagues to take on the practice manager role.
Since being in the practice manager role, Abbe drove her vision forward and has been able to increase our number of surgeries in practice from five to eight- allowing our team to treat an extra 2,500 NHS patients a year.
Abbe is known for going above and beyond for our patients at Bangor, including selfless acts like opening the practice on a Saturday for a child patient with Autism, so they could get used to the dentist chair in a calm setting.
Area Manager, Zara Doyle, said when nominating her for the award, 'When I see Abbe with the team, it's inspiring. Her passion and enthusiasm for dentistry is infectious. Abbe has a way of getting you to see the vision and the difference we can make to people's lives, by providing solid care and safe dentistry in a wonderful environment. If the world had more people like Abbe in it, it would be a wonderful place."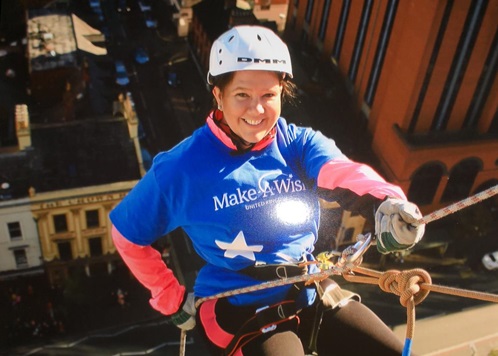 A hero in the Bangor community
Abbe is passionate about helping others and has organised numerous charity fundraising events, including helping with a Strictly Come Dancing event which raised over £25,000 for charity.
She has completed numerous charity sporting events, including abseiling down the Europa in Belfast, with her team, raising over £1,000 for the Make-A-Wish Foundation. She also managed to get over 100 Christmas present donations for her local Women's Aid charity last December.
Bupa Dental Care is a trading name of Oasis Dental Care Limited. Registered in England and Wales No: 00478127. Registered office: Bupa Dental Care, Vantage Office Park, Old Gloucester Road, Hambrook, Bristol, United Kingdom BS16 1GW.
Oasis Dental Care Limited has a number of trading names including Bupa Dental Care. For a list of all our different trading names please follow this link.