We're delighted to announce that we won four awards at the Irish Dentistry Awards 2020, including the prestigious, 'Practice of the Year' award across the whole of Ireland.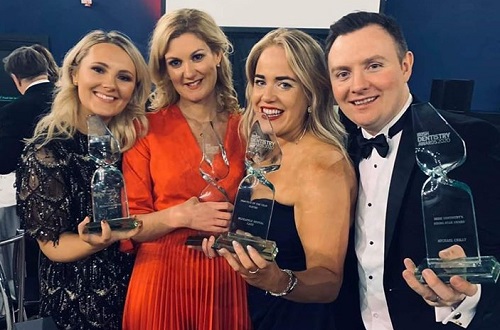 Success for Blueapple Dental Care
The Irish Dentistry Awards have been running for nine years, and celebrate excellence in Irish dentistry. We're thrilled that our practice team have been recognised for the outstanding patient care they provide.
As a team, Blueapple Dental Care achieved:
Best Patient Care
Practice of the Year- Ulster
Practice of the Year 2020
We're particularly proud of winning the prestigious 'Practice of the Year' award for 2020, which awards a practice each year who stand out from the crowd and are truly dedicated to providing excellent oral health care.
Speaking of the award wins, our practice manager, Sinead Doogan, said: "We are delighted to have won such prestigious awards. The entire team here are so passionate and work tirelessly to ensure patients receive exceptional care, so I'm thrilled that their efforts have been recognised.
"We're all bursting with pride and can't wait to showcase our awards in the waiting room at Blueapple Dental Care."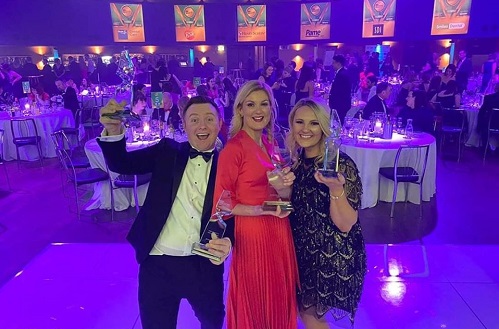 Introducing Michael Crilly, the 'rising star' of Irish dentistry
Our dentist Michael Crilly also picked up the 'Rising Star' award on the night, which is awarded to a dentist under 35 each year, who has shown significant achievements and exhibits drive and passion.
Michael said: "To be taking home the 'Rising Star' award is overwhelming. I love what I do, so I feel a great sense of pride in being able to bring this award back to Fermanagh! I work with a wonderful team and I want to thank them for all their support.
"We all enjoy nothing more than giving people the confidence to smile. A confident smile can be life-changing, and it's immensely rewarding to know we can achieve this for our patients!"
Michael also won 'Best Young Dentist of the Year' in 2019 at the UK Dentistry Awards. We're thrilled to see that Michael's dedication and hard work has been recognised at a national level.
When we say Michael is dedicated, we mean it; Michael travels 180 miles a day to our practice so he can help patients restore their smile through dental implant treatment. His goal is to engage, excite and motivate his patients in a different way, to take responsibility for their dental health.
Interested in visiting our award-winning practice?
If you're interested in becoming a patient at our practice, simply get in touch with us to find out more or book an appointment.
Bupa Dental Care is a trading name of Oasis Dental Care Limited. Registered in England and Wales No: 00478127. Registered office: Bupa Dental Care, Vantage Office Park, Old Gloucester Road, Hambrook, Bristol, United Kingdom BS16 1GW.
Oasis Dental Care Limited has a number of trading names including Bupa Dental Care. For a list of all our different trading names please follow this link.