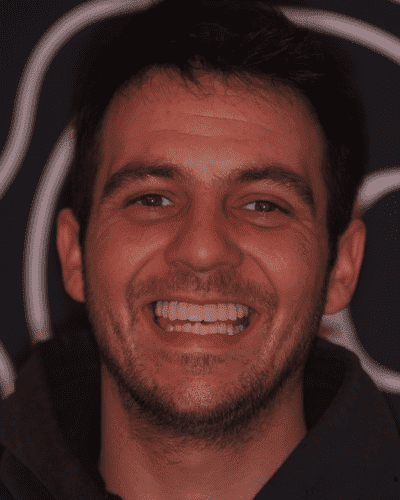 Luke's implant story
At the age of 22, Luke Hutchings attended an NHS dental appointment for the removal of his wisdom teeth. Due to complications during surgery the dentist removed eight upper-back teeth whilst Luke was under general anaesthetic. When Luke awoke, he was shocked to find that he was missing many teeth, and consequently, he would need to wear dentures.
The experience had been very traumatising, and as a result, Luke lost faith in dental care. "That experience put me off going to the dentist for anything, even a check-up." said Luke. "It had completely ruined my confidence."
As a result, Luke gradually experienced further tooth loss.
It wasn't until nearly a decade later that Luke visited an NHS dentist with an abscess in a front tooth. The tooth had to be removed, but Luke was very anxious about surgery following his previous experience. "I definitely didn't want to go to an NHS dentist for more surgery and decided to go private. Plus, I'm only 32, and so I didn't want to wear dentures anymore, certainly not at the front. I had begun to consider dental implants." After searching for the best dental implant dentist, Luke discovered Dental Confidence and decided to visit Dr Peter Sanders for a consultation.
A new smile – in a day
Having worn dentures for over a decade, Luke had lost a significant amount of bone. However, Dr Sanders, through precise placement, was able to fit the implants with predictable stability. Luke's remaining front teeth were extracted and five implants were placed, holding an entire upper arch of teeth, all fitted in one single appointment.
"To be honest, prior to surgery- I was terrified," said Luke. "I had a completely sleepless night the night before, because I was expecting the surgery to be so painful. I'd had a root canal by an NHS dentist, and it was so painful and so I was expecting it to be 100 times worse! But I was amazed- I actually didn't feel a thing! And, there was absolutely no after pain. I was really shocked.
"The technology at Dental Confidence is amazing- and so are all the staff that work there. I see other dentists at Dental Confidence for my general dentistry and had a deep root canal which I didn't feel it at all either. I was eating on it the next day. When I had one with the NHS, I couldn't eat on it for a week and a half after."
Life after implants
After having dental implants placed, Luke immediately saw positive changes:
"Going to Dental Confidence has been the best thing I've ever done. My confidence has rocketed, and I feel my normal self again. Also- I can taste food! Wearing dentures has meant that for 10 years, the roof of my mouth was covered, which affected my taste. Now I taste everything.
"Dental Confidence are top of their game in every area. Since my experience with them, I've recommended them to my family, and now my girlfriend goes for general dentistry, and my dad is about to have implants with Dr Sanders.
"When it comes to dentistry, I only trust Dental Confidence. Dr Sanders has helped me to regain my confidence in dental care."
To explore your own dental implant story, get in touch with our experienced team.
Bupa Dental Care is a trading name of Oasis Dental Care Limited. Registered in England and Wales No: 00478127. Registered office: Bupa Dental Care, Vantage Office Park, Old Gloucester Road, Hambrook, Bristol, United Kingdom BS16 1GW.
Oasis Dental Care Limited has a number of trading names including Bupa Dental Care. For a list of all our different trading names please follow this link.