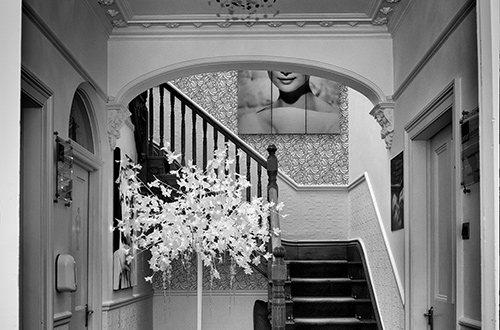 Dental implants – Jeff's story
Dental Confidence has been fitting dental implants for over 10 years. Dr Peter Sanders, Lead Dentist at the practice explained, "I love to help people get their smile and confidence back. Implants offer a long-term solution to missing or failing teeth and they look natural, so for many people they provide a smile transformation, which not only gives them their smile back, but can have health benefits too."
Jeff Greenleaf, 78 from Winchester, is one of many patients who has had dental implants fitted by Peter at Dental Confidence. We asked Jeff some questions about his dental implant treatment and overall experience at Dental Confidence.
What dental issues were you experiencing before you came to Dental Confidence?
"Many years ago, I had a back tooth removed. It was a very difficult extraction and as a result, some of the root of this tooth remained. I was told that these would eventually dissolve and that it wasn't a problem, so, I didn't think anymore about it. Then in May 2019, I had an abscess in the adjacent tooth and discovered I had an infection under the root canal. A root canal specialist explained that it was cracked down to the bottom of the root and therefore irreparable.
"Because my wisdom teeth had been removed, I already had little for my top teeth to bite down upon on the right side, and so I had been forced to chew on the other side of my mouth. Another gap would have made this significantly more difficult, and I knew implants would be the best solution."
What made you choose Dental Confidence?
"When I returned to my general dentist, they referred me to Dr Peter Sanders. My wife already had implants placed with Dr Sanders the year before and spoke very highly of Peter. She was very impressed with the end result and the lack of pain throughout the procedure, so I was confident. Of course, I knew nothing of implants, but Peter sent me a plan of what he proposed to do with descriptive leaflets. He explained every step of the process."

Peter Sanders- Lead Dentist at Dental Confidence
Tell us about the overall procedure…
"After the first X-ray, Dr Sanders showed me that there were indeed, remaining roots, and that they had not dissolved. In fact, the roots were now buried in the jawbone as it had grown over the years. Whilst doing the extraction, Peter said he could remove the remaining roots and even had a special tool for doing this. It was very quick and painless. Dr Sanders then said, 'All roots have been removed and so has the infection'. Which was an interesting statement, as back in 2014, I developed a nasty illness with flu like symptoms. I was shivering, had muscle aches and fatigue. This went on for six months. I saw doctors, and my CRP and ESR levels were at 85 but were supposed to be below five, and this lasted for six months.
"I had a total of 14 blood tests, several full-body examinations, CRT scans and they just couldn't figure out what I had. They found nothing. Since 2015, I was caught in a cycle. I'd routinely go to the gym, get fit, and then come down with the same flu symptoms for 10 days. Then I would recover for three weeks, regain fitness, then become ill again, and this cycle continued for over five years.
"That is, until I visited Dr Sanders, as once those roots were taken away, it all stopped. It turned out the fragments of root were causing an infection into my system. Now I've been going to the gym continuously without any symptoms. I was delighted to have an answer to my illness, and for it to stop."
How did you find your experience at Dental Confidence?
"The technology Dr Sanders uses is just amazing. My background is in physics. I have a PhD in molecular physics, but I've spent a lifetime working in computing and was at IBM for 27 years working in their development labs, so I know a bit about computing. I was truly amazed at the technology at Dental Confidence.
"They have an X-ray scanning machine which provides 3D images of your mouth, and a camera that's on a wand that takes many 3D images from inside your mouth. On that basis the teeth are manufactured to incredibly high accuracy and specification. To be honest, the whole procedure was performed perfectly."
How did the final implant feel when it was placed?
"When the final crown was placed on the implant, it fitted amazingly well. In fact it's hard to tell which aren't my real teeth. It was great to finally chew on that right side and felt like I had my original teeth back.
"Peter is clearly an expert in his field and it's brilliant how he uses such a high standard of technology to provide so many patient benefits. I believe he is a highly qualified and capable professional. He has built an extremely well-trained and friendly team around him, which also counts for a great deal. Overall, my experience at Dental Confidence was excellent. I'd have no hesitation in recommending them as a dental implant practice."
Interested in dental implants?
If you're interested in having a dental implant fitted, or if you have a dental problem you need help with, get in touch. The friendly team at Dental Confidence will be more than happy to help you, whatever your dental need.
Bupa Dental Care is a trading name of Oasis Dental Care Limited. Registered in England and Wales No: 00478127. Registered office: Bupa Dental Care, Vantage Office Park, Old Gloucester Road, Hambrook, Bristol, United Kingdom BS16 1GW.
Oasis Dental Care Limited has a number of trading names including Bupa Dental Care. For a list of all our different trading names please follow this link.