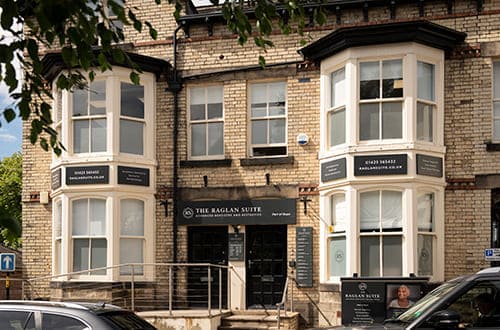 CPD events for referring dentists
The Raglan Suite is a well-established dental referral practice situated in Harrogate, North Yorkshire. The practice has been accepting dental referrals from across Yorkshire since 2001 and now has over 400 referrers.
Lynn Nichols, who looks after referring practices explained, "At the Raglan Suite, we are proud of our close working relationship with many General Dental Practitioners in the Yorkshire area. What we offer is a truly unique experience, and we're completely focussed on supporting our referrers and their patients. This includes training and CPD events for our referring dentists and their teams."
Training events for referrers
The Raglan Suite hosts training events as a free service to dental colleagues. Each session provides two hours of verifiable CPD training on a range of topics. The events are held in person at The Raglan Suite, but numbers will be limited to keep everyone safe.
Upcoming CPD events include:
20th September 2023- 'The orthodontic-restorative interface' presented by Chris Barker 7pm - 9pm
18th October 2023- 'Managing difficult extractions' presented by Geoff Baggaley 7pm - 9pm
15th November 2023- "Implant retained dentures' presented by Chris Egan 7pm - 9pm
Bupa Dental Care is a trading name of Oasis Dental Care Limited. Registered in England and Wales No: 00478127. Registered office: Bupa Dental Care, Vantage Office Park, Old Gloucester Road, Hambrook, Bristol, United Kingdom BS16 1GW.
Oasis Dental Care Limited has a number of trading names including Bupa Dental Care. For a list of all our different trading names please follow this link.