What makes us different?
Free on-site parking

Wheelchair friendly

Over 20 years' local experience

Over 20 years' placing dental implants

We treat TMJ disorders

We're accepting dentist referrals

3D CBCT scanner

Full mouth dental implants

Payment options available
A warm welcome to Bupa Dental Care Verwood
Our practice, based in the small, scenic town of Verwood, was established in 1983. We have a long history of providing dental care for the local community and those in the surrounding areas of Dorset. We provide private dental services, emergency appointments and NHS care for under 18s.
Our dental treatments and services
We provide all the usual general dental services, including check-ups and hygiene appointments, as well as a range of other treatments.
We offer dental implants, including implant-supported dentures and same day dental implants, also known as smile in a day treatment.
If you're looking for a smile makeover, we can place veneers, straighten your smile with discreet Invisalign treatment and whiten your teeth using Philips Zoom! at-home whitening.
We also offer treatment for jaw pain, known as TMJ disorders. If you're experiencing any pain, contact us and we'll be happy to help.
About our practice
Our modern surgeries look out onto the beautiful garden outside the practice, and our long-standing, dedicated team will treat you with kindness and make you feel comfortable. Bupa Dental Care Verwood is wheelchair friendly, with assisted disabled access.
We know it can sometimes be a challenge to fit in dental appointments around other commitments, so we open late on Tuesdays, and open at 8am four days per week. Give us a call to see how we can help you.
How to find us
Our practice is situated in the centre of Verwood, just off the main road, on Vicarage Road. If you're driving to the practice, we have an on-site car park for our patients. We're a 15-minute drive from Ringwood and 25 minutes from Bournemouth.
The X6 bus route stops a five-minute walk away from the practice. Bicycles can be left in our large garden.
Over 20 years' experience placing implants
Our implant treatments include single and multiple implants, implant-supported dentures and smile in a day treatment.
You don't need Bupa insurance to use a Bupa Dental Care dentist

Bupa Dental Care has over 400 practices across the UK
Bupa Dental Care Verwood
Opening hours*
| | |
| --- | --- |
| Monday | 8:30am - 5:00pm |
| Tuesday | 8:00am - 4:00pm |
| Wednesday | 8:00am - 5:00pm |
| Thursday | 8:00am - 4:00pm |
| Friday | 8:00am - 4:00pm |
| Saturday | Closed |
| Sunday | Closed |
*Opening hours may vary due to COVID-19 and public holidays. Please get in touch with us to find out more.
Treatments and prices
The above treatment list shows a selection of treatments and prices available at this practice. For full details of treatments please contact us directly. Prices are for this practice only and may vary at other Bupa Dental Care practices. Prices are indicative and may fluctuate depending on individual requirements.
| | NHS under 18's | Private |
| --- | --- | --- |
| | - | £53.00 |
| | - | Price on consultation |
| | - | £104.00 |
| | - | £74.00 |
| | - | £116.00 |
| | - | £105.00 |
| | - | £187.00 |
| | Free | £14.00 |
| | Free | £26.00 |
| | - | £89.00 |
| | - | £10.00 |
Bupa Smile Plan
Bupa Smile Plan is a straightforward annual plan of regular routine private dental care consisting of check-ups and hygiene appointments and routine monitoring X-rays. Not only that, but you can also save 10% on a range of private dental care treatments.
How it works
Instead of paying at each appointment, the costs are spread across 12 months, in equal bite-sized payments, making budgeting easier.
Why choose Bupa Smile Plan?
Bupa Smile Plan can make your life easier by helping you to:
Commit to regular dental check-ups and hygiene appointments
Budget for your regular dental care over the year
Save with a 10% discount on selected private dental treatments
0% finance available on a range of treatments*

Implants from £60 per month***

Don't let the cost of treatment get in the way of your oral health. Applying for finance through Novuna Personal Finance could help to spread the cost of a range of dental treatments, including dental implants from £60 a month**

Finance applicant must be aged 18 or over, a UK resident, have a UK bank account, and be in permanent employment. All loans subject to eligibility, status, affordability and a credit check. T&Cs apply.
If you're interested in dental implants, fill out the form below and one of our enquiry coordinators will be in touch.
Implant enquiry form
Select your affected teeth
Please click on the teeth where you are considering dental implants, using the options below:
Click once for missing tooth
Click twice for loose or failing tooth
Click three times for a broken tooth
Key:
= Missing tooth
= Loose/failing tooth
= Broken tooth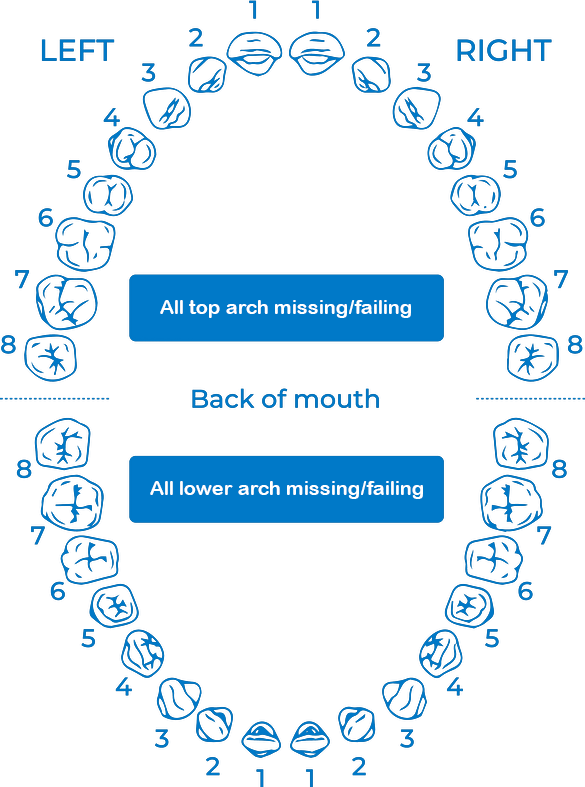 Implant enquiry form
A member of our friendly team will then be in touch to discuss your requirements
Form not sent - please try again
Failure message
Your form has been submitted successfully
Thank you
Patient feedback
Of our patients surveyed say 'The quality of their treatment was good.'

Of our patients surveyed would recommend our practice to others.

Of our patients surveyed say 'I feel involved in all decisions about my care.'
Scores are cumulative based on the last 12 months and updated daily.
† £2,400 price point includes the cost of a single implant, abutment and screw retained porcelain crown at participating practices, but does not include any applicable COVID-19 safety tariffs, which will be charged in addition if they apply. Patients must be 18 years or over. Price is subject to review and may be amended at any time.
*1. Free initial consultations are to discuss options and suitability for treatment. Subsequent clinical examinations and diagnostic tests required, and any associated costs will be discussed prior to treatment commencing. 2. Consultations subject to availability.
**Finance applicant must be aged 18 or over, a UK resident, have a UK bank account and be in permanent employment.
The minimum spend for finance is £500 and the maximum is £50,000. 0% APR representative is available on repayment terms of up to 40 months. Finance taken at repayment terms of 48 or 60 months is subject to 7.9% APR representative.
All finance is subject to eligibility, status, affordability and a credit check T&Cs apply.
***Illustration based on finance of £2,400, repaid at £60,00 per month over 40 months at 0% interest. £2,400 price point includes a single implant, the abutment and a screw-retained porcelain crown.
Finance is provided by Novuna Personal Finance, a trading style of Mitsubishi HC Capital UK PLC, authorised and regulated by the Financial Conduct Authority. Financial Services Register no. 704348. Registered Office: Novuna House, Thorpe Road, Staines-upon-Thames, Surrey, TW18 3HP. Registered in Cardiff under company no. 1630491. The register can be accessed through www.fca.org.
Many images and videos used throughout our website were taken before the COVID-19 outbreak and therefore do not represent COVID best practices.
Bupa Dental Care is a trading name of Oasis Dental Care Limited. Registered in England and Wales No: 00478127. Registered office: Bupa Dental Care, Vantage Office Park, Old Gloucester Road, Hambrook, Bristol, United Kingdom BS16 1GW.
Oasis Dental Care Limited has a number of trading names including Bupa Dental Care. For a list of all our different trading names please follow this link.