Lockdown restrictions over the past year have encouraged more and more people to take up running. But with running can come injury – especially if you're new to it. Here, I look at some common runner's pains and strains and ways to manage them.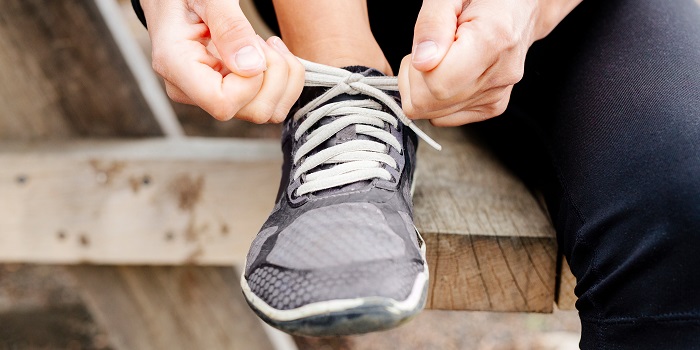 An increase in running
Many people have found a love for running since the start of the pandemic. It provides a time to enjoy the outdoors, doesn't require much equipment, and offers a break from work or childcare.
A study from Bupa UK found that two in three adults have been taking advantage of time in lockdown to exercise. Running was one of the most popular activities. Fitness app downloads have also skyrocketed over recent months.
As a physiotherapist, I've noticed an increase in running-related injuries, perhaps caused by more new runners on the road. We know from studies that novice runners have a higher risk of injury than more experienced runners.
Hamstring strain
Your hamstring muscles run down the back of your thigh. There are three hamstrings muscles (called semitendinosus, semimembranosus and biceps femoris). A hamstring strain (or pulled hamstring) is an injury to one or more of these three muscles.
Hamstring strains are very common in runners, but you're more at risk if you:
have poor hamstring flexibility
lack strength in these muscles
don't warm-up before running
are fatigued (from exercise/too much physical activity)
have a previous injury
are older
If you strain your hamstring, you'll feel pain at the back of your thigh. You may have some bruising and swelling. The best course of treatment is to follow the POLICE principle to help reduce your pain and help you to recover.
Bupa's POLICE infographic (PDF, 0.5 MB), illustrates the method to follow. Click on the POLICE image below to download the PDF.
Knee pain
Pain in and around the knee is very common in runners and there can be many causes. One of the main causes of running injury is how far you run each week – those who run longer distances are more prone to injury.
The location of your knee pain (either front, back, inner or outer) can help diagnose the type of injury or condition you may have.
Common conditions to affect runners are:
Knee pain can also be caused by foot problems or running technique. For example, if your feet roll inwards too far (overpronates) or you're a 'heel striker'.
How to treat your knee pain will depend on the injury or condition you have. Doing regular exercises to strengthen your knees can help build back strength after an injury or operation. Focus on strengthening all your legs muscles. This includes your quads, hamstrings, calf muscles and glutes (buttocks).
Bupa's Knee Clinic has a wealth of information dedicated to knee conditions and general knee health.
Shin splints
Shin splints (also known as medial tibial stress syndrome - MTSS) is a term used to describe any sort of shin pain. If you have shin splints, you'll have an aching pain and tenderness along the front or sides of your lower leg. It's usually caused by repetitive stress on your legs, such as running too often. You'll feel this pain more at the beginning of your run.
Shin splints can usually be treated by either complete rest or reducing how often and far you run. Try other activities that put less strain on your lower legs, such as swimming or cycling. It's also worth investing in decent footwear that gives your feet enough support and cushioning.
Ankle Pain
A lot of runners complain of ankle pain. Tibialis posterior tendon dysfunction is one of the most common problems of the foot and ankle. It happens when the structure of your posterior tibial tendon changes. It's the most common cause of flatfoot in adults.
Your posterior tibial tendon attaches behind your calf muscles and inserts onto the small bones of your foot. It plays a vital role in supporting the arch of your foot.
Reducing how much you run, or stopping altogether, is the first step to treating ankle pain. You may want to switch to a low-impact activity such as swimming or cycling. You can then return to running, gradually.
Good quality, running footwear can also be helpful in reducing and preventing ankle injuries. Wearing orthotics (shoe inserts) may be useful if you're prone to shin splints or ankle injuries, as they can help support the arch of the foot.
If your pain continues, see a physiotherapist. They'll be able to do a full assessment, looking at how you walk and run, to develop the best treatment plan for you.
---
If you have a muscle, bone or joint problem, our direct access service aims to provide you with the advice, support and treatment you need as quickly as possible. If you're covered by your health insurance, you'll be able to get advice from a physiotherapist usually without the need for a GP referral. Learn more today.
Millions of Brits on fitness kicks suffer lockdown injuries. Bupa. www.bupa.com, published 9 June 2020
Around one million downloads of fitness app during lockdown as people stay fit. NHS. www.england.nhs.co.uk, published 1 July 2020
Coronavirus creates boom in digital fitness. BBC News. www.bbc.co.uk, published 16 December 2020
Boullosa D, Esteve-Lanao J, Casado A, et al. Factors affecting training and physical performance in recreational endurance runners. Sports 2020; 8(3):35. doi: 10.3390/sports8030035
Hamstring strain. MSD Manual – Professional Version. www.msdmanuals.com, last reviewed January 2020
Hamstring muscle injuries. American Academy of Orthopaedic Surgeons. orthoinfo.aaos.org, last reviewed July 2015
Green B, Bourne MN, van Dyk N, et al. Recalibrating the risk of hamstring strain injury (HSI): A 2020 systematic review and meta-analysis of risk factors for index and recurrent hamstring strain injury in sport. Br J Sports Med 2020; 54:1081–88. doi: 10.1136/bjsports-2019-100983
Dhillon H, Dhillon S, Dhillon MS. Current concepts in sports injury rehabilitation. Indian J Orthop 2017; 51:529–36. doi: 10.4103/0019-5413.217722
Knee pain. MSD Manual – Professional Version. www.msdmanuals.com, last reviewed January 2020
Shin splints. MSD Manual – Professional Version. www.msdmanuals.com, last reviewed January 2020
Posterior tibial tendon dysfunction. American Academy of Orthopaedic Surgeons. orthoinfo.aaos.org, last reviewed September 2017
Bubra PS, Keighley GS, Rateesh S, et al. Posterior tibial tendon dysfunction: an overlooked cause of foot deformity. J Family Med Prim Care 2015; 4(1):26–9. doi: 10.4103/2249-4863.152245
About our health information
At Bupa we produce a wealth of free health information for you and your family. This is because we believe that trustworthy information is essential in helping you make better decisions about your health and wellbeing.
Our information has been awarded the PIF TICK for trustworthy health information. It also follows the principles of the The Information Standard.
Did you find our advice helpful?
We'd love to hear what you think. Our short survey takes just a few minutes to complete and helps us to keep improving our healthy lifestyle articles.
Legal disclaimer
This information was published by Bupa's Health Content Team and is based on reputable sources of medical evidence. It has been reviewed by appropriate medical or clinical professionals and deemed accurate on the date of review. Photos are only for illustrative purposes and do not reflect every presentation of a condition.
Any information about a treatment or procedure is generic, and does not necessarily describe that treatment or procedure as delivered by Bupa or its associated providers.
The information contained on this page and in any third party websites referred to on this page is not intended nor implied to be a substitute for professional medical advice nor is it intended to be for medical diagnosis or treatment. Third party websites are not owned or controlled by Bupa and any individual may be able to access and post messages on them. Bupa is not responsible for the content or availability of these third party websites. We do not accept advertising on this page.