In the lead up to Christmas 2019, the team here at Bupa Dental Care Morpeth, with the help of our patients and the local community, collected items and food for three charities that are very close to our hearts. The charities we collected for were Feeding Families, Northumberland Greyhound Rescue and Claws Cat Rescue.
Feeding Families
This is is a local charity, which helps families at Christmas time who need it most by providing them with food hampers. This year the Morpeth practice acted as a drop-off point, meaning people could drop off their food items for the hampers with us.
On Friday 13th December the team delivered all items collected to the charity, and we would like to personally thank everybody who donated. These hampers really do make a difference to those families who are struggling at Christmas time across the North East.
Claws Cat Rescue
This charity cares for, and rehomes cats that have unfortunately found themselves without a loving home. With the help of our patients and the local community we collected cat food, bedding, toys and cat litter for the cats who are currently living at the rescue centre.
We greatly appreciate all donations we received on behalf of this amazing charity. We dropped them off on Thursday 19th December for the cats, just in time for Christmas.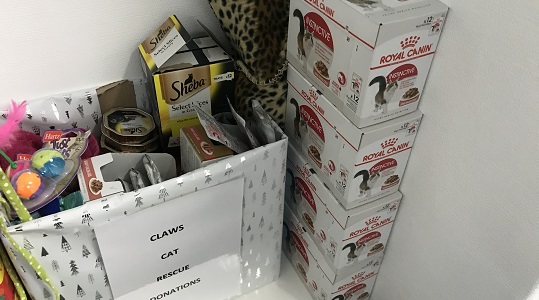 Northumberland Greyhound Rescue
The Northumberland Greyhound Rescue charity is a charity run by volunteers committed to caring for, and rehoming ex-racing greyhounds. We wanted to support the charity as they are constantly in need of donations of bedding, food, toys etc especially during the cold winter months.
Thank you to everybody who donated items for this charity – we were completely overwhelmed by the response. On Thursday 19th December the team delivered the early Christmas presents to the charity and had a lovely time meeting all of the greyhounds. We even got to walk them!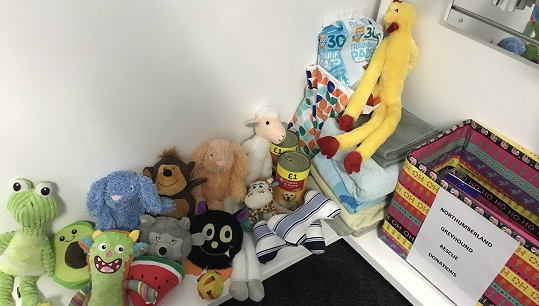 Paula, our practice manager, fell in love with and adopted one of the Greyhounds from the rescue centre when they went to drop off the donation boxes. Spirit has settled into her new home very well.
Bupa Dental Care is a trading name of Oasis Dental Care Limited. Registered in England and Wales No: 00478127. Registered office: Bupa Dental Care, Vantage Office Park, Old Gloucester Road, Hambrook, Bristol, United Kingdom BS16 1GW.
Oasis Dental Care Limited has a number of trading names including Bupa Dental Care. For a list of all our different trading names please follow this link.