If you haven't been feeling as upbeat as you thought you might during your pregnancy, you're not alone. Emotional ups and downs are completely normal when you're pregnant – especially when your hormones are playing havoc. But sometimes, these feelings can mean something more. Here I'll talk about how to recognise depression in pregnancy and why it's important to get the help and support you need.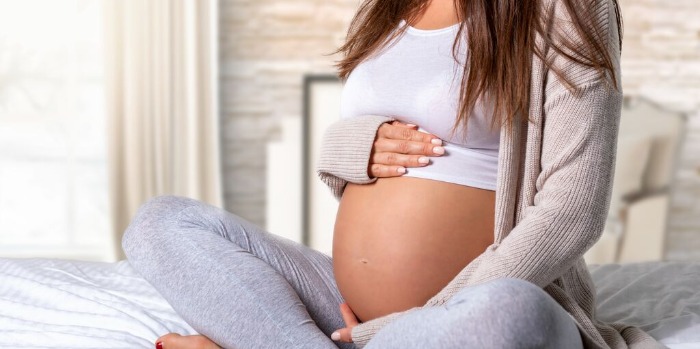 Prenatal depression – what is it?
People have often heard of postnatal depression. This is when you have depression after having a baby. But there's much less awareness of prenatal depression (or antenatal depression, as it's often called). This is when you're depressed during pregnancy. Despite being quite unknown, it's more common than you might think – affecting around one in 10 pregnant women. You might also hear the term perinatal depression. This refers to depression at any time, from while you're pregnant to about a year after giving birth.
You might feel embarrassed or guilty about feeling depressed at a time when you may have expected to be happy and excited. But it's not something to be ashamed of – depression is an illness. And like any physical illness, recognising when you need help and getting the right treatment, is important for both you and your baby.
Why do I have prenatal depression?
Anyone can become depressed during pregnancy, even if you've never had a mental health problem before. But the following things can make it more likely.
Having had depression before.
Having anxiety.
Going through a difficult or stressful event, such as a bereavement or divorce.
Not having support from family or friends.
Having an unplanned pregnancy.
Experiencing domestic abuse or violence.
Lots of women who get prenatal depression don't have any of these problems and it can happen 'out of the blue'.
How will I feel if I have prenatal depression?
If you have prenatal depression, you're likely to have been experiencing a low mood for quite some time, rather than just having the odd bad day. Some of the typical symptoms include:
feeling generally down most of the time
losing interest in things you usually enjoy
finding it hard to concentrate or make decisions
feeling irritable with other people
feeling restless or agitated
feeling guilty, worthless and having low self-confidence
having thoughts about harming yourself, or suicide
You might have some of these symptoms but not all.
Seeking support for prenatal depression
Talk to your GP or midwife if you're experiencing any of these feelings. Your midwife will ask about how you're feeling at your antenatal appointments. This gives an ideal opportunity to talk about how you're feeling. Don't worry about feeling judged – being depressed is not something you can control. Your GP or midwife will just want to focus on getting you the treatment and support that you need.
Leaving depression untreated during pregnancy can increase your chance of having postnatal depression. It can also affect your baby's physical and emotional development. So by seeking help early on, you really are taking control and doing the best thing possible for you and your baby.
Treatment for prenatal depression
Treatments for prenatal depression include counselling, cognitive behavioural therapy (CBT) and antidepressant medication. There's also much you can do to look after your own emotional wellbeing – such as eating well and getting plenty of exercise. Your doctor will talk to you about your treatment options. This will include the potential benefits and harms of taking antidepressants during pregnancy. They'll help you to weigh up what's right for you. This might depend on what stage of pregnancy you're at and how bad your symptoms are.
A lot can be done to help with prenatal depression. So, if you're feeling low during your pregnancy, don't be afraid to seek help from your GP or midwife as soon as you can.
If you need help now
If you need urgent help, the following services can help.
Samaritans
116 123 (UK and ROI) This helpline is free for you to call and talk to someone.
www.samaritans.org
Mind website. Click on the yellow 'Get help now' button at the top left of the page. This is a tool that is designed to help you understand what's happening to you and how you can help yourself.
If you think you might harm yourself or are worried someone else might come to immediate harm, call the emergency services on 999 or go to your local accident and emergency department.
Postnatal depression and perinatal mental health. Mind. www.mind.org.uk, published April 2020
Depression in pregnancy. Tommy's. www.tommys.org, last reviewed 19 October 2018
Depression - antenatal and postnatal. NICE Clinical Knowledge Summaries. cks.nice.org.uk, last revised August 2020
Antenatal and postnatal mental health: clinical management and service guidance. National Institute for Health and Care Excellence. www.nice.org.uk, last updated 11 February 2020
About our health information
At Bupa we produce a wealth of free health information for you and your family. This is because we believe that trustworthy information is essential in helping you make better decisions about your health and wellbeing.
Our information has been awarded the PIF TICK for trustworthy health information. It also follows the principles of the The Information Standard.
Did you find our advice helpful?
We'd love to hear what you think. Our short survey takes just a few minutes to complete and helps us to keep improving our healthy lifestyle articles.
Legal disclaimer
This information was published by Bupa's Health Content Team and is based on reputable sources of medical evidence. It has been reviewed by appropriate medical or clinical professionals and deemed accurate on the date of review. Photos are only for illustrative purposes and do not reflect every presentation of a condition.
Any information about a treatment or procedure is generic, and does not necessarily describe that treatment or procedure as delivered by Bupa or its associated providers.
The information contained on this page and in any third party websites referred to on this page is not intended nor implied to be a substitute for professional medical advice nor is it intended to be for medical diagnosis or treatment. Third party websites are not owned or controlled by Bupa and any individual may be able to access and post messages on them. Bupa is not responsible for the content or availability of these third party websites. We do not accept advertising on this page.