Sources used in this article are based on data for biological women – more studies are needed to provide accurate figures for trans people.
Having heavy or painful periods is surprisingly common, but that doesn't mean it's something you need to put up with. Your doctor may suggest you take various medications to control your periods. Here, I'll explore whether lifestyle changes can also improve your pain and discomfort.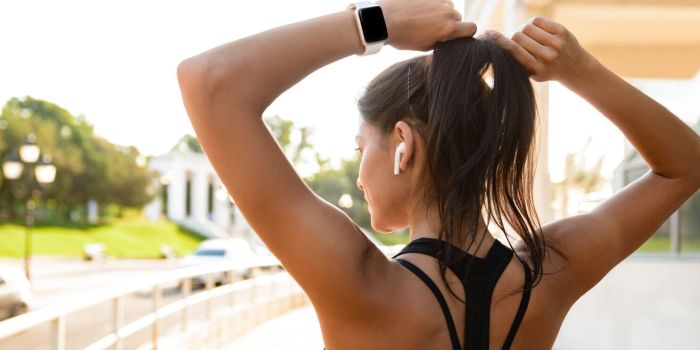 What are healthy periods?
Periods can be different for everyone. A sign of a healthy period is that it causes you minimal to no pain. It also means your flow is light to moderate and it doesn't disrupt your daily life. How you feel before your period matters, too.
Normal periods shouldn't cause you too many symptoms of premenstrual tension (PMT) before you menstruate, either. Unfortunately, for many women this is not the case. For about 1 in 10 women, their pain is so severe that it disrupts their daily lives. And around three quarters of women experience some form of PMT.
What causes period problems?
Heavy bleeding during your periods can result from having conditions such as endometriosis, polyps or fibroids. Period pain can happen if you have either primary or secondary dysmenorrhea.
Primary dysmenorrhea means pain resulting from your period itself. It's caused by chemicals that are released during menstruation, called prostaglandins. With primary dysmenorrhea there isn't an underlying condition, but your pain can still be bad enough to disrupt your daily life.
With secondary dysmenorrhea the pain is caused by another condition, such as endometriosis or fibroids. Finding out the cause for your pain can help you to find the best treatment.
What is the treatment for period problems?
A doctor or gynaecologist may suggest you take the contraceptive pill to improve your period symptoms. The reason for this is it can thin your uterine lining and reduce the number of prostaglandins your body makes. It may also help with heavy periods.
If the birth control pill is not suitable for you, you may instead be offered an intrauterine system (IUS). This creates similar hormonal changes but more locally to your uterus (womb). Using an IUS may lower your chance of other side-effects. Painkillers are usually suggested, too, including non-steroidal anti-inflammatory medications (NSAIDS).
What lifestyle changes affect my periods?
The following are some changes you can make, to help reduce your period pain and improve your energy and mood.
Get more active
Evidence shows that moving more often is a good option for improving your periods. Regular exercise may be able to reduce symptoms of pain, improve fatigue and boost your mental health before and during your periods. Exercise doesn't need to be strenuous to help – yoga has been shown to reduce pain scores, as well as cardio workouts like aerobics.
Exercise may help with your period pain in a number of ways. It can reduce the amount of pain-causing prostaglandins your body makes, as well as producing endorphins, which have a natural pain killing effect.
Find time to relax
If you have a busy life, taking time out isn't always easy. But regularly relaxing can reduce your period symptoms. Studies have shown that being stressed before your period can make symptoms of PMT worse.
Taking time to relax can also help you to sleep better, which in turn is important for both pain management and your mental wellbeing. Studies looking at relaxation and period pain have used techniques such as yoga or meditation – but you could also try having a warm bath, reading a book, or just taking a short nap.
Eat a healthy balanced diet
Having a well-balanced diet is important for all areas of your health. But studies have shown that specific nutrients may help you to have better periods. For example, magnesium can help relax your muscles, including the muscles of your uterus (womb). Dark green leafy vegetables, almonds, and dark chocolate contain magnesium.
Getting enough omega 3 is also a good idea. This is because omega 3 can help to control the type of prostaglandins your body produces, which may help with your pain scores. Having oily fish once or twice a week should give you the quantity of omega 3 you need. You could also take vegan-friendly supplements.
Staying hydrated, reducing salt, and having plenty of high-fibre foods such as oats and brown rice can also help you feel better before and during your periods.
Sleep well
Many women struggle to sleep well during their periods. But getting enough quality sleep can help you to manage your symptoms – of both pain and PMT. You could try the following:
avoid screens before bed
wind down with a good book
get up at the same time each day
You might also like to take a hot water bottle to bed with you to reduce the pain overnight. Doing some breathing exercises or a short yoga practice can also help you to get the rest you need.
For some women making these lifestyle changes can be sufficient to reduce the symptoms of painful or heavy periods. But other women may need extra help and support to manage their periods, especially if the pain is due to secondary dysmenorrhea.
Keeping a period diary can help you to keep track of your symptoms, so you can get the help you need.
---
If you have heavy, painful, or irregular periods, you'll know just how disruptive they can be, both physically and mentally. With our Period Plan, you don't have to face these problems alone.
Period pain dysmenorrhea. Patient. patient.info/doctor, last edited 1 March 2018
Casper F. Patient education: Premenstrual syndrome (PMS) and premenstrual dysphoric disorder (PMDD) (Beyond the Basics). UpTodate. uptodate.com, last updated 24 February 2021
Heavy periods. Women's Health Concern. womens-health-concern.org/, reviewed November 2019
Wong C, Farquhar C, Roberts H et al. Oral contraceptive pill for primary dysmenorrhoea. Cochrane Database Syst Rev 2009;(4): CD002120.Oct 7. doi: 10.1002/14651858.CD002120.pub3
Exercise for period pain: New evidence to support exercising to reduce painful cramping. Evidently Cochrane. evidentlycochrane.net, reviewed 17 February 2022
Kannan P, Cheung K, Lau B. Does aerobic exercise induced-analgesia occur through hormone and inflammatory cytokine-mediated mechanisms in primary dysmenorrhea? Medical Hypotheses 2019;123:50-54. https://doi.org/10.1016/j.mehy.2018.12.011
Saanijoki T, Tuominen L, Tuulari J et al. Opioid Release after High-Intensity Interval Training in Healthy Human Subjects. Neuropsychopharmacology 2018;43:246–254. Yaralizadeh M, Nezamivand-Chegini S, Najar S. Effectiveness of Magnesium on Menstrual Symptoms Among Dysmenorrheal College Students: A Randomized Controlled Trial. International Journal of Women's Health and Reproduction Sciences 2021. Doi:1 0.15296/ijwhr.2021.xx
Zafari M, Behmanesh F, Mohammadi A. Comparison of the effect of fish oil and ibuprofen on treatment of severe pain in primary dysmenorrhea. Caspian J Intern Med 2011; 2(3): 279–282
PMS and insomnia. The Sleep Foundation. sleepfoundation.org, updated 11 March 2022
Komada Y. Relationship of women's reproductive health and menstrual problems with sleep and circadian rhythm. Sleep and Biological Rhythms 2020; 18:1. doi:10.1007/s41105-019-00247-8
Jo J, and Lee S. Heat therapy for primary dysmenorrhea: A systematic review and meta-analysis of its effects on pain relief and quality of life. Sci Rep 2018; 8: 16252.2. doi: 10.1038/s41598-018-34303-z
Prior stress could worsen premenstrual symptoms, NIH study finds. National Institute for Health. nih.gov, August 2010
Tsai S. Effect of Yoga Exercise on Premenstrual Symptoms among Female Employees in Taiwan. Int J Environ Res Public Health 2016 Jul; 13(7): 721. doi: 10.3390/ijerph13070721
Period pain. Women's Health Concern. womens-health-concern.org, reviewed November 2019
About our health information
At Bupa we produce a wealth of free health information for you and your family. This is because we believe that trustworthy information is essential in helping you make better decisions about your health and wellbeing.
Our information has been awarded the PIF TICK for trustworthy health information. It also follows the principles of the The Information Standard.
More discover articles...
Did you find our advice helpful?
We'd love to hear what you think. Our short survey takes just a few minutes to complete and helps us to keep improving our healthy lifestyle articles.
Legal disclaimer
This information was published by Bupa's Health Content Team and is based on reputable sources of medical evidence. It has been reviewed by appropriate medical or clinical professionals and deemed accurate on the date of review. Photos are only for illustrative purposes and do not reflect every presentation of a condition.
Any information about a treatment or procedure is generic, and does not necessarily describe that treatment or procedure as delivered by Bupa or its associated providers.
The information contained on this page and in any third party websites referred to on this page is not intended nor implied to be a substitute for professional medical advice nor is it intended to be for medical diagnosis or treatment. Third party websites are not owned or controlled by Bupa and any individual may be able to access and post messages on them. Bupa is not responsible for the content or availability of these third party websites. We do not accept advertising on this page.